The Bible says that Jesus is the bread of life. But what does that mean?
Truly, truly, I say to you, he who believes has eternal life. I am the bread of life. ~ John 6:47-48

Disclosure: *This post may include affiliate links. As an affiliate, I earn from qualifying purchases. Read the disclosures and terms for more information.
Jesus is the Bread of Life
God gives us food to sustain our bodies so that we can survive, thrive, and be nourished. In Scripture, Jesus says that He is the bread of life. He gives this picture to us as a metaphor for who He is and our relationship to Him.
There are several places where the Bible talks about bread. Here are just a few:
We are sustained by God's Word – But he answered, "It is written, "'Man shall not live by bread alone, but by every word that comes from the mouth of God.'" Matthew 4:4
Jesus is essential for life – I am the bread of life; he who comes to Me will not hunger, and he who believes in Me will never thirst. John 6:35
Represents Jesus' sacrifice – Now as they were eating, Jesus took bread, and after blessing it broke it and gave it to the disciples, and said, "Take, eat; this is my body." Matthew 26:6
Daily provision from the Lord – Give us this day our daily bread, (from The Lord's Prayer) Matthew 6:11
Manna a foreshadowing of Jesus – Truly, truly, I say to you, whoever believes has eternal life. I am the bread of life. Your fathers ate the manna in the wilderness, and they died. This is the bread that comes down from heaven, so that one may eat of it and not die. John 6:47-50
Describes fellowship with each other and with Christ – And they devoted themselves to the apostles' teaching and the fellowship, to the breaking of bread and the prayers. Acts 2:42, and also 1 Corinthians 11:23–34
"Blessed are those who hunger and thirst for righteousness, for they shall be satisfied." Matthew 5:6
Our food gives up its life in order to feed and sustain us. The animal dies, or the plant is picked. The grain is gathered, crushed, and cooked to make bread. Without good food, our physical bodies become weak and ill, and eventually die from lack of sustenance.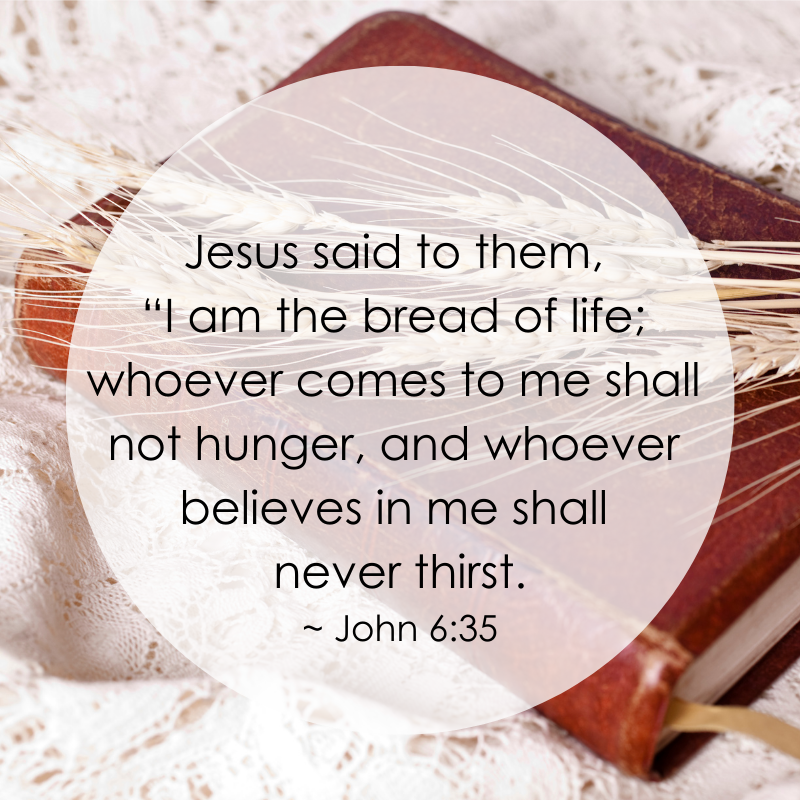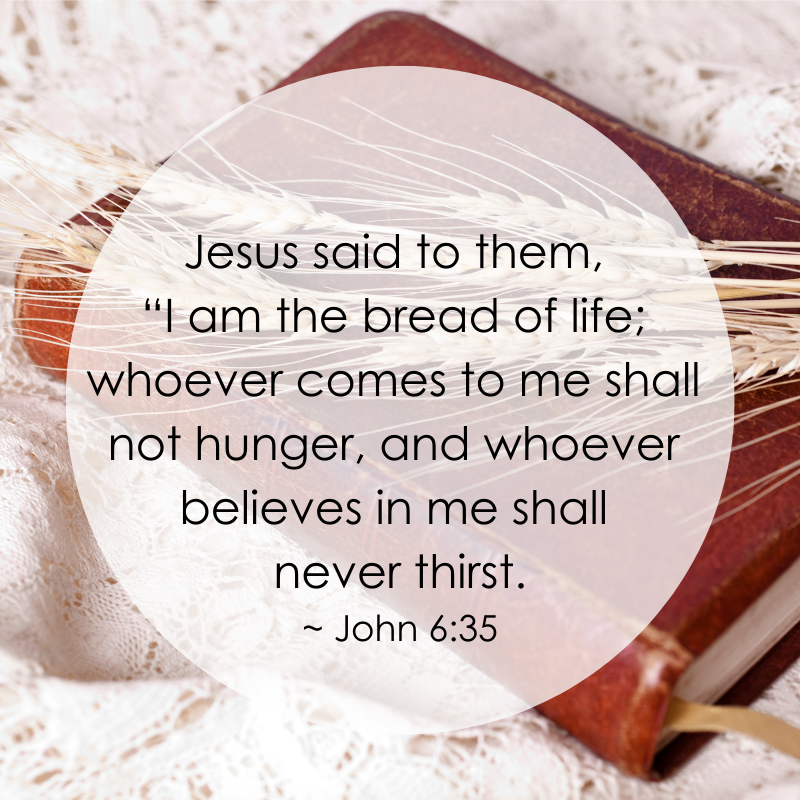 Jesus is the Bread of Life. He is the more important food — the food for our souls. He sacrificed Himself, being crushed and dying for our sins, and then rising again to give us a new hope and life in Him. He died and rose again so that we might truly live! Without saving faith in Christ, we perish. And for those who believe, we cannot survive and be truly satisfied without Him! We must feast on the endless, bountiful Bread of Life every day if we want to grow and thrive in our faith.
Jesus said to them, "I am the bread of life; he who comes to Me will not hunger, and he who believes in Me will never thirst. ~ John 6:35
Are you living on the Bread of Life? Or are you wasting away, trying to find satisfaction in something other than Christ? We could all use encouragement to spend more time in God's Word.
We are all sinners and fall short of the glory of God. We all have within us a longing for the true Bread of Life. Our world is starving for truth, goodness, and mercy that only God can provide.
For those who turn away from their sin and put their faith in Jesus as their Savior, confessing with their mouth that He is the Messiah, our deepest hunger and thirst are truly satisfied. We are forgiven of our sins, enjoy fellowship with Christ, and feast on the Bread of Life each and every day.
To God be all the glory!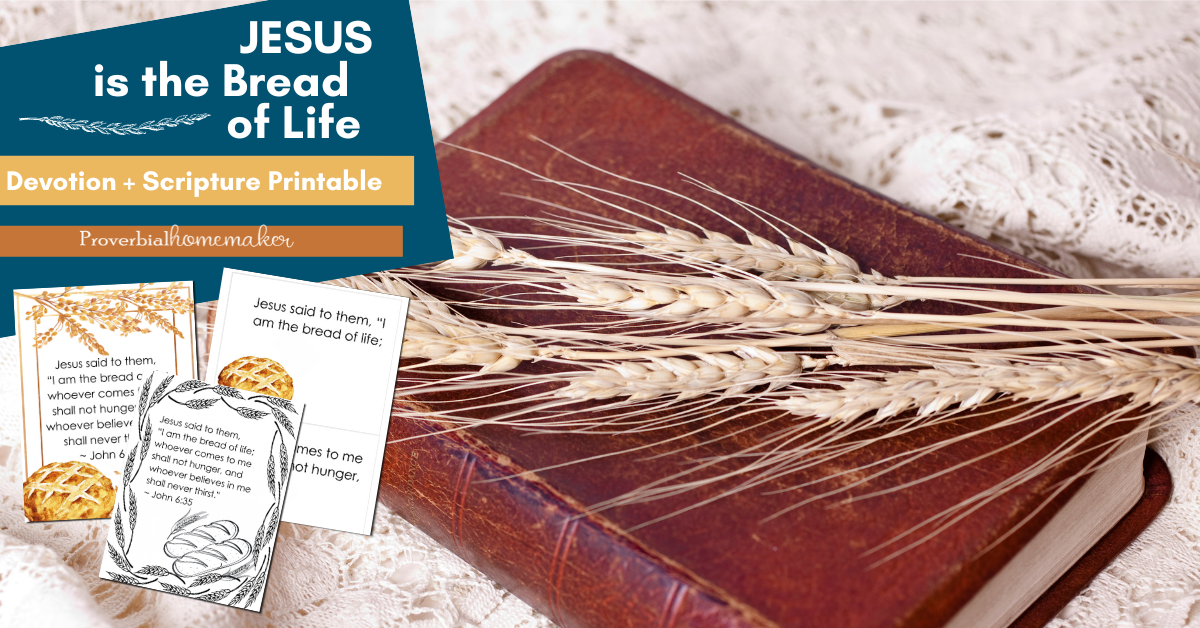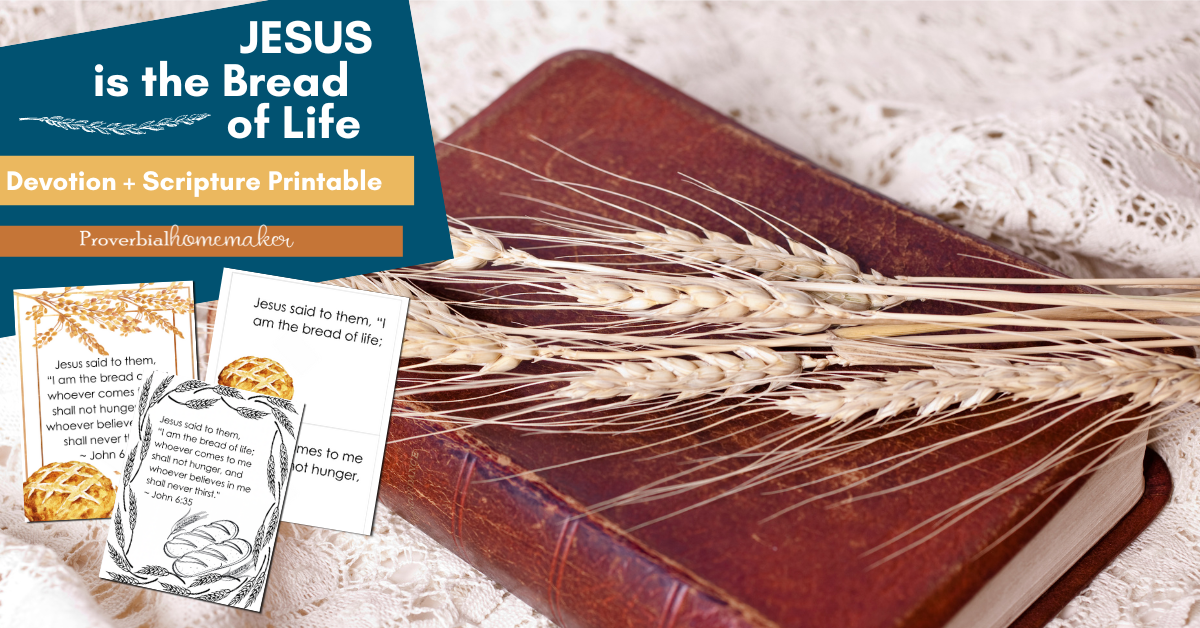 Download the Jesus is the Bread of Life Scripture Printable Pack (ESV & KJV)
Pray through and memorize John 6:35! Download this free printable pack for a Scripture memory poster and memory verse cards as well as a coloring page for you or your children. Includes ESV and KJV versions.
---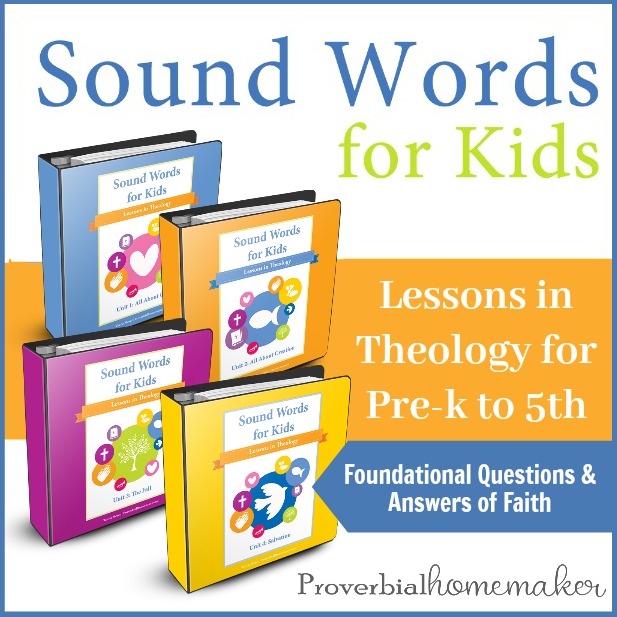 This is a download-and-go curriculum that teaches basic Christian theology for kids ages preschool through 5th grade. Includes devotions, activities, memory work, and more.
Go to the product page to learn more about Sound Words for Kids and how to use it in your home, co-op, or church!
---