Do you have a Lego lover in your home? We sure have a few! Over the years we've enjoyed our Bible Brick Challenges so much that we started collecting quite a few fun Lego books for more project ideas and build inspiration. Check out this great lis of the best Lego building books!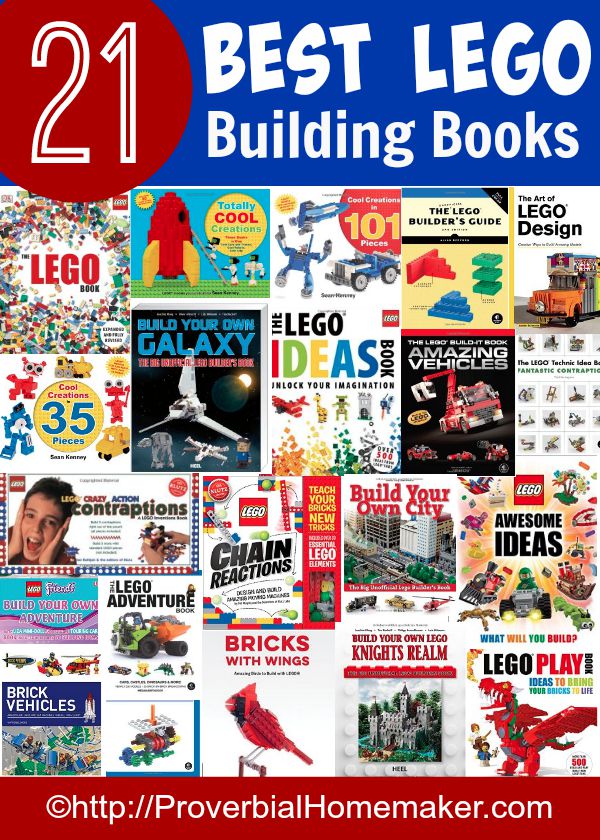 Disclosure: *This post may include affiliate links. As an affiliate, I earn from qualifying purchases. Read the disclosures and terms for more information.
Building with Legos is such a creative activity that encourages several important skills and can be great fun for the whole family. You might want to make sure you have some basic building block sets on-hand. This classic 484-piece kit is a good starting point.
Have fun browsing and have fun building with your kids!
21 Best Lego Building Books
The LEGO Ideas Book
– "This awesome ideas book is divided into six themed chapters – transport, buildings, space, kingdoms, adventure, and useful makes – to inspire every member of the family to get building."
Cool Creations in 35 Pieces
– This is a great one for the younger kids, preschool through 3rd grade! "LEGO artist Sean Kenney reuses the same thirty-five LEGO bricks to build a variety of images in all categories: vehicles, spaceships, home accessories, animals, nature, robots, and many other subjects."
Cool Creations in 101 Pieces – Similar to the previous book (and by the same author), this book uses the same bricks for each build, up to 101 pieces to create so many different creations!
The LEGO Book
– If you have an older chid who is a huge Lego fan, this could be a great gift idea! It not only includes some build inspiration and instructions, but it's a Lego fan book full of history and Lego culture.
LEGO FRIENDS: Build Your Own Adventure
– "…combines fan built inspirational ideas for building with enthralling story starters. Get inspired to build with creative building ideas, then play out your own adventures using your own LEGO collection. The book comes with bricks to build one exclusive model that appears throughout the book."
LEGO Play Book: Ideas to Bring Your Bricks to Life
– The sequel to the LEGO Ideas Book, this book provides more great inspiration and ideas, offering a mixture of simple, medium, and complex builds to try.
LEGO Awesome Ideas
– "Learn through visual tips, step-by-step guides, creative model ideas and pro building techniques shown throughout the book."
LEGO Chain Reactions: Design and build amazing moving machines (Klutz S)
– I love this one because not only does it have kids building fun simple moving machines and chain reactions, but it comes with the bricks to help them do it.
The LEGO Build-It Book, Vol. 1: Amazing Vehicles
– With just one collection of LEGO bricks, you can build any of these 10 models—from the simple Go-Kart to the intricate Rescue Truck.
Totally Cool Creations: Three Books in One; Cool Cars and Trucks, Cool Robots, Cool City
– Another fun one for the young kiddos, this includes three books in one.
The LEGO Adventure Book, Vol. 1: Cars, Castles, Dinosaurs & More!
– "This inspiring tour is filled with bright visuals, step-by-step breakdowns of 25 models, and nearly 200 example models from the world's best builders. Learn to build robots, trains, medieval villages, spaceships, airplanes, and much more."
The Unofficial LEGO Builder's Guide (Now in Color!)
– If your child has been wanting to take their Lego-building skills to the next level, this is for them! It includes tips and tricks for making the best of their Lego builds and constructing them to last.
The Big Unofficial Lego Builder's Book: Build Your Own City
– For your more advanced builders, help them build a big city of their own with this fascinating book!
The Art of LEGO Design: Creative Ways to Build Amazing Models
– Also for the more advanced Lego fans, this book explores Lego building as an art and provides great insights and tips to help you build your own eye-popping creations.
Brick Vehicles: Amazing Air, Land, and Sea Machines to Build from LEGO®
– A fascinating book that not only details how to build different vehicles, but provides a history of transportation as well.
The LEGO Technic Idea Book: Fantastic Contraptions
– "The Technic models in Fantastic Contraptions include working catapults, crawling spiders, and bipedal walkers, as well as gadgets powered by fans, propellers, springs, magnets, and vibration. You'll even learn how to add lights, pneumatics, and solar panels to your own models."
Build Your Own Lego Knight's Realm: The Big Unofficial Lego Builder's Book
– Castles, catapults, dragons, and more! A particularly good one if you're studying medieval times.
Build Your Own Galaxy: The Big Unofficial Builder's Book
– Who has some sci-fi fans in the house? (Raises hand) Build fantastic creations inspired by Star Wars and more in this fun book.
Bricks with Wings: Amazing Birds to Build with Lego(R)
– Explore nature AND build with Legos with this fun Birds from Bricks Book! Definitely for the more advanced builders. But worth the effort!
---
Don't forget to check out our Bible Brick Challenges as well! Your kids will learn God's Word while building with their Legos. Win win!