Disclosure: *This post may include affiliate links. As an affiliate, I earn from qualifying purchases. Read the
disclosures
and
terms
for more information.
We're kicking off our annual 2018 Read, Pray, Love by praying through and memorizing The Lord's Prayer together! Each month in 2018 we'll focus on a different passage to pray through over our families. This year, I've decided we'd add a memorization focus and invite our kids to join us! Click here to check out the updated 2918 Read Pray Love binder and more info about the system.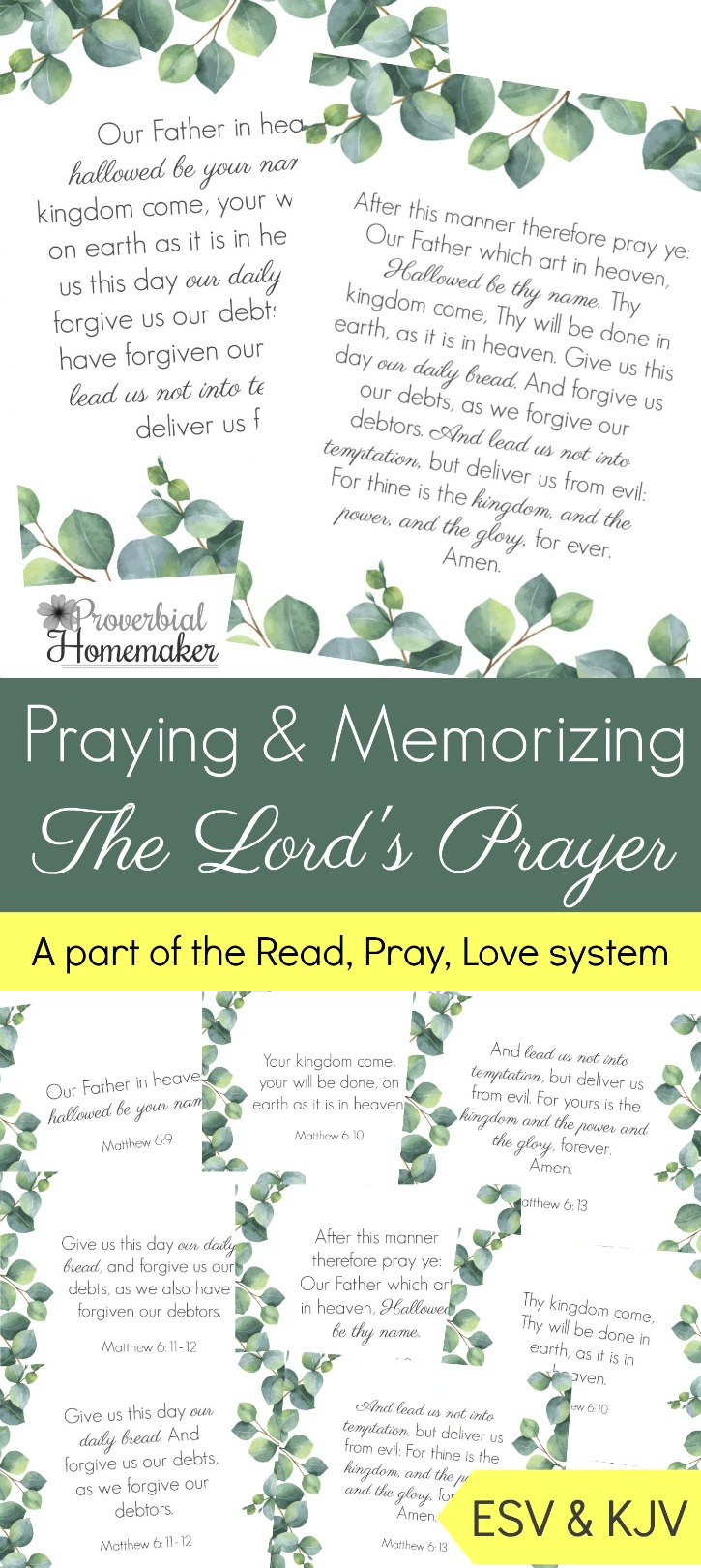 So let's get started! Each month we'll have a new set of scripture printables for you to download and use. There is an ESV and KJV version available. I like to print out two of the art prints – one to display in our dining room where the kids and I do our memory work over breakfast, and one for my RPL binder. I also print off the scripture cards to help myself and my kids memorize and review the passage.
I chose The Lord's Prayer as our first passage because it can be such a wonderful place to start when we want to intentionally pray and give honor to God. I've included my notes and prayer examples below as well as in the printable download for your reference.
How to Memorize Scripture With Your Kids
If you haven't done a lot of scripture memory, you'll be relieved to find out it's a pretty simple process. When I'm introducing the passage, I first read the whole thing as they listen. We then begin working on one phrase at a time, them repeating after me, until we've gone through one verse. We repeat that at every morning mealtime. Once I think they're ready, I have them repeat a whole sentence after me, then a whole verse, etc. Each morning as we review and practice, I start by re-reading the whole thing as they listen. Then we start with the repetition and recitation.
That's it! I have also taken the time with my younger kids to come up with simple hand motions for each phrase, having them help me choose them so that they are memorable. This can be especially effective with longer passages. If you're kids get stuck, you can do the hand motion and they'll likely remember and pick back up where they left off!
Notes and Prayers for The Lord's Prayer
As I said, you will find all these notes and prayers in the printable download as well. But I decided to include them here so you can take a look and see this addition I will be including with our monthly Read, Pray, Love printables this year. You could pray one section each day, or pray through them with one person in mind until all your family members have been covered in these prayers.
Thanksgiving. We approach all prayer with an attitude of thanksgiving. The more we understand about God, who He is, and what He has done, the more we will be filled with thanksgiving. (1 Thessalonians 5:17–18)
Lord, thank you for everything. Every blessing we have and every good gift comes from you. You give us life, family, peace, and salvation. Help us to pray without ceasing and always with Thanksgiving.
God's name be honored and glorified. We praise the Lord alone and acknowledge His holiness, authority, and sovereignty. We give all glory and honor to Him.
Lord, Your name is above all names, and we want to do everything for Your glory. I praise Your for this and for the majesty of who You are. Lord, help me and my family to remember this about You, keeping an attitude of praise and thanksgiving at all times, fixing our eyes on You in every situation.
God's kingdom come. God's kingdom arrived with the advent of Christ, and we pray that the fullness of His kingdom will be realized on earth and in heaven, also looking forward to the second advent.
Lord, we pray that Your kingdom will be expand and grow here on earth until it's completion in You. Help us to look to Jesus, the expression of Your kingdom, and do our part to shine Your light in the darkness of our world.
God's will be done. We desire God's plan and will above our own, both in our lives and in the world.
Lord, we pray for Your good and perfect will to be carried out in our hearts and in our world. Help us to lay our own desires and agendas at Your feet and take up Your cross.
Our daily bread. We ask the Lord for provision for our daily needs, for the spiritual filling of his Word each day, and for our satisfaction to be through Him alone.
Lord, help us to trust You for daily provision and peace. Give us the desire to feed daily on Your Word, knowing that we do not live by bread alone, but by Your Word (Matthew 4:4).
Forgive us. We ask for forgiveness for our sins and the strength to turn from them. We also ask for help in forgiving others as God has forgiven us.
Lord, we pray that You would reveal to us any wicked way in us, and help us to repent fully of our sins and turn toward You. We ask for Your forgiveness and mercy, and the strength to forgive those who sin against us.
Deliver us from evil. We ask God for help in overcoming sin and deliverance from the plans of the enemy.
Lord, we thank You that You always give us a way out of temptation that comes our way. Give us the strength and wisdom to take that way out, turning away from sin and toward You. Deliver us from the schemes of the enemy who would destroy us.
Doxology. While some manuscripts omit this passage, it was a common ending to prayers and the sentiment is biblically accurate. So we include it when we recite the prayer together with our kids. If you decide to include it, it is a wonderful opportunity to once again praise God and acknowledge that He is Lord of all, submitting our prayers to Him for His glory.
Lord, we love You and are full of gratitude! To You be all the glory forever and ever. Amen.
Download The Lord's Prayer RPL Printables
Download The Lord's Prayer Scripture Printables
*Your download link will be emailed to you and you will be subscribed to Proverbial Homemaker if you aren't already. Be sure to check your spam/promotions folder.
If you have any issues, check out this
troubleshooting guide
or feel free to
email me
!