Psalm 1 is one of my family's favorite Scriptures. It's the first long passage we ever memorized together and the one the kids will most often join in joyfully to recite aloud whenever they hear it spoken. This is also the passage I pray most often over each of my children. It has become as meaningful to me as it has to them.
Make Psalm 1 a part of your own family's culture! In this article I'll share some thoughts to ponder as you read Psalm 1 with your children and some ways you can pray through the passage, whether you're holding hands around the table or whispering prayers over their heads at night. You'll also get some ideas on how you can love God and others by living out Psalm 1 in practical ways. We are to be doers of the Word, after all!
Finally, you'll get a download of a beautiful printable pack that includes a custom illustrated Scripture art print, coloring page, and memory verse cards in both ESV and KJV. I hope you enjoy it as you memorize Psalm 1 with your family!
Disclosure: *This post may include affiliate links. As an affiliate, I earn from qualifying purchases. Read the disclosures and terms for more information.
Read Psalm 1
The Psalms are a part of the books of the Bible we commonly call Wisdom Literature. Among other things, they emphasize gaining wisdom and understanding. You will find a lot of poetry and wise sayings, and in the case of the Psalms, a whole lot of feelings. I just love the emotion we see in the Psalms and the great wrestling with life in light of God's truth. It's not only relatable for us, but it's something our children can connect deeply with as well.
Here are some things to consider or talk about as you read Psalm 1:
We don't earn God's blessing, but rather it is given to us as a gift of grace.
Our spiritual lives and our personal growth are certainly blessed by faithful devotion to the Lord.
Even then, the obedience and devotion of the "blessed man" is an outpouring of love and gratitude toward God.
Jesus is our perfect example of living the devoted life described in Palm 1.
Those who belong to the Lord are being changed by Him every day more and more into the likeness of Christ.
So, we should we live like that out of love and gratitude toward God…
We are enabled to live like that by God's grace alone…
And although we fall short, we are covered by the perfect righteousness of Christ.
What a good and loving God!
Pray Psalm 1
Pray through the Scripture together as a family or pray Psalm 1 over your children as a bedtime blessing for a while. Ask the Lord for the words! You can use these ideas to get started.
Lord, give us wisdom to recognize wicked advice versus godly counsel and to be discerning in what we follow.
Build up around us a wealth of godly friends and mentors, and help us to be a godly influence on others as well.
Grow in me a greater desire for Your Word, and help me build habits into my life so that reading, memorizing, and meditating on Scripture is a natural part of my life.
Help the roots of heart grow deep into the truth, finding my peace and purpose in You, and bearing fruit for Your glory.
I pray that I would always stay in "the way of the righteous" by Your great love and mercy.
Amen.
Love Through Psalm 1
Use Psalm 1 as a launching pad to love God and others with your thoughts, words, and actions.
Pray quietly for someone you know who is struggling with poor choices or worldly influences. Pray for the gospel to reach their hearts and pray Psalm 1 for them.
Try some new ways to spend more time in God's Word. Look up verses about the Word and pray for the desire and discipline to read and meditate on it more often.
Identify some ways your spouse or children have been demonstrating the fruit of the Spirit in their lives. Tell them what you have noticed and praise God for it.
Help your children to become regular readers of God's Word. Let them see you reading and memorizing the Scriptures. Help them choose a devotion or study that they are excited about doing every day on their own or along with you.
Make a list of all the ways you are blessed by God. Then make a list of praises to Him and ways you can respond in gratitude in your words, actions, and attitudes.
Memorize Psalm 1
Download the Psalm 1 printable pack below and memorize Psalm 1! You'll find a custom illustrated Scripture art print to frame or tack to your wall, memory verse cards, and coloring pages you can use to help you meditate on Psalm 1 and memorize it together.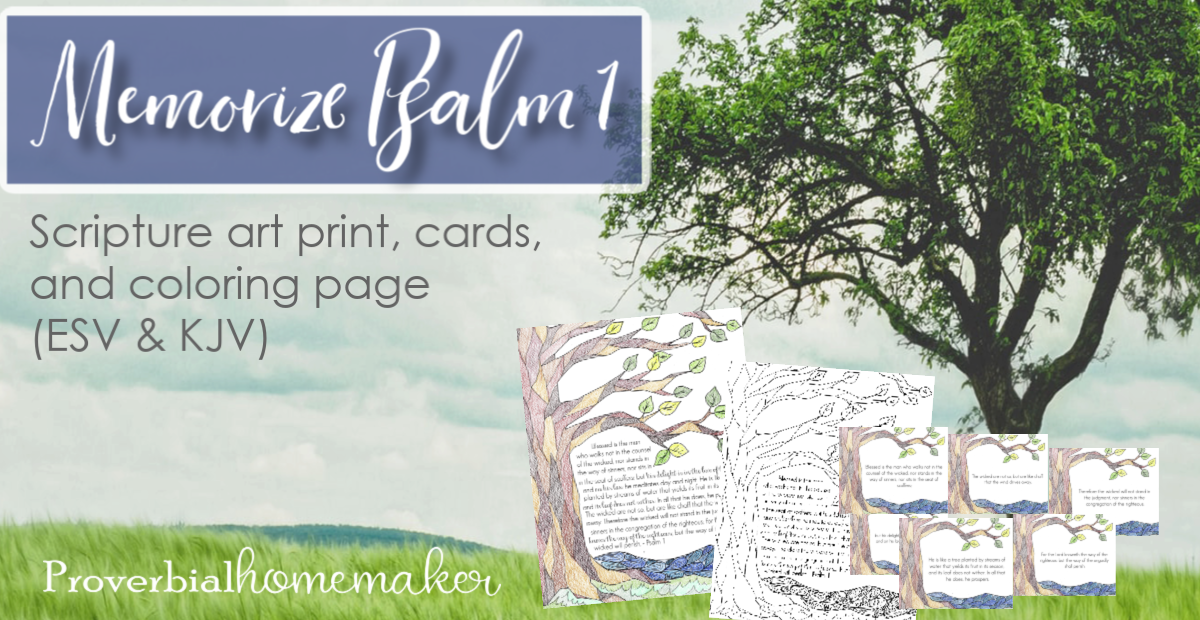 You Might Also Like…
This post is a part of our annual Read, Pray, Love efforts in the Proverbial Homemaker community. Check out past editions here.