Reading the Bible is an essential part of a healthy and growing Christian life. We know this. Yet, it can be difficult to develop a sustainable habit and make time in God's Word the priority we know it needs to be. Sometimes we've just lost our rhythm and sometimes it's simply the season of life we're in. Regardless, we know how critical it is to read the scripture so that we may know God, learn His ways, judge things rightly, navigate the struggles of life, and so much more. Still, most of us struggle to establish and keep a daily habit of Bible reading. I know I've been there, and it's easy to let it slide! But I've learned that being intentional to "fit in more Bible time" grows into a habit that is sustainable.
As busy moms, it can be hard to establish a habit of daily Bible reading. Sometimes all we need to get the ball rolling again are some different approaches that will get us back on track.
Here are 12 creative ways to fit in more Bible time!
Of course, n
othing really replaces consistent daily study, but there are times when these will come in handy!
Disclosure: *This post may include affiliate links. As an affiliate, I earn from qualifying purchases. Read the disclosures and terms for more information.
12 Creative Ways to Fit in More Bible Time
The best ideas are often the most simple ones. These are 12 creative but SIMPLE ways that you can fit in more Bible time. Take one or two and try them for a week! They may become part of your ongoing routine or whet your appetite for more scripture reading. The Bible is kind of like that. The more you have, the more you want!
Bookend your day: Read a chapter of Proverbs in the morning and a chapter of Psalms at night

Read a Proverb each day of the month (since there are 31 Proverbs)

Focus on verse memorization and prayer, meditating on one verse/passage at a time

Put the Bible in the bathroom (no judgement here lol!)

Tack a book ring with memory verses to the bathroom wall and review them when you just need a break before you're going to lose it! Yes… that's me some days.

Turn on the audio of YouVersion and stick it in your back pocket while going about your day

Put worship music on in the background and really praise/worship in those precious pockets of time when they come

Read your Bible or read it on YouVersion in bed in the morning/evening

Change up your reading plan. Try Doorposts' Busy Mama Bible studies and do them with your kids while they eat
Do a kid's Bible study along with your children, such as our Bible Brick Challenges or Doorposts' Busy Mama Bible studies

Schedule a monthly or quarterly coffee shop getaway for in-depth Bible study

Play The Visual Bible during the day (it's scripture only and very well done – We have Matthew and love it)
Resources to Help You Fit in More Bible Time
Over the years, in my regular study and my efforts to "fit in" more Bible time, I have come across some really helpful tools that make it easier. Some of them are mentioned above but I'll include them here and several more!
Wide margin journal Bible for writing notes and prayers. This is the one I use.
A good study Bible like this one or this one when you want to go deeper (along with resources like BlueLetterBible for research)
Family studies like the James Scripture Challenge or Bible Road Trip (family studies and homeschool Bible count as Bible time, btw!)
Daily devotion Bible study checklist for kids (and adults)
Women's Bible studies for a plan and accountability. (Pray for discernment – there are teachers and studies that are not biblical. I recommend Jen Wilkin and Nancy Demoss Wogelmuth to start with. Other Bible studies by teachers like R.C. Sproul and John MacArthur are also good choices.)
Get small pocket Bibles that can fit in your purse, in the bathroom, in the car, etc.

YouVersion App for the phone (devotions, audio Bible, reading plans, etc.)

The Visual Bible (for background scripture)
Struggling to WANT to Read the Bible? (Free Scripture Cards)
Sometimes our struggle is that we just don't feel a burning desire to read our Bibles, so it's harder to stay motivated. The best things I have done are to 1) Read the Bible anyway (pick one of the ideas above and focus on it!), and 2) pray that the Lord would increase my desire for His Word.
The more we know God, the more we love Him. The more we read His Word, the more our souls will yearn for it. We will crave the Living Water and the
Bread of Life
when we get up and throughout the day. But the first steps in that direction are challenging! We can pray that the Lord will help us in those steps and increase that desire in us. We can be sure that when we pray these things, they are in His will.
Print off the scripture cards below and put them where you will see them often. Tape them up on the wall, on the fridge, the kitchen window, or on your mirror. Or put them on a keyring on your keys. Every time you see them, pray through the next scripture, humbling yourself before God and asking Him for more desire to read His Word and the self-discipline to be intentional in developing a habit.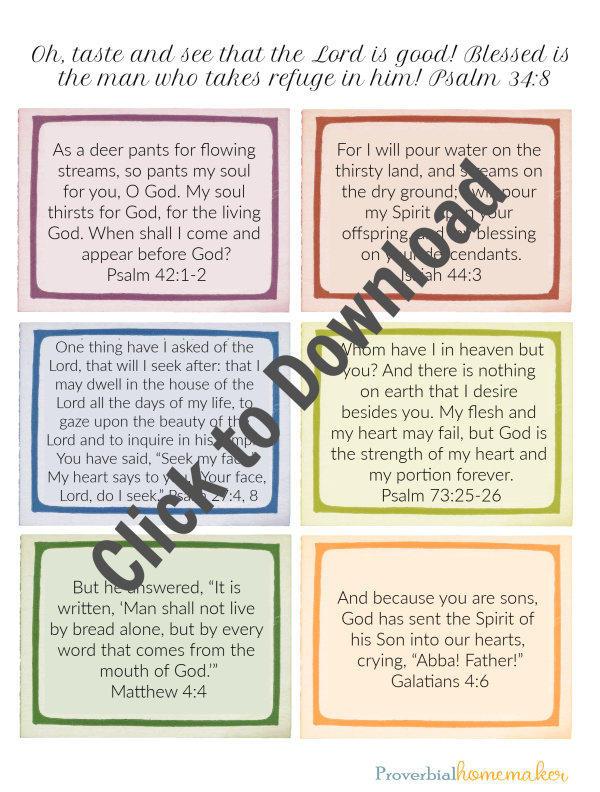 You Might Also Like…
The No More Angry Mom: Becoming a Gentle Mother Through Practice and Prayer