Disclosure: *This post may include affiliate links. As an affiliate, I earn from qualifying purchases. Read the
disclosures
and
terms
for more information.
Have you been searching for a great Bible-based, hands on homeschool science curriculum for your kids?
I have learned that the best homeschool science curriculum in our house has three key features: 1) hands-on and engaging, 2) always points to the Creator, and 3) easy to implement for this busy mom of many.
So, I'm always on the lookout for materials like that because I know they will be a good fit for us.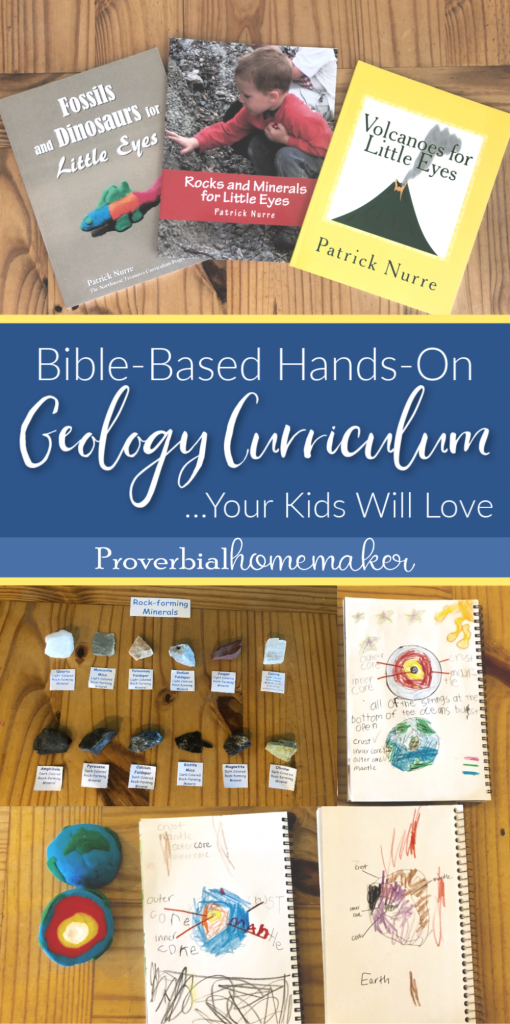 I asked for and received this curriculum in exchange for an honest review.
This year, one of our big WINS for homeschooling was a science resource that meets all three of my criteria! It's the homeschool geology curricula from Northwest Treasures.
Now, Northwest Treasures has been around for years serving homeschool families across the nation with their resources. I'd seen them a few times at our state homeschool conference, so I had them in the back of my mind as a "someday" resource to use.
However, recently, my oldest son listened to a live talk by Patrick Nurre from NWT about dinosaurs and the Bible. My son was so completely engrossed, excited, and motivated to learn more, that I immediately went to their web site to see what we'd be getting for our science curriculum this year!
Homeschool Geology for Little Eyes
There are several options to choose from, but after checking out the info and talking to a friend who used it, I decided on the Geology for Little Eyes kit. It's actually three different curriculum options in one bundle, and it has been just right for us.
Here's what the Geology for Little Eyes kit includes (You can also buy each one separately, but the bundle kit combines some of the hands on materials and gives you over 45% in savings.):
I chose this bundle kit because the topics would appeal to my all kids. (Hellooo…. rocks, dinosaurs, and volcanoes? That's a slam dunk.) Even though it says it's for pre-k through 3rd grade, I knew we could use it as a group learning experience for my whole crew of kids, and my older ones (4th and 6th grade) could do extension activities such as extra notebooking or independent research.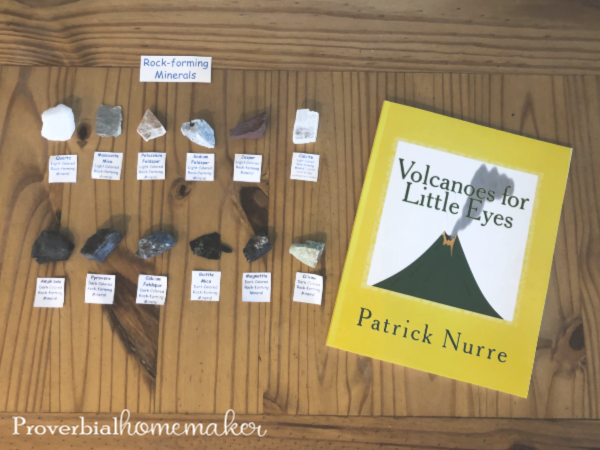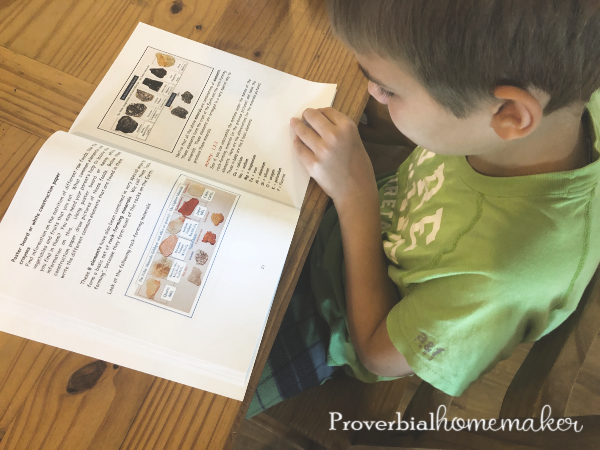 How We Used This Curriculum for Homeschool Geology
Our homeschool days include a group time after chores are done where we use loop scheduling to rotate through various subjects we want to make progress on but don't need to do every day. Our homeschool geology work is done about every third day with that rotation.
The curriculum is pretty easy to implement, so there is very little prep work. Before we start a unit (we did Volcanoes for Little Eyes first) I check the materials list included make sure we have everything on hand. After that it's just open and go when we get to geology in our rotation.
Each lesson usually includes some read aloud time from the text, some photos to examine together, memory verses or Scripture references to look up, and then some activities. Those activities could include getting out the box of rocks, minerals, and fossils it came with, having some discussion time, checking a map, notebooking, and so on. Occasionally I'll break out Youtube and find a related video to watch, such as lava flow in Hawaii.
Most days it takes about 20 minutes or so. For days where a more involved project is on the docket, such as making our baking soda and vinegar volcano, we meet again in the afternoon to do that together. It's pretty flexible to be as structured or as go-with-the-flow as you like.
Hands-On and Engaging
I love that the curriculum guides have hands-on projects and interesting text to read that really keeps my kids engaged. The lessons are short, which is always a win, and my kids get excited about each new geology lesson! Another plus is the variety of activities, such as identifying rock and mineral samples, making sugar rock candy, creating a volcano to explode, making a model earth with layers and journaling about it, and so on.
The biggest feature that makes this curriculum stand out, however, is the kits with actual rocks, minerals, and fossils that your kids can hold and investigate. It's the next best thing to getting out there and digging up fossils for themselves! My kinesthetic learners definitely benefit from it, but having those samples in hand really makes the lessons memorable and helps them retain the information they learned.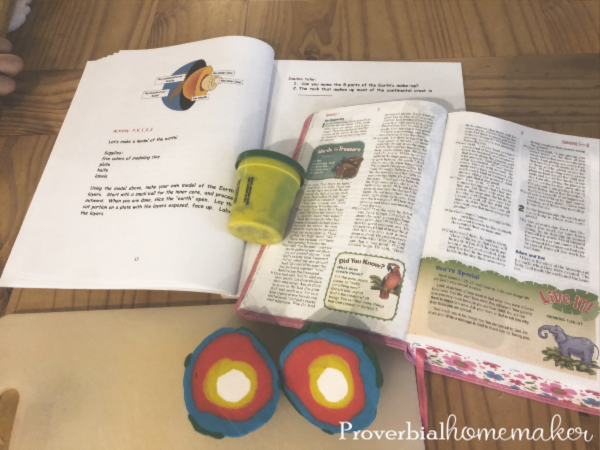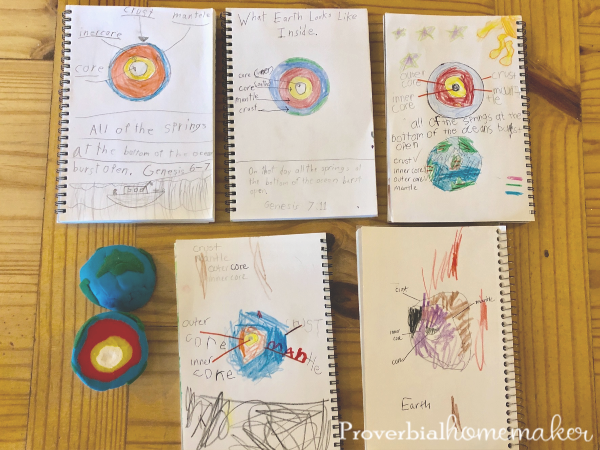 Points to the Creator
It's fantastic to have a hands-on curriculum that the kids really enjoy and that also points us to the Creator. Northwest Treasures stands by a young Earth and global flood perspective.
It has been interesting for me as the homeschool mom to learn along with my kids about how geology reflects the biblical narrative of creation and the flood. I always appreciate and support companies who give all glory to God as our Creator and help our children to do the same.
Easy to Implement
I am a super busy mama with 6 kids to teach and a slew of other responsibilities to manage. I need quality resources that also make things easy for me! Geology for Little Eyes definitely does this. Like I said, after some initial gathering of materials (most of which you'll likely have on hand already) it's pretty much open and go!
The kids each have a simple sketch journal they use for drawing and writing notes about our lessons, too. You can certainly find extra books and videos to supplement the lessons but everything you need to make it a rich experience is already built in.
How Many Lessons Are Included?
This isn't something I personally worry about — we just do the next thing — but I know some of you need to consider state requirements or just like to plan ahead. Of course, how long this curriculum will last you depends on how many days a week you do school and how many of those days you choose to do geology.
For the numbers below I'm assuming you do homeschool geology about once a week. We do ours about once or twice a week in our rotation. The lesson length is perfect for a longer session or co-op situation. Or if you want shorter lessons you can break lessons up across multiple sessions.
Volcanoes for Little Eyes: 6 lessons at one per week or break them up across about 10 weeks
Rocks and Minerals for Little Eyes: 11 lessons at one per week (I didn't see a need to make these shorter)
Dinosaurs for Little Eyes: 10 lessons at one per week or break them up across about 20 weeks
If you buy all of these together in the Geology for Little Eyes kit, it's about a year to a year and a half of lessons. Also note that there is a bit of overlap between the units included in the bundle kit but we tend to need that anyway to reinforce the lessons.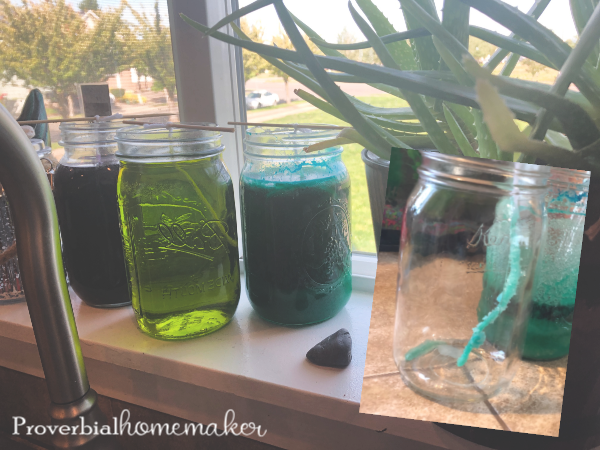 Is It Worth the Cost?
Some folks have commented that the curriculum is a little spendy. Here's the thing… the kits come with rock and fossil samples that are hand-picked, labeled, bagged, and incorporated into the lesson activities. That's where a lot of the value comes in, and therefore a lot of the cost associated. Here are a few thoughts to consider:
Although you get the most savings with the Geology for Little Eyes bundle kit, you could just get one of the sets or another lower priced kit.
For our family with 6 kids, it's actually a great price for a year of memorable, Bible-based, hands-on science curriculum.
We'll definitely pull it out and go through it again at least a couple more times during our homeschool years.
You could buy just the books and not get the rock and fossil samples, but I personally wouldn't skip the samples. It makes it a such a great learning experience!
How Do You Know If It's a Good Fit for You?
You can download sample pages of their curriculum on their web site. This freebie with sample lessons from Rocks and Minerals for Little Eyes is a great place to start!
What Else Does Northwest Treasures Offer?
I've shared a few of the homeschool geology resources Northwest Treasures has but they have much more. You'll want to check them out.
I hope you found this homeschool science review helpful, friends! Feel free to ask me any questions about how we use this resource or reach out to Northwest Treasures for more info.
~ Tauna
You Might Also Like…
How to Homeschool from a Biblical Worldview