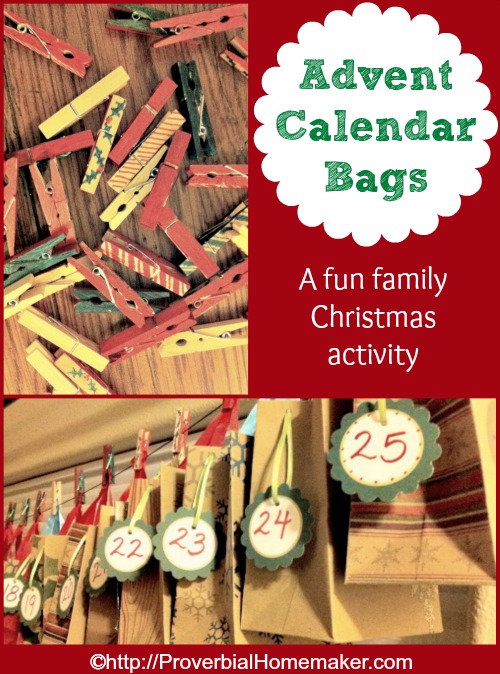 Advent calendar bags are a fun a simple way to celebrate Christ this season. You can buy several plain brown or Christmas-themed gift bags, label them with the day of the month, and display them in a variety of ways.
Here are a few things we have learned when we did advent calendar bags in our home:
Line them up on a bookshelf, on the mantel, or hang them on a curtain rod.
We no longer put candy or gifts in our bags. It took the focus away from family time and the Jesse tree lessons.
In each bag, place a piece of paper with an activity for the day in it and the Jesse tree ornament.
One big note for the below project: Careful to use strong twine if you hang anything heavier than a few pieces of paper. We hung our garland on a curtain rod. A few days later, the twine broke in the middle of the night, the bags and their contents fell to the floor, and the candy melted over the hot air vent. Not good! Sturdier twine and no more candy for us!
I bought some nice bags on sale at the craft store, along with some mini clothes line clips and twine. I already had green and red permanent markers, craft scissors, and old Christmas cards at home. After dinner on Thanksgiving day a few friends helped me take the price tags off the bags, cut out and write number tags, decorate the clothes pins, and tie the tags to the bags.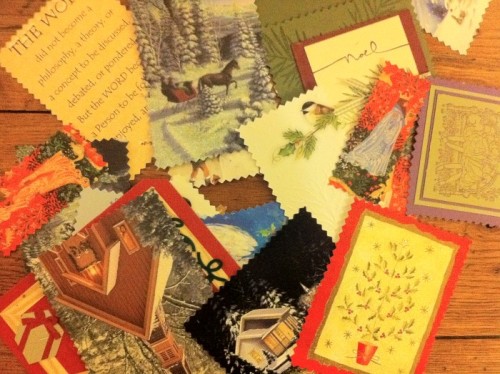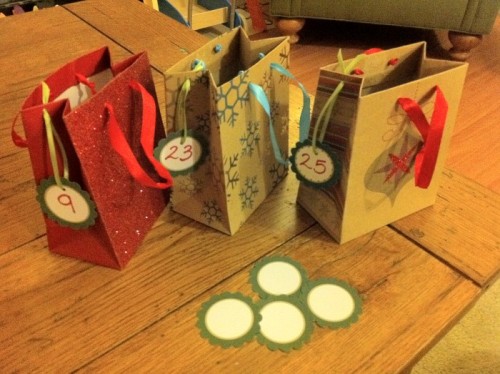 I ended up with bags that were too big to display face side out, so I punched a hole in the side and tied the number tags there. Each bag was filled with an activity card, Jesse tree materials, candy, and some with toys. I tied the twine to our bare and lonely curtain rod and clipped the bags to it. Yay! Advent garland!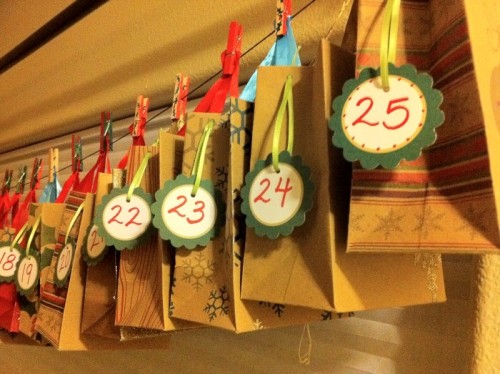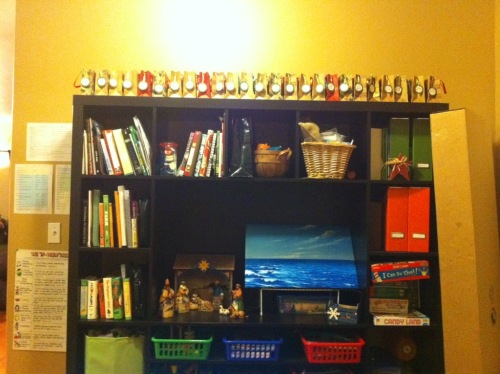 Our Activities. I am hoping that each year the kids can help me come up with activity ideas. Here is what I did for this year since my kids are so young. Some correspond to Jesse tree concepts or things we already had planned. They do not include all the activities we plan to do (like reading books about the birth of Jesus or visiting with out of town relatives). Also, it's easy enough to skip things or switch them around if needed. No stress!
Make a wreath (simple preschool craft)
Make cinnamon-applesauce ornaments
Watch a Christmas movie and eat cookies and milk
Act out nativity story (nativity toy set or flannelboard characters)
Make gingerbread houses (scheduled event)
Make manger for under tree (to put Jesus in on Christmas morning)
Make Great Grandma a Christmas gift
Visit Great Grandma (scheduled event)
Make a gift for a friend's upcoming birthday party
Make and deliver a Operation Christmas Child shoebox
Take video of kids singing Christmas songs and send to grandparents
Christmas brunch with extended family (scheduled event)
Drop off bag of food at food bank
Bake cookies for cookie exchange party (scheduled event)
Worship Jesus by singing Christmas songs as a family
Make a Christmas picture frame
Make hot chocolate and watch a Christmas movie
Make and deliver goodies for neighbors
JARON'S B-DAY! (obviously, a scheduled event)
Go on drive to see Christmas lights
Play "prepare the way" game (John the Baptist lesson for Jesse tree)
Make a hand and footprint angel
Watch Charlie Brown's Christmas
Bake birthday cake for Jesus and go to Christmas Eve service
Christmas Day!!!
Hope this gives you all some ideas! Here are more:
You Might Also Like: