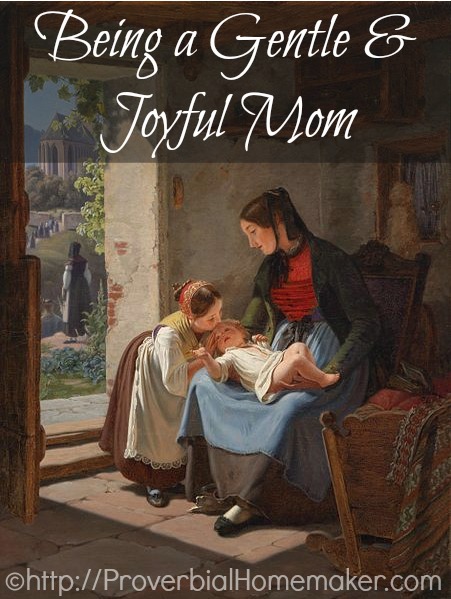 Disclosure: *This post may include affiliate links. As an affiliate, I earn from qualifying purchases. Read the disclosures and terms for more information.
Source
Be completely humble and gentle; be patient, bearing with one another in love. ~ Ephesians 4:2
Last Sunday our pastor challenged us to pray about one thing that God would have for us in the new year. One thing to confess, one person to forgive, one relationship to mend, one dream to pursue…
I am a goal-making, list-checking, problem-solving kind of gal and I go crazy with it this time of year! But this time, there is a call to rest, contentment, and abiding that I hear from my Lord.
There will be projects and goals and lists of books to read. But those are not on my mind as I look out expectantly into the future. Instead, He has placed deep desire within me for one thing this new year. A dream that is humble and yet so challenging…
To be a gentle and joyful mom.
It's almost anti-climactic to write that. It isn't a dream that will impress the world. There is no checklist for it. There is no end to pursuing it. It is not a S.M.A.R.T goal. But it is the desire of my heart and worth everything in me to run toward.
This past year, especially, I have struggled with anger and frustration with my family. My default mode is selfishness and a complaining attitude. I feel such discouragement and shame when, despite my best efforts to overcome it, impatience lashes out in harsh words and a cold, hurried touch. My weaknesses have been exposed and my attempts to fix myself have all failed.
Finally, I have run to my Jesus, all tears and big feelings, and fallen into His arms. God has brought me to a level place where I am at the end of myself and fully dependent on Him. At the same time, He has given me a great desire to be a woman her family knows as gentle and joyful.
That's where I stand right now. All God needs to accomplish what He wants in my life is a broken spirit and a contrite heart – a willingness and obedience to follow Him.
And I seize the opportunities He provides to cultivate rest, contentment, abiding, gentleness and joy.
Here's what He's already led me to:
Friends to process with and be accountable to in this journey
The guidance and wisdom of older women
Time with Him and in His Word
Little ways to practice

gentleness with

my kids
Knowing His word and living it out
Slowing down and dwelling on His many blessings
If you struggle with these same things – if God had placed a similar dream in your heart for this new year – I hope this can be a place where we can share with and encourage each other!
Here are more articles and resources that I hope encourage you!