I'm always trying to find ways to be a blessing to my husband. It is so important in keeping our marriage strong and fresh. Even the seemingly small things can have a big impact. When you serve your husband, you are serving the Lord by being a good steward of
marriage
, this sacred relationship He has gifted you with!
Disclosure: *This post may include affiliate links. As an affiliate, I earn from qualifying purchases. Read the disclosures and terms for more information.
One of the best things we can do as wives is to study our husbands, looking for the ways they uniquely receive love and respect, and how to communicate that to them effectively.
Here are a just a few simple things I've found are helpful for my husband. Perhaps some of them are true for yours as well!
Don't "dump" my day on him as soon as he walks in the door. Wait at least 15 minutes to let him decompress.
Have clean hand towels in the bathrooms. That seems odd to me, but he's grossed out by my son's liberal use of them.
Don't let the clean sock supply get too low. It's really important to the man! 🙂
Help him stay connected with others, either by reminding him or by arranging connections.
Take care of myself: get enough sleep, have time with friends, take down time for myself, spend time in the Word, etc. ("Happy wife, happy life!")
Set up special times for him and the kids. Get everything ready for bath time, make plans for a father-son/daughter outing, set out a Bible or pile of books and some popcorn, etc.
Pray for him all the time! For his work, his commute, his health, his walk with Jesus, his relationships…
And I learn more each year!
How can you find new ways to serve your husband?
Sit down and start a list of the things that mean the most to him. Purpose to do one each day and see what an impact it has on your marriage!

Ask him. What could you do to make his day go smoother? What household things do you do that he especially notices and appreciates? What would he like you to do more of/differently? Are there responsibilities you could take over to ease his burden?
I have asked my husband these things several times over the years. Sometimes he has insights to offer and other times he doesn't. It's still a good practice, even though most of my discoveries come from observation.
Watch him. See if his habits reveal some good ideas. I watched my husband walk from the bathroom to the kitchen just to was his hands because he didn't want to use the bathroom towels! He makes a positive comment when he walks in the door and there is music playing or I'm reading to the kids, instead of chaos and screaming.

Listen to him. What seems like a common gripe is often an opportunity for us to help him out. For example, my husband gets frustrated when he can't find things. It can become a major source of frustration for him. I could really help him by organizing certain areas in our home and getting everything in their places. Guess I should do that, right? 🙂
So what about you? What can you do today to serve your husband?
You might Also Like…
Dear Wife Who Feels Disconnected – Tips for getting back in the groove with your marriage!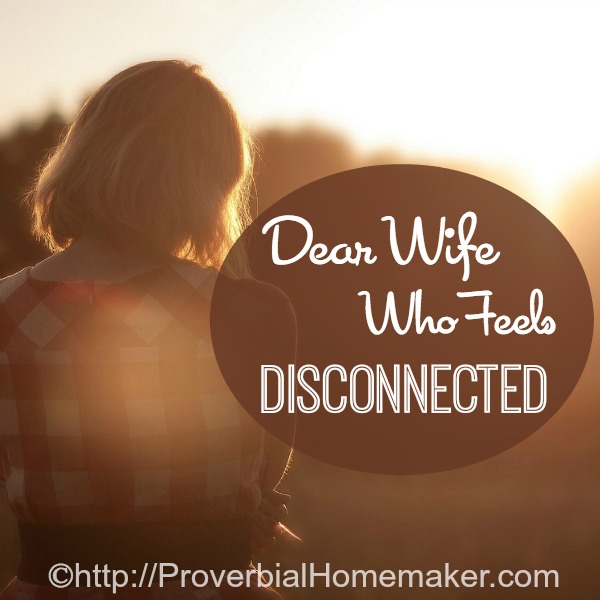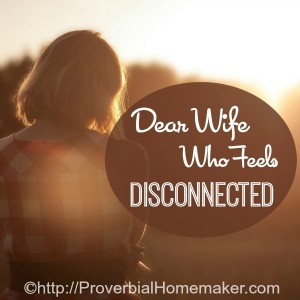 ————————-
"Love each other with genuine affection
and take delight in honoring each other." Romans 12:10