With the exit of ready-made, sugary breakfasts from our house like poptarts, sugary cereals, and frozen pancakes my family has been begging for more grab and go breakfast options in the mornings. Are you looking for some fun breakfasts, too? Time to build up a list of great meal plans and recipes! Get started with these fun pancake poppers! You'll love these bite-sized pancake muffins for your littles to gobble up.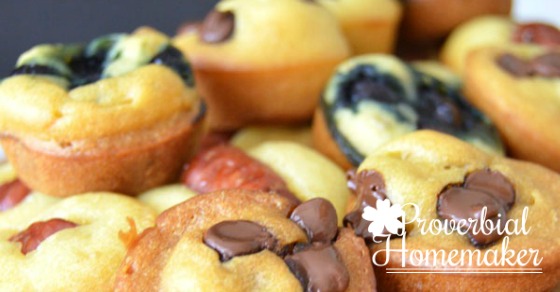 Disclosure: *This post may include affiliate links. As an affiliate, I earn from qualifying purchases. Read the disclosures and terms for more information.
I've also been working on some great freezer meals for my family and these are a perfect fit. You can change them up with many different ingredients for a fun sweet or savory breakfast treat. You may also want to check out my healthy breakfast muffins for more great freezer meal ideas!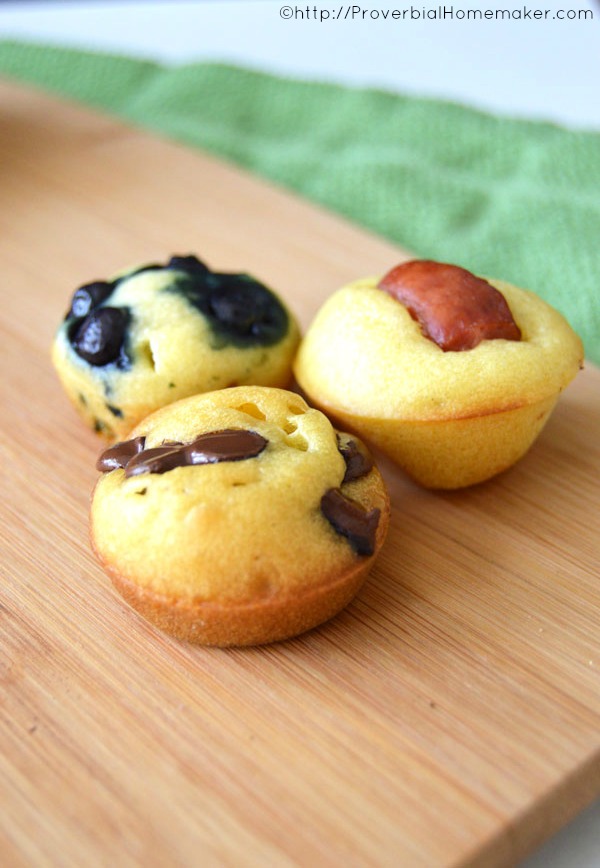 These mini pancakes would be great for little hands or to pop into a lunch box as a sweet after lunch treat for your littles. What I love about these is that you can completely eradicate those dreaded messy pancake eating days where your toddler ends up with more syrup on his body than in his mouth. These are perfect for dipping and hopefully creating less mess along the way!
Although if you add chocolate chips, all bets are off. 😉
Have some leftover hot dogs? chop them up and throw them in? You can also try blueberries, chocolate chips, and other fun add-ins. If you want something more aesthetically pleasing you could spoon in half a tablespoon of batter, add your favorite pancake mix ins, and then spoon the other half tablespoon over top. Or you could do what I did and spoon all the batter in, add your fixin's on top and pop those bad boys into the oven!
Don't they just look…yum! You'll have to shoo more than a few hands away so that these actually make their way to a plate and not right into hungry mouths!
What is your favorite grab and go breakfast?

Pancake Poppers
Make these mini on the go pancake poppers for busy mornings or to fill up little hands!
Ingredients
1 cup flour
¾ cup milk
2 Tbs melted butter
1 egg
1 tsp baking powder
½ tsp baking soda
½ tsp salt
Instructions
Preheat oven to 350 degrees. Add flour, baking powder, baking soda, and salt to a medium bowl, mix to combine, and set aside.
Melt butter in a microwave safe dish, add milk, and allow to cool. Whisk in egg until fully incorporated.
Add wet ingredients into dry and mix until completely combined.
Spoon into mini muffin tins using a small 1 Tbs cookie scoop and add your toppings, pressing down lightly.
Bake at 350 degrees for 12-15 minutes.*
*If you will be making these to reheat later then 12 minutes is perfect because they'll cook some more in the microwave or toaster oven.

You Might Also Like…
5 Easy Steps to Freezer Cooking – A great start to making freezer meals your family will love!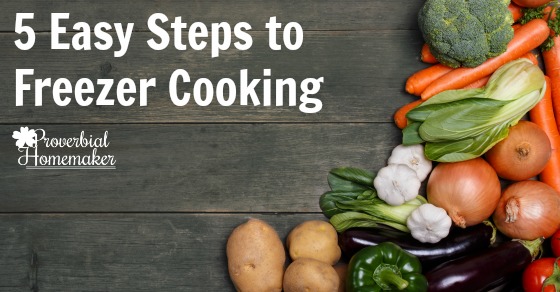 Mix n' Match Menu Planner – FREE for subscribers!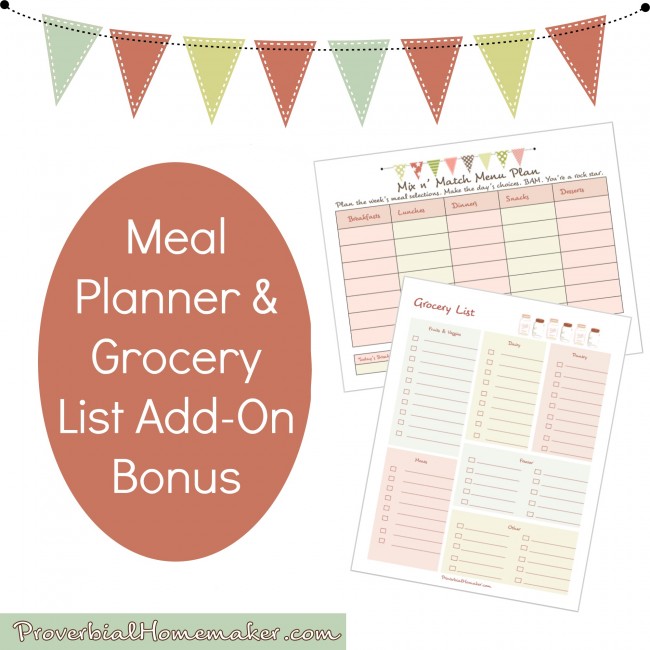 ---
Recipe credit: Guest post by Meaghan, a former teacher who currently works part time as a substitute teacher until she can pursue her passion of blogging full time. She loves to invent new recipes and has a wicked sweet tooth. You can find her over at Cook. Craft. Love. where she blogs about family favorite recipes and new inventions, seasonal crafts and decor, and the occasional free printable. She loves cupcakes, casseroles, and college football. You can follow Meaghan on Pinterest, Facebook, Instagram, and Bloglovin'.