I've been in denial. But school pencils are being sharpened, new notebooks are piling up, postcard invitations are arriving for Fall Parents' Weekends at my two older daughter's colleges, and I can no longer deny it. Fall leaves will be precariously positioned on sumac stems and beech branches all over our New England homestead in just a few short weeks.
Disclosure: *This post may include affiliate links. As an affiliate, I earn from qualifying purchases. Read the disclosures and terms for more information.
Don't get me wrong, I adore the beauty of fall. But I'm always sad this time of year that Sweet Summer can only offer a few more stray weekends of her long, warm days before she tucks them away for another year. I need to start the seasonal clothing migration, swapping my cute summer skirts for the heavy knitted sweaters that are packed away in my grandmother's truck at the end of our bed. I need to thoroughly enjoy every day's swim in the lake, knowing one morning soon will prove too cold, and I'll turn around, walk up our driveway, and leave the autumn dips to the heron who is fishing for a good meal before she chases Sweet Summer, heading south.
So I need to make lemonade from lemons, bite the bullet, stop writing in cliches, and think about a few fun ways to make something pretty inspired by the lovely leaves of fall.
I'm not talking about crocheting a mug cozy in the shape of a ginkgo leaf. Or breaking out a sewing machine, or, heck, even breaking a sweat. I just want a few simple ways to enjoy the fall leaves.
Leaves my daughters and I can pick up off the ground and simply press between layers of wax paper, among pages of heavy books, like I did as a kid. Heck, I would even like a fun thing to do with fall leaves that is so simple I can use leaves fresh off the tree. Mind you, I won't have those crafts around for my kids to show my great grandkids or anything like that, but that's okay. I can preserve some pretty hues of fall to usher in the long, cold, northern nights of winter with pizazz.
Fun with Fall Leaves
I don't want a Martha Stewart afternoon, I just wanna have a fun mom-and-me moment together. Instead of making a family heirloom, I just wanna make a brief, treasured memory on a warm fall afternoon. And autumn leaves offer limitless, wonderful ways to do just that. Here are a dozen ideas to get started:
String leaves…
Help a toddler make a simple fall necklace, stringing pony beads on yarn interspersed with colorful leaves. If he'd like it to last for more than a few days, you can help him press the leaves between layers of contact paper before assembling the jewels.
Hammer prints…
This magical way to retain leaf colors on paper also happens to be a great way to release some aggression after a frustrating math lesson. Simply layer leaves between two pieces of paper and hammer away. Sometimes the results even prove pretty enough to frame.
Arrange animals…
Gather a large variety of shaped leaves and encourage your child to make an elephant, a fish, a bird, or whatever they fancy. Just google "leaf animals" if anyone needs some inspiration.
Wax some blades…
This idea may be too martha-stewartish, sweat-inducing, stressful for me to attempt, but I might try it. First, rig up a double broiler out of a couple of old pans you don't care about (the wax will make a mess of them)–one of which fits inside of the other. Boil water in the larger one and place the smaller one inside. In the smaller one, melt some bleached beeswax (or I'm gonna use old stubs of white or light-colored candles), then dip pretty leaves in, one at a time. Hang them on clothes pins outside to dry. The leaves can be dipped as many times as you'd like, as long as you let them dry thoroughly with each new coating. Then wrap clear fishing line around each stem and hang them to enjoy all fall.
Rub and shade….
Add leaf pencil shadings and leaf crayon rubbings to nature journals. If you feel like making a simple leaf lesson out of it, review these four botany terms and see if everyone (including mom) can label these features of each leaf they imprint on their journal pages: arrangement, venation, shape, and margin. Or review some typical leaf arrangements (alternate, opposite, whorled) and venation (pinnate, palmate, and parallel) and keep a tally of how many you notice while you walk.
Make 'em stick…
Make fall leaf magnets by covering pressed leaves with contact paper and glueing a magnet to the back. (We keep freebie magnets on hand– you know? the cheesy ones that companies hand out at business expos etc?–to cut and reuse for these kind of purposes.)
Trade 'em…
If your child hasn't yet heard of ATCs (Artist Trading Cards) then boy do you want to read what I wrote about them a few months ago and get started making and trading these one-of-a-kind, therapeutic, addicting, wonderful tiny pieces of art. We've found that fall leaves make some beautiful ATCs:
Lay a small leaf, vein side up, under a blank ATCs. Using the side of a crayon that has had the paper removed, make a wax rubbing. Then watercolor paint over your leaf. Wherever you've rubbed wax, the paint won't adhere to the paper. (Watch how in this video.)
Press a small leaf for a few weeks, then modge podge it to a pre-painted ATC. In the bottom picture below, my daughter covered an ATC with watercolor, using a very wet brush, then sprinkled salt crystals on the wet background. The watercolor dries in magical ways as the salt dries it up. It makes a beautiful backdrop for your favorite pressed leaves.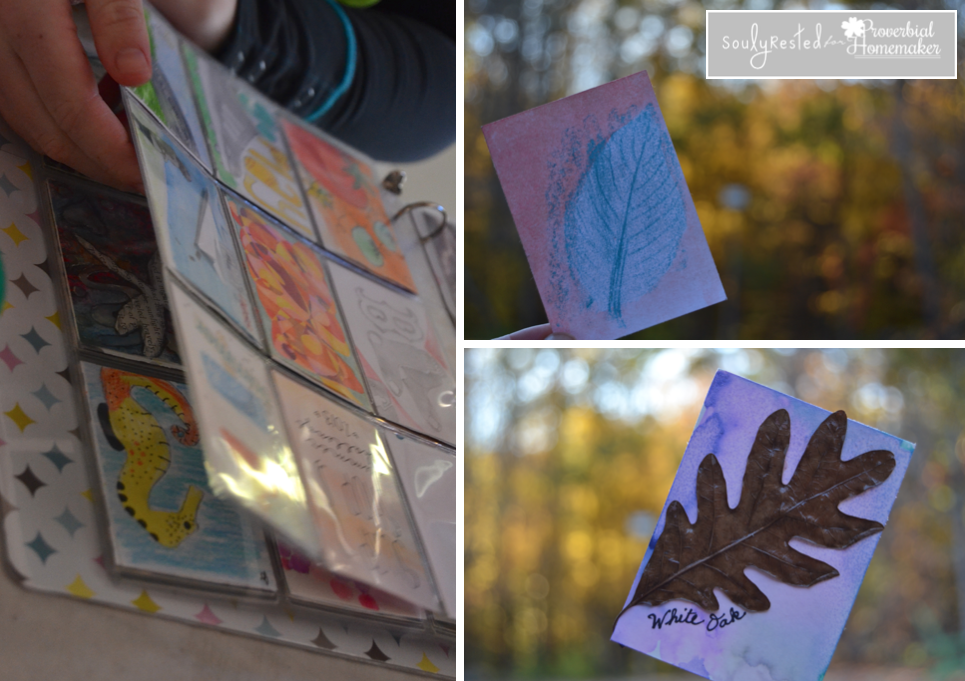 Wrap it up…
Make beautiful wrapping paper with leaf prints. Have the kids use paint (water color seems to work best) or even markers (especially if sprayed with a little water) to coat the underside of the leaf with lots of color. Then press the leaf, paint-side-down on a large sheet of craft paper for one-of-a-kind beautiful gift wrap.
Illuminate some…
A few old mason jars, some Modge Podge, and fall leaves can be used to create beautiful lanterns to house tea light candles.
Embellish an Entrance…
Even tiny hands can create a beautiful autumn wreath to hang on the front door. Just cut a template from cardboard and then encourage them to glue leaves in place, covering the entire template. They can include pinecones, acorns or any craft supplies, and the wreath can be hung by a ribbon, raffia, twine, or a thin rope.
Shoot 'em…
Invite a child to complete a fall photography challenge with you. Make it as intense or as simple as desired. To get started, check out the photography challenge my daughter and I put together last autumn, complete with 5 simple tips for taking amazing photos.
Give thanks…
This might be my personal favorite use of fall leaves. Gather a basketful, place a sharpie with them, and encourage each family member to write a few words on a leaf to symbolize what they're most thankful for that day. Designate a place in the house where they can assemble a make-shift paper tree and hang each thankful leaf on a branch, one-by-one over the upcoming weeks, from now until Thanksgiving. Hop over to my Thankful Tree post from last fall for a little more detail and inspiration.
But no matter how many memorable things I think of to create with fall leaves, I'll admit, I'm still hoping Sweet Summer turns out to be lazy this year. I hope she slowly whittles away many more weeks before tucking in her warm afternoons for a long winter's nap. I hope to enjoy many more weeks of morning laps in the lake before I start gathering fall leaves. But when it's time, I'm ready.
I think.
While you and your children are deciding on some fun things to do with leaves in the weeks ahead, feel free to print out and enjoy filling out this free printable together. You'll learn some fascinating facts about the beautiful leaves that add so much vibrancy to short autumn days. And stop over and follow along at SoulyRested.com for more great resources.
If you'd like an additional FREE 7-page, chock-full-of-information printable that will get you started on an unbelievably easy, unlimitedly rewarding journey of nature study with a child–from trees to insects and everything in between, follow along on SoulyRested.com. The free printable even includes an ID page for studying mammals! And even the least science-oriented parent (or grandparent) ever can dive right in.

And love it.

Really.
Do you have a favorite way to have fun with fall leaves? Please share!
You Might Also Like…
Apple Life Cycle Printable Pack
15 Fall Soups for the Crock Pot