Want to use essential oils with kids but wonder how to use them safely? Or maybe they're just not a part of your daily routine and so you forget to use them? Essential oils can be a great help for busy moms wanting to boost their kids' health and wellness. Here are some tips on using them safely and easily with your children!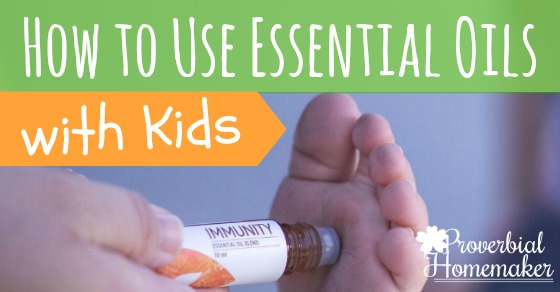 Disclosure: *This post may include affiliate links. As an affiliate, I earn from qualifying purchases. Read the disclosures and terms for more information.
1) Choose Essential Oils Safe for Kids
You'll want to do a little homework to find out which oils and blends are safe for use with children. Same thing goes for pregnant and nursing moms, as well as those who have compromised immune systems. Essential oils can be a great asset in the family medicine cabinet, but not all oils are appropriate for the immature and growing bodies of your children! The book Essential Oils Safety by Robert Tisserand is my go-to for this kind of information.
(Psst… to help you our here, I also have a post with a cheat sheet on essential oils and child safety.)
2) Dilute Essential Oils Appropriately
Before using essential oils with kids, you'll want to make sure that they are properly diluted. You dilute an essential oil by "watering it down" with a carrier oil such as Fractionated Coconut Oil (my favorite), jojoba, or other carrier oils.
Diluting an essential oils make sure that your child's bodily systems won't get too much essential oils. Oftentimes, less is more! Oils are absorbed very easily by the skin, and just one drop of essential oils is the same as applying an enormous amount of plant material to your child's skin. A 1-2% dilution is recommended for children under 12 years old.
3) Administer Oils Safely & Effectively
Topical application (rubbing the diluted oil onto the skin) and inhalation (diffusing the oil into the air) are the two most common and recommended ways for using essential oils with kids. They should never ingest essential oils in drinks or otherwise. Whether you apply topically or diffuse often depends on your goals at the moment.
You might want to diffuse an immune boosting blend in your home when a cold is threatening, or you may have a child coughing at night who just needs a little oil rubbed on their chest or feet.
4) Treat Oils Like Medicine
Essential oils are natural and wonderful additions to your home life! However, essential oils still need to be treated with caution and respect. As I said, they are powerful and potent materials! Treat them like any other medication.
They should be kept out of reach of children. My kids have been kind of enamored by the roller bottles we use so we had to chat about how they were like medicine, not toys or perfume, and only mommy can put them on them.
Read: Essential oils NOT to use with children
5) But DO Start Using Essential Oils With Kids!
I was so skeptical of essential oils until a few years ago. But after much research into how they actually work on the body and as I've used them in our home every day, I am impressed at their usefulness and how much essential oils really do enhance our health and wellness. They are a helpful tool for any mom!
For the busy household, it's worth a little effort to make sure your essential oils are easily accessible to you and that they can be used quickly and conveniently. Otherwise, you'll have the same problem I did for a while and forget to use them! That's a waste of money and possibility.
Keeping them in pre-blended roller bottles in the cupboard and in my purse helps a ton. I also keep a diffuser in the main living area with a set of oils we often use nearby.
My FAVORITE Oils For Children
Want a convenient and kid-safe way to use oils in your family? I have to tell you about the Kids Line of essential oils from Rocky Mountain Oils! I've been using these for months with my kids and they have fast become a staple in our home. What I love about them:
They come in pre-diluted roller bottles (no prep required on my part!)
Easy to use and store well in my purse
Use pure essential oils from my favorite EO company
FREE shipping in the U.S. and a 90-day money back guarantee
NO signing up for a club or membership, and no minimum purchases required
Lovely and effective kid-safe blends available:
Want to Know More About Using Essential Oils with Kids?
If you are totally new to essential oils, take my free eCourse, Getting Started with Essential Oils, No MLM Required!