Essential oils products are fantastic choices for gifts in so many situations that it's become my go-to. They're great whether you're buying for the health nut or the health newbie, the mom or the grandma, men or women… with essential oils there's something for nearly everyone! Here are my 10 best essential oil gift ideas that will fill up those stockings in no time at all!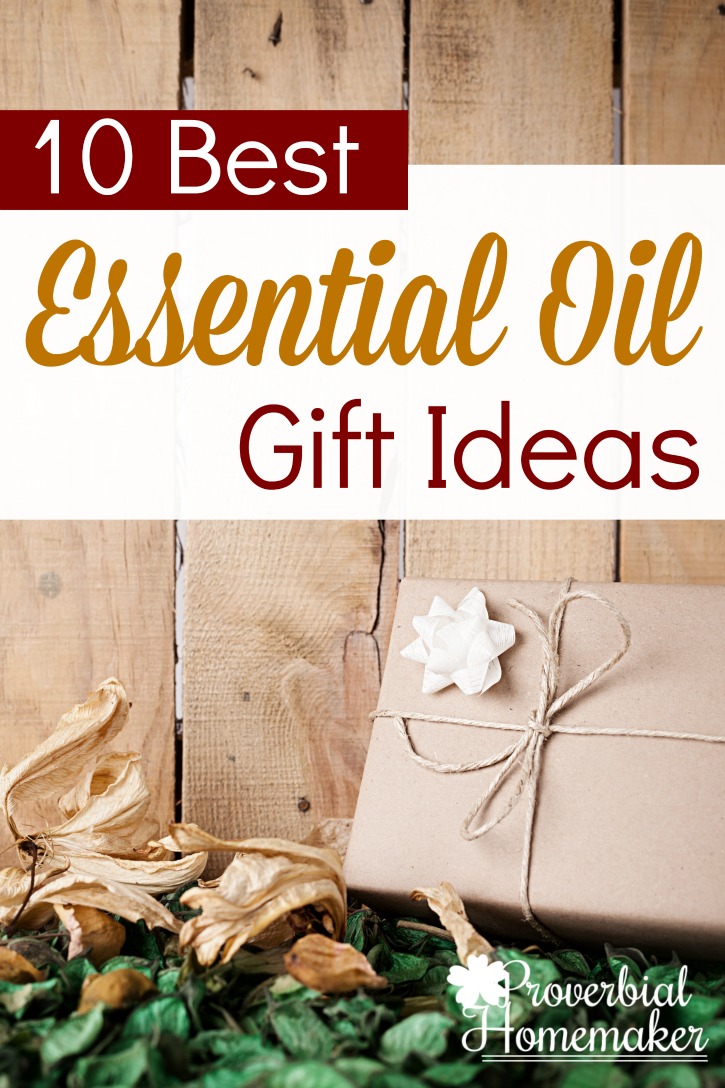 Disclosure: *This post may include affiliate links. As an affiliate, I earn from qualifying purchases. Read the disclosures and terms for more information.
Essential Oil Gift Ideas!
Tools for a Healthy Family
Moms are thrilled by things that make their lives easier. Consider giving someone a little essential oil kit that helps them stay healthy this winter!
Wrap it with a little card with usage ideas. They can diffuse 5-10 drops at night, make an inhaler, make a roller bottle blend, etc.
[Read: How We Stay Healthy During Cold and Flu Season (with 6 kids!)]
Natural Skin Care Products
I have to admit, I'm a lazy skin care user. I love things to be quick and easy, but I also like what I put on my skin to be natural and free of harsh chemicals. It' hasn't been easy to find something that fit the bill. I make a moisturizer for the pesky seborrhea patches that sometimes happen on my face since having babies (thanks, kids) and in the past have made my own cleanser, but, don't you know it, I'm a busy mom and just can't sustain any routine that's more than 1-2 steps. I need convenience these days.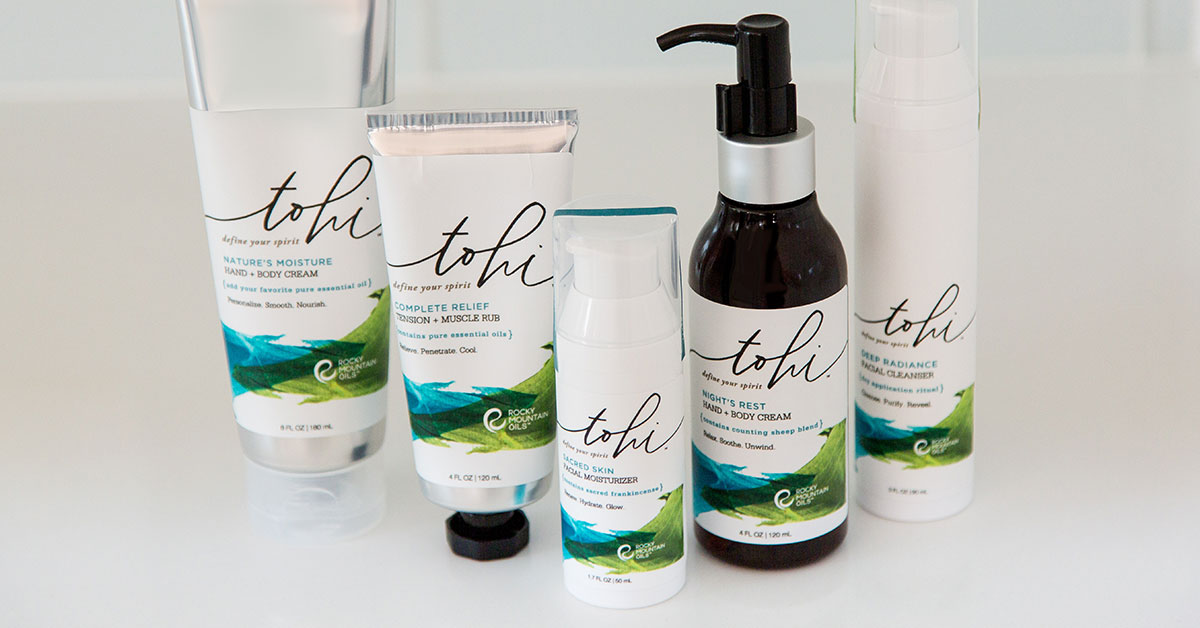 You guys… the Tohi skin care line from Rocky Mountain Oils and it is really very good. If you know me, you know I don't rave about beauty products (ever, lol! I'm a low maintenance mom) but these are fantastic especially if you don't have time for DIY.
Here's why:
Essential Oils Bottles & Roll-Ons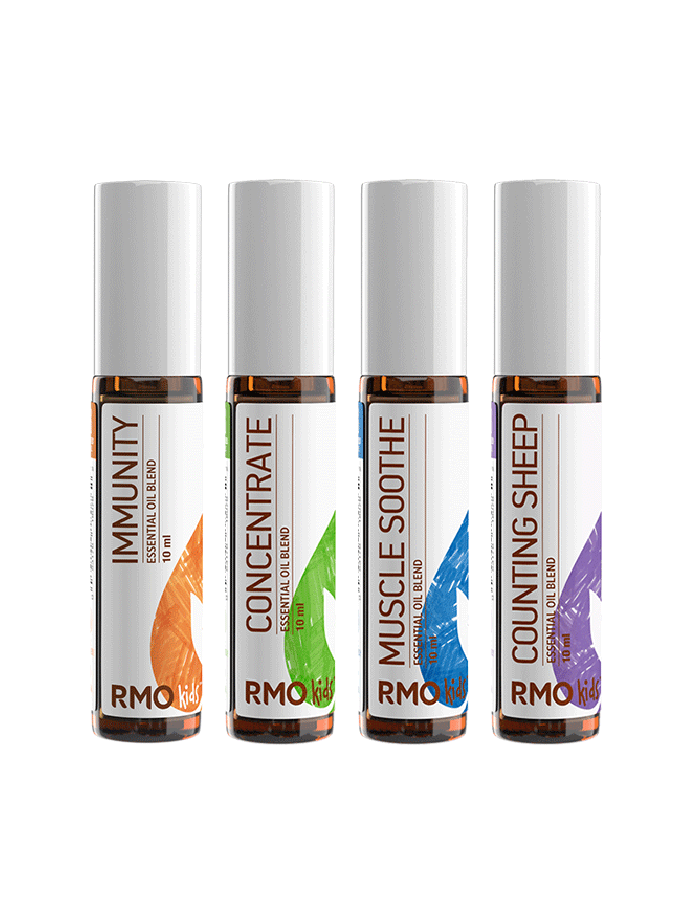 There are SO many oils and kits you could give! Bottles and roller bottles of essential oils are perfect stocking stuffers too. Here are a few ideas to get you thinking:
Perfume or Cologne
A simple and thoughtful gift is to offer a perfume or cologne. They're much easier to do than you think, too! Try these 10 best recipes for making perfume using essential oils. For the guys, try out these DIY essential oil colognes.
Sugar and Salt Scrubs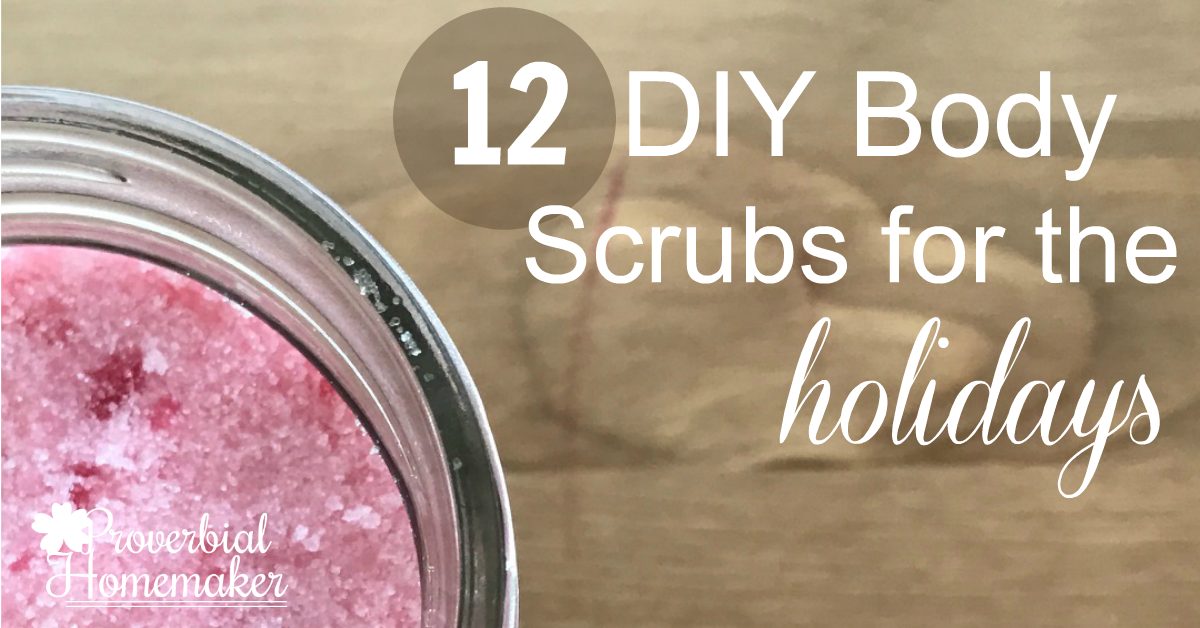 I guess sugar and salt scrubs technically are skin care too but I had to put them in their own category. I enjoy making these and they work for both men and women. My husband even used one of them and loved it. Can you guess which one? 🙂
These sugar and salt scrub recipes are simple, look beautiful as gifts, and I definitely enjoyed them myself, too. The one with Frankincense is my favorite.
Diffusers and Inhalers

A diffuser and a bottle or two of oils is always a fantastic gift. You can get ones for large room spaces, ones for bedrooms, and even one that plugs into the USB port for desktop diffusing.
I have started preparing inhalers for quick essential oil use when there are kids around (and the oils I want to use are not kid-safe) or I am in a crowded place like on a plane or in a restaurant. I tell you – it's a life-saver if you have a headache or cold.
Nourishing Carrier Oils
Carrier oils actually stand alone as wonderful products. Fractionated Coconut Oil is my staple for blending. Avocado oil good for skin care, and more. They're not only nourishing on their own, but they are quite necessary for properly diluting essential oils. Don't let your friends or family members be without a carrier oil and some good instructions for safe dilution!
Storage Cases
As people start accumulating oils it is really handy to have some good carrier options. I have little pouches similar to this for my purse and in the bathroom upstairs for easy access to the kids' roller bottles. It's also essential to have one or more solid storage boxes. My favorite is the wooden one from Rocky Mountain Oils.
Essential Oil Gift – Jewelry
Jewelry is a great gift to get a mom, grandma, or teen who is able to handle oils responsibly. It is a lovely way to use essential oils anywhere you go! Here are a few options.
Genuine Leather Essential Oil Diffuser Bracelet/Hypo-allergenic Surgical Steel Locket£¨25mm£Bracelet
Tree of Life Hypoallegenic 316l Surgical Stainless Steel Aromatherapy Essential Oil Diffuser Necklace Pendant Locket Jewelry on 24 Inch Chain and Inner Calm oil
Essential Oil Kids Diffuser Bracelet (Flamingo)
Premium Heart Aromatherapy Essential Oil Diffuser Necklace Locket Pendant and 7 Colours Lava Stone Beads with Adjustable 24
Essential Oils Aromatherapy Diffuser Braided Bracelet Set (Adult)
Women's 316L Aromatherapy Essential Oil Diffuser Bracelet Stainless Steel Locket Bangle with Pads by Jenia
Lava Rock Essential Oil Diffuser Necklace, Minimalist Aromatherapy Jewelry, Simple, Delicate, Dainty Necklace with Stainless Steel Chain
Essential Oils Books!
Of course, learning more about essential oils is always a plus! You can take my FREE eCourse, Getting Started with Essential Oils (No MLM Required) and you can check out these great books. I've chosen a variety here for you for every level and interest, including a few of my favorites.
Essential Oil Safety: A Guide for Health Care Professionals
The Complete Aromatherapy and Essential Oils Handbook for Everyday Wellness
Essential Oils Natural Remedies: The Complete A-Z Reference of Essential Oils for Health and Healing
The Complete Book of Essential Oils and Aromatherapy, Revised and Expanded: Over 800 Natural, Nontoxic, and Fragrant Recipes to Create Health, Beauty, and Safe Home and Work Environments
Essential Oils for Beginners: The Guide to Get Started with Essential Oils and Aromatherapy
Smart Mom's Guide to Essential Oils: Natural Solutions for a Healthy Family, Toxin-Free Home and Happier You
Your family and friends are sure to love these essential oil gift ideas!