Our essential oils journey started without a diffuser. It wasn't long before I knew I wanted one for our home as a more efficient way to deliver healthy essential oils to my family. I have tried a few different methods and diffusers, but was very happy to get a chance to review an AromaCloud Spa essential oils diffuser from Rocky Mountain Oils (formerly Native American Nutritionals)!
Disclosure: *This post may include affiliate links. As an affiliate, I earn from qualifying purchases. Read the disclosures and terms for more information.
*** I received this product at no cost in exchange for my honest review. All opinions are mine. ***
Our Experience with the AromaCloud Spa
As I said, we have used a few other methods of inhalation and diffusers, which I will write about another time. Suffice it to say that the AromaCloud Spa is our preferred essential oils diffuser now!
When it first arrived I was pleasently surprised at how small it was (5 inches tall, 6.5 inches in diameter) for being an large-space diffuser. It's the perfect size to sit discreetly on our kitchen island for regular daily use. And we DO use it almost daily.
Right away I put in some Joyful Moments, which was recommended to me by NAN as a great seasonal scent for the fall and winter. I LOVE that blend, by the way! Very woodsy and crisp.
I initially filled the diffuser up to the max line which provides 8 hours of diffusing time, but have since found that I prefer to switch out the oils more than that. So I now fill it 1/3 to half way and get a few good uses out of it before refilling and using a different oil. It is very flexible to fit your needs and preferences.
Here are the ways we most commonly use the diffuser:
Scenting the home for fun or when guests are coming over – Joyful Moments, Lavender, Peace and Quiet
To bring things down a notch – Peace and Quiet, Tranquility
For a pick-me-up – Joyful Moments, Citrus blend, Grapefruit
Getting rid of kitchen smells (and, er, diaper smells) – Lavender with Lemon, Grapefruit
When there are rumors of illness – Purify, Lavender, Immune Strength
When cold and flu strike – Immune Strength, Lavender with Lemon
When Mommy needs a break – The light show mesmerizes children (read: they stop screaming)
AromaCloud Features
Ultrasonic technology that creates vibrations at high frequency
Use distilled, filtered, or tap water (distilled recommended – I use tap)
Ultra-fine mist means greater distribution in the air than other diffusers
Unit is BPA-free and comes in a simple white design that fits into any decor
Auto-shutoff feature turns the unit off when the water runs out
Easy cleaning by simply wiping out with rubbing alcohol or vinegar
Limited 1 year warranty
Here are the details on this diffuser:
Larger of the AromaCloud models
Holds 500ml (enough for a full 8 hours of use)
Perfect for large rooms or open floor plans
Running time and intensity options: High/low mist output and for 60/120/180 minutes or just "on"
Pretty lights – you can choose an alternating light show or a high or dim setting of a single color (White, Yellow, Baby Blue, Green, Blue, Red, and Purple)
No light option – you can turn the lights off entirely during use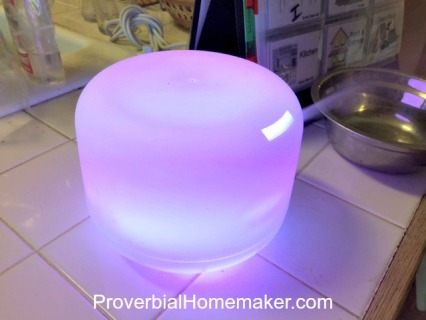 How to Use the AromaCloud Spa
The lid lifts off and you pour water into the chamber stopping just under the 500ml line. Then you add the essential oils you'd like to diffuse. For a full chamber, 5-10 drops is recommended and you can adjust from there. I tend to put 8-10 for half a chamber unless I'm running it for a longer period of time.
After the lid is put back on, you click the mist button and the diffuser starts putting out mist. A small green light comes on next to the length of running time the diffuser is set to. You can choose 60 minutes, 120 minutes, 180 minutes, or just set to "on" and it will run unil the chamber runs out of water.
There is another button to set the amount of mist, either high or low. One beep indicates high and two indicates low. A short beep also sounds when the diffuser turns off. The light button turns on the lights and controls whether the lights rotate or one color is always displayed. It also turns the light off altogether by holding the button down.
Bottom Line
I love the AromaCloud Spa! It is just the right style and size for us and it fills our large space with oils. It is a great price when compared with similar diffusers on the market. I love that it turns off automatically when the water runs out, because otherwise I would have probably already ruined it.
I really appreciate the quiet running, ease of use and cleaning, and different time and output options. The best thing is that I can easily and efficiently diffuse healthy oils into the air for my family, especially as the cold and flu season is already upon us.
The AromaCloud Spa is impressive!
(OVER) Enter the Giveaway!
Enter to win an AromaCloud Spa from Rocky Mountain Oils (formerly Native American Nutritionals), valued at $69!
Enter through Wednesday, Oct 22. Giveaway closes at midnight on the 23d and the winner will be notified via email. Winner has 48 hours to respond before another winner is selected.
{This giveaway is over. Congrats to Patti Z!}