I can't even believe we're into holiday season already, can you? I absolutely love Thanksgiving and Christmas, and this time of year brings our family extra blessings with several birthdays and our anniversary. It's such a wonderful time!
However… I have to have a plan in place. Far too many years have gone by when I just wing it. I like winging it – it suits me. The problem, though, is that I end up either not doing all the things I wanted to do, or I end up overwhelmed with it all. And sometimes both.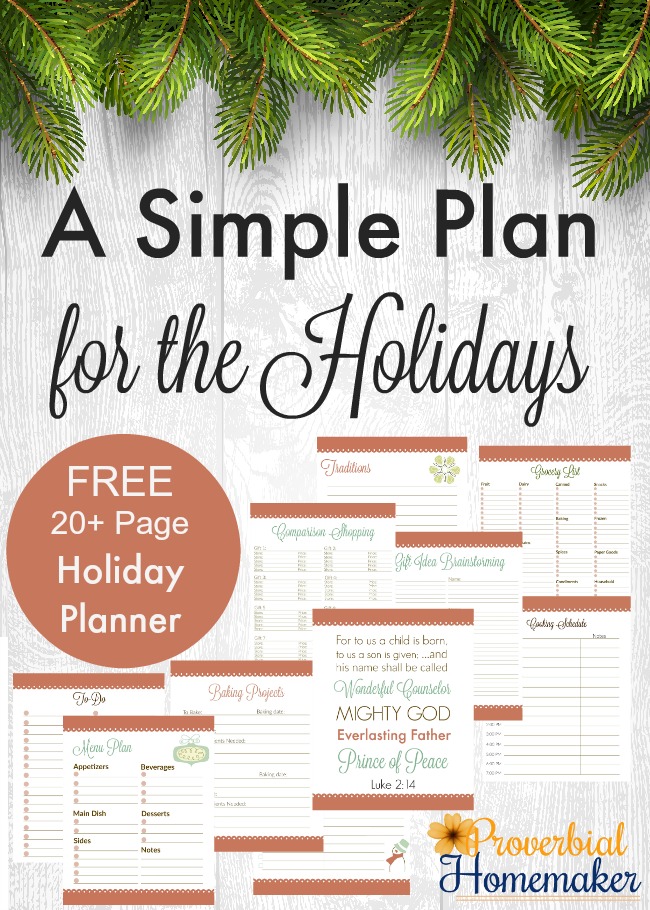 Making a Simple Plan for the Holidays
Even if you're not usually the type to make a holiday plan, I encourage you to give it a shot, especially if you are planner-challenged like me. Here are some reasons to consider it:
Focus on Priorities – There are so many things competing for our time, energy, and money this time of year. Keeping a simple plan in place helps us to zoom in on the things that are most important to us so we don't get distracted. It makes for more meaningful holidays!
Fit in the Fun Things – I have been guilty of skipping a lot of the fun activities we like to do for the holidays because the days just fly by and they don't stay on my radar. This year I want to do those things without packing the days full. I need to schedule them or they won't happen!
Sanity Saver – Sometimes just writing out a plan is enough to help remember what it is. When it comes to the holiday meals, parties, family activities, gift-giving, and more, outlining a plan will help save our sanity when things begin to get busy.
How to Use a Planner
I love making plans but tend to ditch them if I lose sight of them. To actually use your plan all the way through the holidays, keep it in a place that is visible each day. Perhaps it's tucked into the homeschool planner you have on the counter all the time, tacked to your kitchen wall, or tucked in your Bible. Wherever you can't miss it, put it there. Browse through it each morning to catch the things you wanted to and keep your plans in mind.
Another thing to remember is that a planner is a flexible tool to help you – not some rigid schedule you have to keep to or you've failed. Think of it as YOUR flexible plan that can change as needs arise. The important thing is to use it and not let it fall on the wayside! If your plans need re-working, doing that will help you process things and have a better grip on what's on your plate.
A FREE Holiday Planner for You!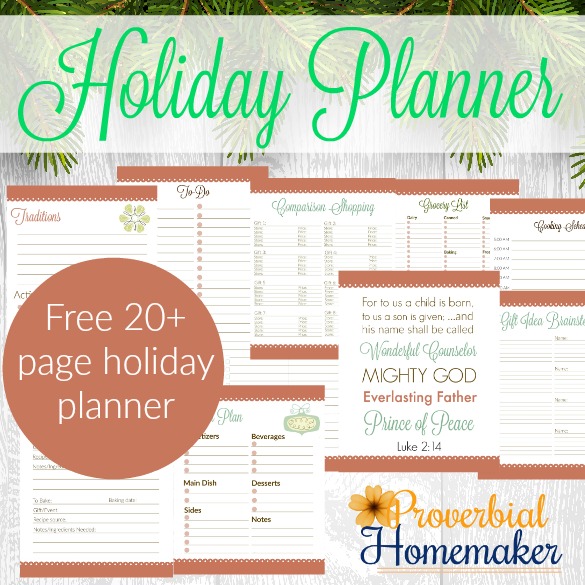 I've put together a simple Thanksgiving and Christmas planner for myself that I want to share with you as well. In it you'll find inspiring scripture art prints and planning pages for holiday meals, grocery shopping, recipe cards, all the baking and crafts you want to do, service projects, greeting card lists, budget and gift shopping, and more. I have printed mine out and am ready to roll!
** Planner Updated November 2018. The updated planner includes additional copies of certain pages such as recipe cards, as well as blank pages in strategic places to allow for effective double sided printing. For example, blank pages allow the scripture art print to be printed alone on a sheet when you are using double sided printed. If you are printing single sided, simply put the blank pages back in the printer for later use. We have also removed the border from most pages to allow for lower toner use.
Your Challenge
Print out the Holiday Planner and begin by posting the scripture art prints. Make sure you have multiples of whatever pages you need such as the recipe cards or gift planning pages. Use a 1-inch 3-ring binder, print and bind the planner at a copy shop, or simply staple them at the corner!
Begin filling out the pages and really consider how to make this planner work for you. Where can you keep it? I made a spot for my planners on our kitchen island where I'm at so much during the day. Put a reminder on your phone each day or week to check your planner and update it when needed. Toss out the pages you won't use (trust me – no need for blank pages you feel mildly guilty about) and get going on your plan!
Download the Holiday Planner
All our freebies are "sold" through the store so that you have easy future access to all paid and free orders. Simply pop over to the Proverbial Homemaker store, create an account with your email address (FB and Amazon login options are also available) or log in if you already have an account, and place the order for your freebie and anything else you'd like to snag!

You Might Also Like…