I can't even believe we're into holiday season already, can you? I absolutely love Thanksgiving and Christmas, and this time of year brings our family extra blessings with several birthdays and our anniversary. It's such a wonderful time!
However… I have to have a plan in place. Far too many years have gone by when I just wing it. I like winging it – it suits me. The problem, though, is that I end up either not doing all the things I wanted to do, or I end up overwhelmed with it all. And sometimes both.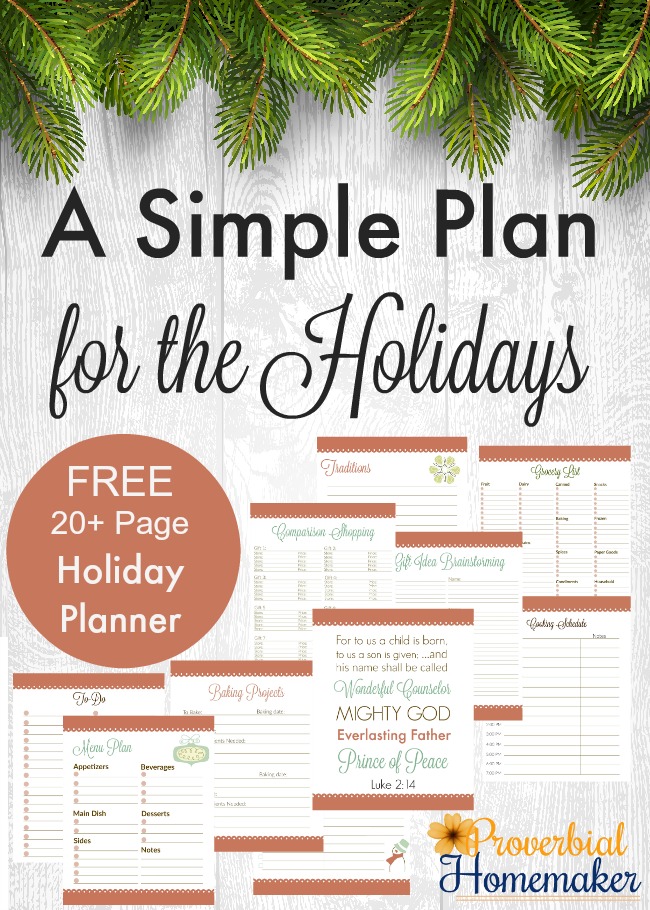 Making a Simple Plan for the Holidays
Even if you're not usually the type to make a holiday plan, I encourage you to give it a shot, especially if you are planner-challenged like me. Here are some reasons to consider it:
Focus on Priorities – There are so many things competing for our time, energy, and money this time of year. Keeping a simple plan in place helps us to zoom in on the things that are most important to us so we don't get distracted. It makes for more meaningful holidays!
Fit in the Fun Things – I have been guilty of skipping a lot of the fun activities we like to do for the holidays because the days just fly by and they don't stay on my radar. This year I want to do those things without packing the days full. I need to schedule them or they won't happen!
Sanity Saver – Sometimes just writing out a plan is enough to help remember what it is. When it comes to the holiday meals, parties, family activities, gift-giving, and more, outlining a plan will help save our sanity when things begin to get busy.
How to Use a Planner
I love making plans but tend to ditch them if I lose sight of them. To actually use your plan all the way through the holidays, keep it in a place that is visible each day. Perhaps it's tucked into the homeschool planner you have on the counter all the time, tacked to your kitchen wall, or tucked in your Bible. Wherever you can't miss it, put it there. Browse through it each morning to catch the things you wanted to and keep your plans in mind.
Another thing to remember is that a planner is a flexible tool to help you – not some rigid schedule you have to keep to or you've failed. Think of it as YOUR flexible plan that can change as needs arise. The important thing is to use it and not let it fall on the wayside! If your plans need re-working, doing that will help you process things and have a better grip on what's on your plate.
A FREE Holiday Planner for You!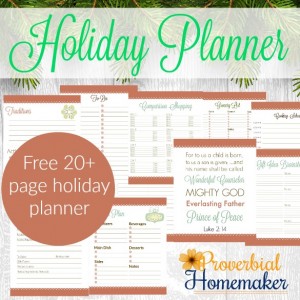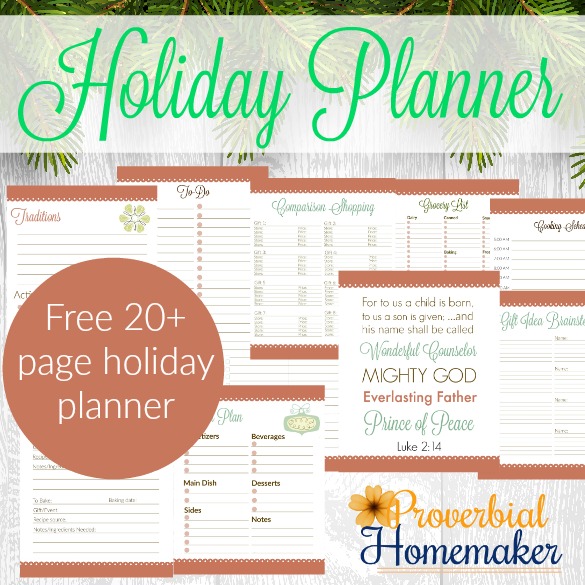 I've put together a simple Thanksgiving and Christmas planner for myself that I want to share with you as well. In it you'll find inspiring scripture art prints and planning pages for holiday meals, grocery shopping, recipe cards, all the baking and crafts you want to do, service projects, greeting card lists, budget and gift shopping, and more. I have printed mine out and am ready to roll!
Your Challenge
Print out the Holiday Planner and begin by posting the scripture art prints. Make sure you have multiples of whatever pages you need such as the recipe cards or gift planning pages. Use a 1-inch 3-ring binder, print and bind the planner at a copy shop, or simply staple them at the corner!
Begin filling out the pages and really consider how to make this planner work for you. Where can you keep it? I made a spot for my planners on our kitchen island where I'm at so much during the day. Put a reminder on your phone each day or week to check your planner and update it when needed. Toss out the pages you won't use (trust me – no need for blank pages you feel mildly guilty about) and get going on your plan!
Download the Holiday Planner
Download the Holiday Planner
Your download link will be emailed to you and you will be subscribed to Proverbial Homemaker if you aren't already. Be sure to check your spam/promotions folder. If you have any issues, check out this troubleshooting guide or feel free to email me!
Enter the Homemaker's Holiday Giveaway!
The Domestically Challenged, Divinely Equipped Facebook group has joined with some fantastic sponsors including InstantPot, Rocky Mountain Oils, and Blooming with Joy Tea and Gifts to bring you this amazing giveaway just for homemakers, valued at $337.78!
Instant Pot IP-DUO80 7-in-1 Programmable Electric Pressure Cooker ($159.95) – We LOVE the InstantPot! This model includes a large 8-quart capacity with functions including making yogurt, rice, soup, meat, beans, sauté, and more! It's easy to clean and use, includes extensive safety mechanisms, and with so many people who love and use the InstantPot you'll be sure to find great tips and recipes that suit your needs!
Instant Pot Silicone Mitts (Set of 2), Mini, Red ($9.95) – A handy little accessory for your new InstantPot! These handy silicone mitts help you safely lift the insert out even while sautéing. They're non-stick and easy to use, and made of FDA standard food-grade silicone.
Holiday Kit from Rocky Mountain Oils ($34.95) – Lighten your holiday spirit with the 2016 holiday blends kit. Kit includes Candy Cane essential oil blend, Holiday Moments essential oil blend, Pumpkin Spice essential oil blend and RMO's new and improved Christmas Tree essential blend.
Spring Essential Oils Diffuser from Rocky Mountain Oils ($49.95) – Soothing tree branches are illuminated by soft background lighting to help you calm your spirit and your space. The Spring can hold up to 180 ml and has a runtime of up to six hours, making it an excellent mid-size diffuser. This diffuser's calming design is perfect to display in the living room or bedroom, and is an excellent gift for anyone who enjoys essential oils.
$50 Amazon Gift Card ($50) – What will YOU use your Amazon gift card for? Christmas gifts? New serving ware for the holidays? Some important needs? A little self-care and pampering? We want to bless you with a mini shopping spree!
NEW Proverbial Homemaker Peach Green Tea ($9.99) – This hasn't even been released publicly yet! This tea blend is custom created by Tauna of ProverbialHomemaker.com and provided by her favorite online tea shop, Blooming with Joy Tea & Gifts! "The soup pot is boiling over, the doorbell rings, and the kids are running around like a small herd of monkeys. Take a deep breath, mama! Then take a sip of Proverbial Homemaker's sweet peach and floral green tea blend. The balance of vitamin C and antioxidants keeps you strong all day long and the moderate caffeine kick gives you the boost you need to get back in the mothering game. Peace is restored. You're welcome."
Domestically Challenged Divinely Equipped Travel Mug ($22.99)– God will equip us for all we need for life and godliness! Even for our homemaking. 🙂
Giveaway ends 11/16/16 at 11:59PM PST. Winner will be notified via email and has 48 hours to respond before a new winner is chosen.