Disclosure: *This post may include affiliate links. As an affiliate, I earn from qualifying purchases. Read the
disclosures
and
terms
for more information.
I've never been much of a perfume gal but I have a couple that I love and I am definitely glad they are natural. If you're looking for an alternative to those store-bought perfumes, you'll love these recipes! My favorite thing about DIY essential oil perfume blends is that you can just put them in a little roller bottle and keep them in your purse, and then switch out with a new recipe when that one's empty. So handy!
HEY! There's a BIG 5-winner Mother's Day Giveaway at the end of this post where YOU can enter to win a $100 OF YOUR CHOICE!!!
There are many ways to make perfume recipes using essential oils, but I know that you're probably just as busy as I am and don't want to buy a whole lot of ingredients. So I'm making these as simple as possible. These are perfect for a gifts including Mother's Day, too! Ask the special mom in your life what her favorite perfumes or scents are, and then create a few customized DIY essential oil perfume blends for her. She'll love them!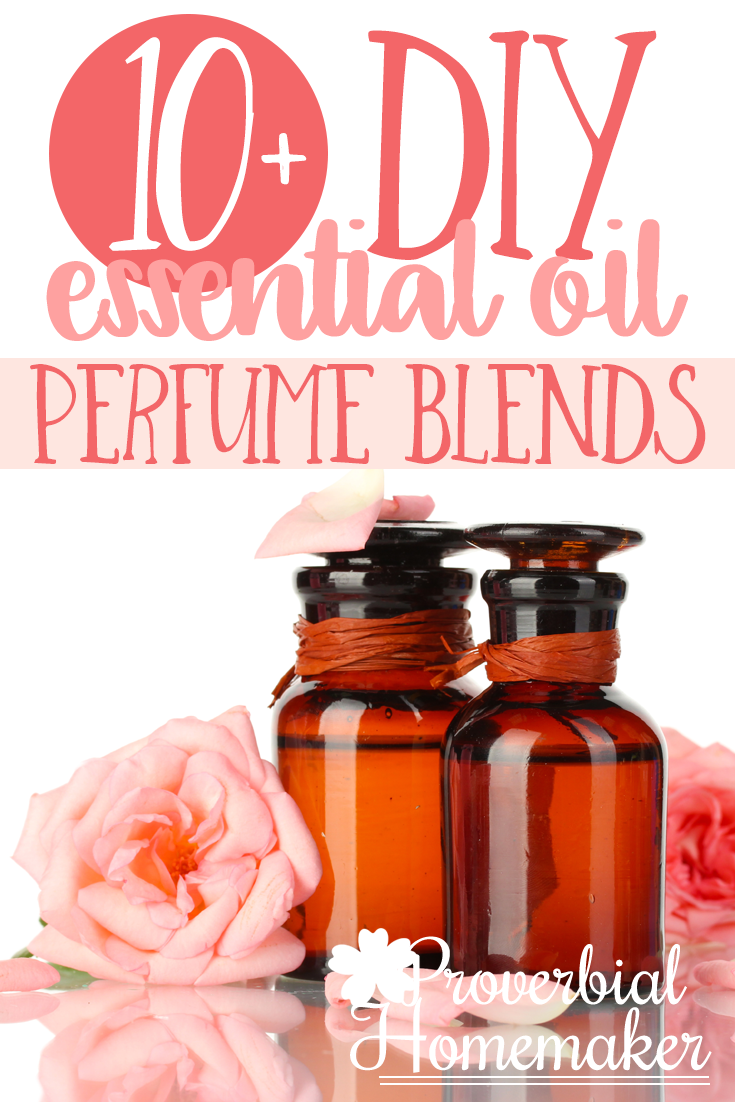 10 Best Perfume Recipes Using Essential Oils
For a handful of years now I've been experimenting with some essential oil combinations for perfume. If you're just getting started with making perfume recipes using essential oils, there are a few things to consider. For example, you'll want to think about whether an oil provides a base note, middle note, or top note, as well as their intensity in relation to each other.
It can be a lot of fun to come up with your own combinations and I do recommend experimenting! But to get you started, I've provided 10 DIY blended perfumes here that you can try yourself, as well as a list of pre-blended oils that would make perfect perfumes themselves, once diluted. And of course, they're ALL therapeutic, which is an added bonus. Don't you love things that can multitask? I know I do.
As you use more essential oils you can sort of imagine the scents and blends before making them. But if you're new to blending, it can be a little trickier. It helps to remember that not only does note matter, but types of aroma can help you craft your perfume. Here are the ones we use most in the combinations below:
Earthy scents (patchouli, vetiver)
Floral (geranium, lavender, etc.)
Woodsy (sandalwood, cedarwood, etc.)
Citrus (lime, lemon, bergamot, orange, etc.)
Note that these are about a 3% dilution. For children and pregnant or nursing moms, be sure to check the safety for each ingredient oil and start with a drop less for each – about a 2% dilution rate.
DIY Blended Perfumes
(I buy my oils from Rocky Mountain Oils – free shipping, pure and high quality, and great service!) Combine these oils together with the indicated number of drops in parenthesis.
Palmarosa (8), Geranium (1), Ylang Ylang (1)
Lavender (5), Orange (4), Ylang Ylang (1)
Lavender (6), Vetiver (2), Lemon (2)
Rose (5), Lime (3), Vetiver (2)
Sandalwood (6), Patchouli (1), Orange (2), Jasmine (1)
Lavender (4), Mandarin (4), Juniper (2)
Bergamot (4), Geranium (4), Vetiver (2)
Frankincense (4), Sweet Orange (4), Geranium (2)
Sandalwood (4), Grapefruit (5), Ylang Ylang (1)
Cedarwood (5), Lavender (3), Chamomile (2)
Pre-Made Blends for Perfume (Use 10 drops):
How to Make a Perfume Recipe Using Essential Oils
To make the recipes, you'll need 10ml
roller bottles
and a
carrier oil
. You put the essential oils drops from the recipe into the bottle and fill the rest with the carrier oil. I use fractionated coconut oil most often, but you can also use other carrier oils such as jojoba or grapeseed. It's also best to use a dark blue or brown roller bottle to help it last longer. Store your perfume in a cool, dark place.
If you're making these as a gift, consider some simple tags tied on with twine, or bundle a variety of your DIY perfumes into a pretty carrying case! I personally love cute
essential oil bags
because they are great for on-the-go or tucked into your drawer.
Let me know if you try one of these pre-made or DIY blends and how it went! Feel free to share your own combination ideas in the comments, too. 🙂
~ Tauna
Mother's Day is a day to celebrate moms. A day for making moms feel extra special and appreciated. We all may be celebrating Mother's Day a little differently this year, but that doesn't mean the day, or the mom, is any less special! Hopefully your family will get creative, and perhaps start some in traditions, to make your Mother's Day special and memorable.
---
5-Winner Mother's Day Giveaway!
I've gotten together with 24 amazing bloggers with the hope of blessing FIVE moms this Mother's Day (although we wish we could bless many more) with a little extra gift.
We are giving away 5 $100 gift cards to the place of your choice, from the following options:
Hobby Lobby
Christianbook.com
Restaurant of choice
Grocery store of choice
Lehman's
It's our hope that you are blessed beyond measure during this Mother's Day unlike any other. May this be a time of new experiences, new traditions, and new peace.
To enter for your chance to win, simply use the Rafflecopter form below to enter. Now I know that is quite a few entries, but each of these bloggers generously chipped in their own money to bring you this giveaway, so I hope you will take the time to do all of the entries; it will bless them in return. And hey, the more entries you do, the better your odds are at winning!
a Rafflecopter giveaway
Giveaway end May 8th at 11:59pm EDT. The winner will have 48 hours to respond to email to claim the prize. By entering this giveaway you will be added to the email lists of the participating bloggers. Please be sure to read the Terms & Conditions upon entering the giveaway.
Want another opportunity to win?! There is a another giveaway with the same exact prizes (just different bloggers) that you can enter as well!
You Might Also Like…
Essential Oils for Women's Health