If you're looking for an alternative to those store-bought perfumes, you'll love these recipes! There are many ways to make perfume recipes using essential oils, but I know that you're probably just as busy as I am and don't want to buy a whole lot of ingredients. So I'm making these as simple as possible. These are perfect for a gift for Mother's Day, too!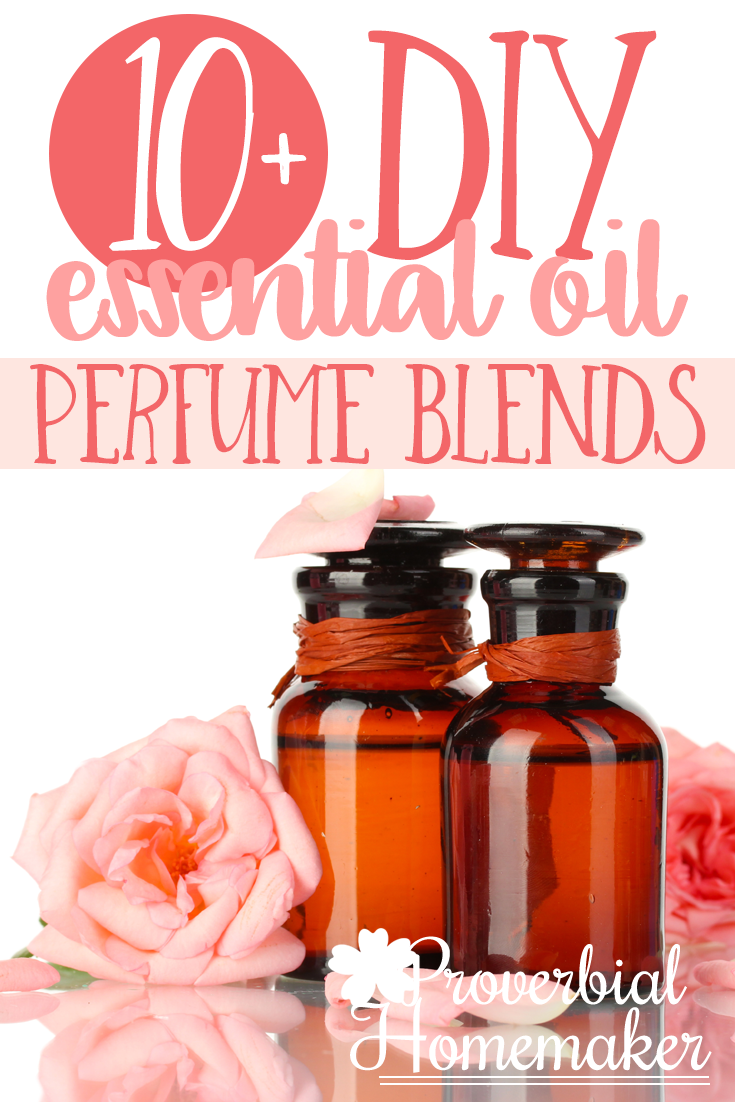 10 Best Perfume Recipes Using Essential Oils
I've been experimenting with some essential oil combinations for perfume. There are a few things to consider, such as whether a oil provides a base note, middle note or top note, as well as their intensity in relation to each other. It's been a fun process! 🙂
I've provided 10 DIY blended perfumes that you can try yourself, as well as a list of pre-blended oils that would make perfect perfumes themselves, once diluted. And of course, they're ALL therapeutic!
As you use more essential oils you can sort of imagine the scents and blends before making them. But if you're new it can be a little trickier. It helps to remember that not only does note matter, but types of aroma can help you craft your perfume. Here are the ones we use most in the combinations below:
Earthy scents (patchouli, vetiver)
Floral (geranium, lavender, etc.)
Woodsy (sandalwood, cedarwood, etc.)
Citrus (lime, lemon, bergamot, orange, etc.)
Note that these are about a 3% dilution. For children and pregnant or nursing moms, be sure to check the safety for each ingredient oil and start with a drop less for each – about a 2% dilution rate.
DIY Blended Perfumes
(I buy my oils from Rocky Mountain Oils – free shipping, pure and high quality, and great service!) Combine these oils together with the indicated number of drops in parenthesis.
Palmarosa (8), Geranium (1), Ylang Ylang (1)
Lavender (5), Orange (4), Ylang Ylang (1)
Lavender (6), Vetiver (2), Lemon (2)
Rose (5), Lime (3), Vetiver (2)
Sandalwood (6), Patchouli (1), Orange (2), Jasmine (1)
Lavender (4), Mandarin (4), Juniper (2)
Bergamot (4), Geranium (4), Vetiver (2)
Frankincense (4), Sweet Orange (4), Geranium (2)
Sandalwood (4), Grapefruit (5), Ylang Ylang (1)
Cedarwood (5), Lavender (3), Chamomile (2)
Pre-Made Blends for Perfume (Use 10 drops):
How to Make a Perfume Recipe Using Essential Oils
You Might Also Like…
Essential Oils for Women's Health