Are you struggling with challenging circumstances? The Bible calls us to "be still and know" that God is God, and that He is on the throne. That's usually easier said than done, though. Read on for some encouragement, a prayer, and a Psalm 46 printable that will help you keep your eyes on Christ!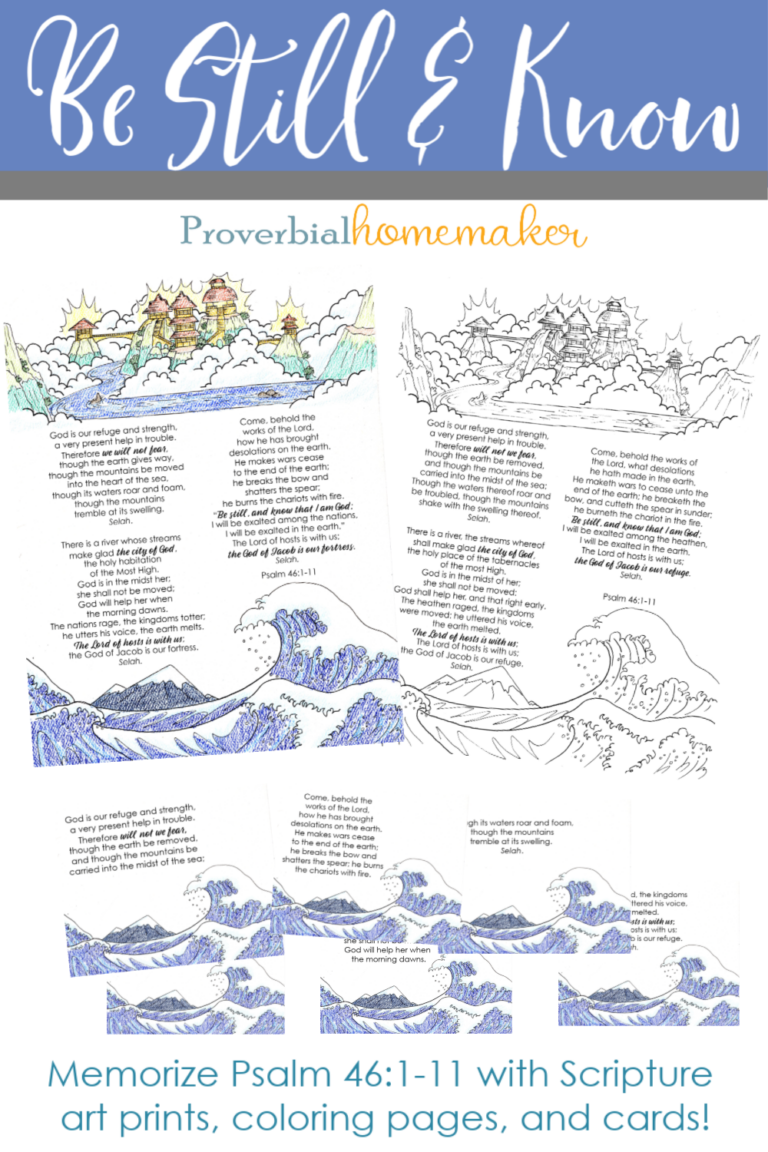 Disclosure: *This post may include affiliate links. As an affiliate, I earn from qualifying purchases. Read the disclosures and terms for more information.
There are times when the world seems to just be turned upside down. In some ways it can feel like what Psalm 46 describes… the ground under our feet feels tumultuous and shifting. A surprising diagnosis, relationship failures, community breakups, financial insecurity, injustice and violence, political conflict, wars and rumors of wars… the list goes on.
Sometimes it's as if we can feel the world groaning under the weight of sin and brokenness. But a ray of hope in the darkness shines for those who are in Christ and we have NOTHING to fear! Even in the face of this chaos.
Psalm 46: The Be Still and Know Scripture
My favorite thing about Psalm 46 is that it describes that chaos we face — both within our hearts and from the outside world — and then smashes it to pieces with the awesome power of our God! His is a power and a purpose that is SO good, SO mighty, and SO absolute, that all we have left to do is to be still and know that He. is. God.
God is our refuge and strength,
a very present help in trouble.
Therefore we will not fear though the earth gives way,
though the mountains be moved into the heart of the sea,
though its waters roar and foam,
though the mountains tremble at its swelling. Selah.

Psalm 46:1-3
I don't know about you, but I want to hide this Scripture in my heart and in the hearts of my children. There is no better shield and weapon against the trials of life that the Word of God! To help us pray and memorize Psalm 46 as a family, I've put together a custom illustrated pack of Scripture art prints, coloring pages, and cards in both ESV and KJV. I hope you are blessed by it!
Psalm 46 Prayer
Pray through Psalm 46 together as a family or pray them over your children as a bedtime blessing for a while. Ask the Lord for the words! You can use these ideas to get started.
Lord, help us to look to you as our refuge and strength in times of trouble.
Give us a real sense that you are TRULY present with us.
Help us to have confidence in you in any circumstances.
Let us not be fearful of the rages of nature, illness, or fallen man, but trust wholly in you alone.
When the world seems chaotic help us to remember that you are unchanging and sovereign over it all.
Help us to remember all the ways you have already shown yourself to be our strength and refuge.
Give us eyes to see you working in our life and in any situation that comes our way.
Remind us that you have a plan and that your HIStory is unfolding. You are the victor!
Gives us wisdom and peace to lay down our burdens and rest, knowing that you are God.
Be still, and know that I am God. I will be exalted among the nations, I will be exalted in the earth!" The Lord of hosts is with us; the God of Jacob is our fortress.

Psalm 46:10-11
Thank you, Lord! Amen.
Love Others Through Psalm 46
Use this passage to inspire ways to love others and point them to Christ.
Is someone struggling with fear right now? Pray for ways you can encourage them. Perhaps send them a card with Psalm 46 in it and let them know you are praying for them.
Start a remembrance box where you put a slip of paper noting each way that the Lord has helped you and provided for you in the past. Include a copy of Psalm 46, and share your notes with those that might benefit from the same practice.
Be a listening ear to someone in need. Let them tell you what they are struggling with and what they fear. Pray that they would find rest and peace.
Psalm 46 Printable
Download the printable pack below and memorize Psalm 46! You'll find two custom illustrated Scripture art prints to frame or tack to your wall, memory verse cards, and coloring pages you can use to help you meditate on and memorize this passage together.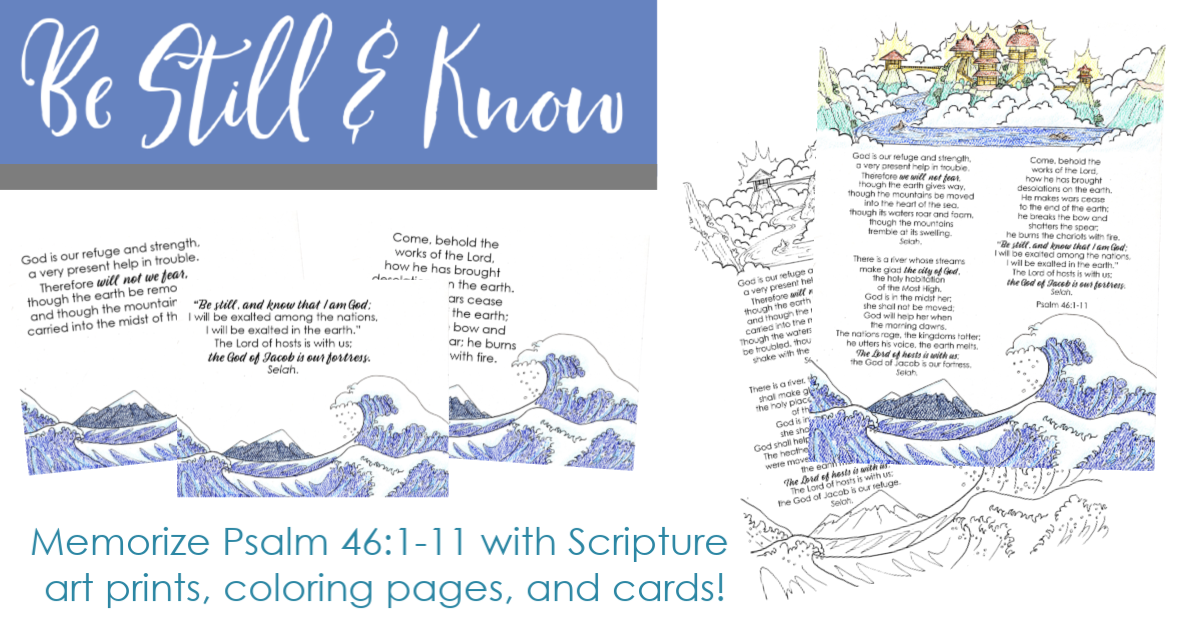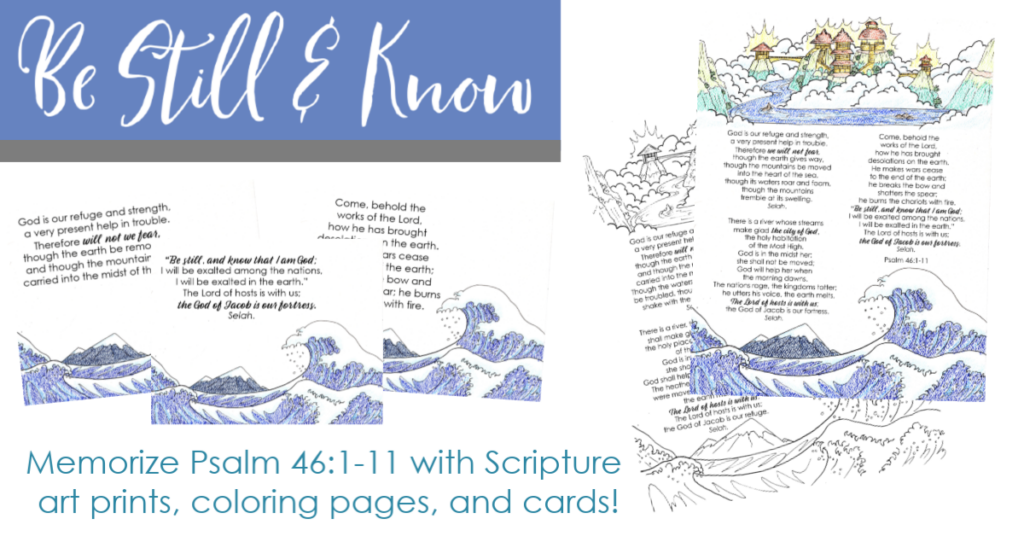 You Might Also Like…
James: Deep in the Word – a 1-Year Family Bible Study