If you are facing challenging times, struggling with fear or anxiety, or just need to center yourself on the love and peace of Christ, then Psalm 23 is the perfect place to start! This passage is well worth memorizing and teaching your children. It's a perfect one to post in bedrooms for those times when nightmares wake them from sleep and they need the comfort of God's Word.
To help us pray and memorize Psalm 23 together, I've put together a custom illustrated pack of Scripture art prints, coloring pages, and cards in both ESV and KJV. I hope you enjoy it as you memorize this passage with your family!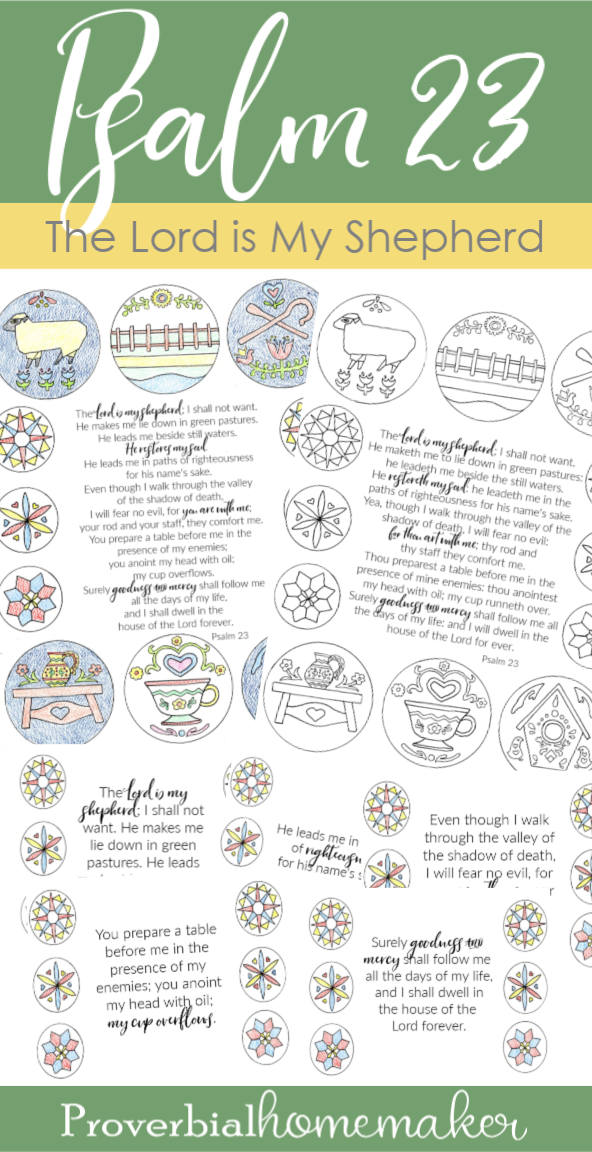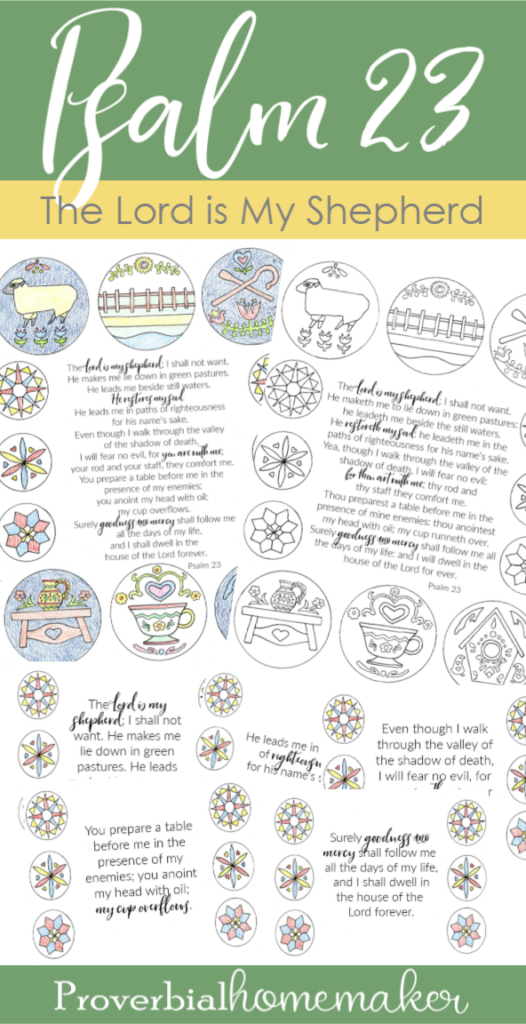 Disclosure: *This post may include affiliate links. As an affiliate, I earn from qualifying purchases. Read the disclosures and terms for more information.
Psalm 23 – The Lord is My Shepherd Scripture
Psalm 23 is one of the most well-known and well-loved passages in the Bible. The incredibly comforting imagery and encouragement are precious to the heart of the believer in Christ.
In this psalm, David beautifully describes the loving and abounding care of our Creator. The Lord has an intimate relationship with his people just as the shepherd knows and lovingly cares for his sheep.
In this passage, no matter what challenges we face (even death), we can be sure that the Lord:
gives us everything we truly need
gives us rest and restoration
leads us in the way of righteousness
is trustworthy and strong in the face of evil
guides and comforts us as we navigate life
preserves and cares for us in the presence of enemies
pours mercy and goodness on our lives
gives those who belong to Christ a secure place in his kingdom
Psalm 23 Prayer
Pray through Psalm 23 together as a family or pray them over your children as a bedtime blessing for a while. Ask the Lord for the words! You can use these ideas to get started.
Lord, help us to look to you as our Shepherd.
Give us a content heart that trust in you no matter what life may bring.
Fill us with peace and a restoration of our soul.
Lead us in paths of righteousness and away from temptation.
Help us to do all things for your glory.
When we face difficult times give us a bold spirit that rests in the knowledge that you are with us.
Comfort and guide us through all life's circumstances and help us to heed your wisdom.
Let us face enemies and even death with a calm assurance of your love and care for us.
Help us to be satisfied in you and the abundant blessing we have in Christ.
Love Others Through Psalm 23
Use this passage to inspire ways to love others and point them to Christ.
Study what the Bible says about shepherds and list ways that the Lord acts as our Shepherd.
Pray for family members, friends, and neighbors who are going through stressful times right now. Pray for salvation in Christ and a peace that surpasses understanding. Pray that they would experience the Lord as their good Shepherd.
Print out the Scripture art print or print and laminate the cards. Mail them along with an encouraging note to someone who is going through difficult circumstances.
Memorize Psalm 23
Download the printable pack below and memorize Psalm 23! You'll find two custom illustrated Scripture art prints to frame or tack to your wall, memory verse cards, and coloring pages you can use to help you meditate on and memorize this passage together.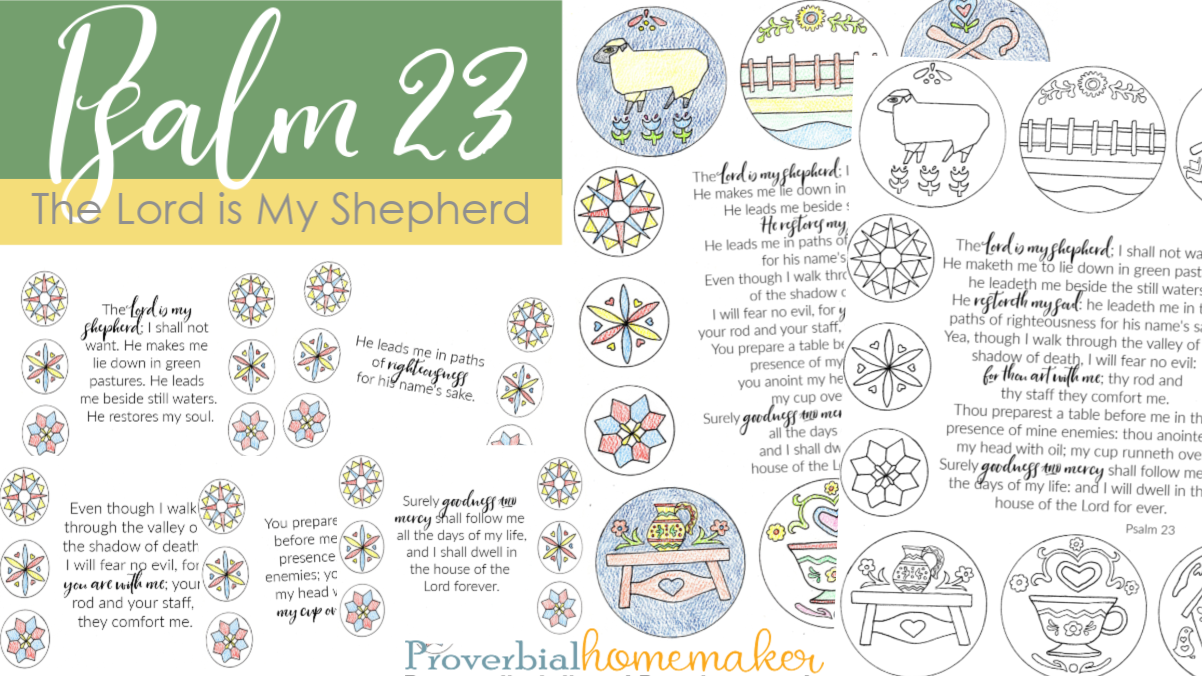 You Might Also Like…
This post is a part of our annual Read, Pray, Love efforts in the Proverbial Homemaker community. Check out past editions here.