Are you uncomfortable with the idea of talking with your kids about sex? Or perhaps you know it's an important time to guide them in this topic, but feel ill-eqipped to do so?
Talking with your kids about sex may not the most natural thing for you. I know because that's where I was. Do you struggle with these questions, too?
When do we start talking about sex?
How do we discuss it in a developmentally appropriate way?
How can we do so biblically and with a Christ-centered perspective?
How can I start the conversation without being awkward?
What if they ask hard questions?
What if I say it all wrong?
Well, I have good news for you: You don't have to be afraid or embarrassed by this topic!
I have 5 essential tips I've learned when it comes to talking to your kids about sex, but before we get to that, I want to tell you about a NEW resource for parents of pre-teens and teens! Relationships is the third book in the sex ed series for parents! Get one or all three books at a great discount through September 11th!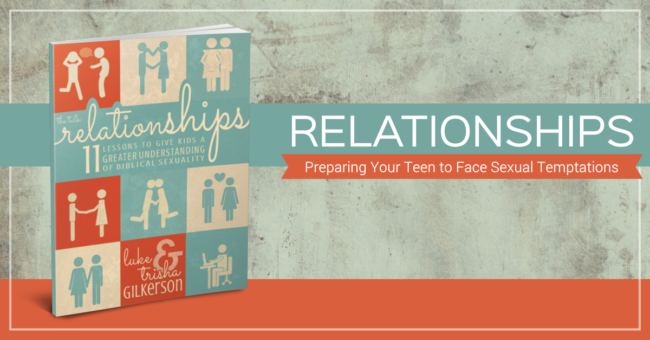 Disclosure: *This post may include affiliate links. As an affiliate, I earn from qualifying purchases. Read the disclosures and terms for more information.

5 Essential Tips for Teaching Your Kids About Sex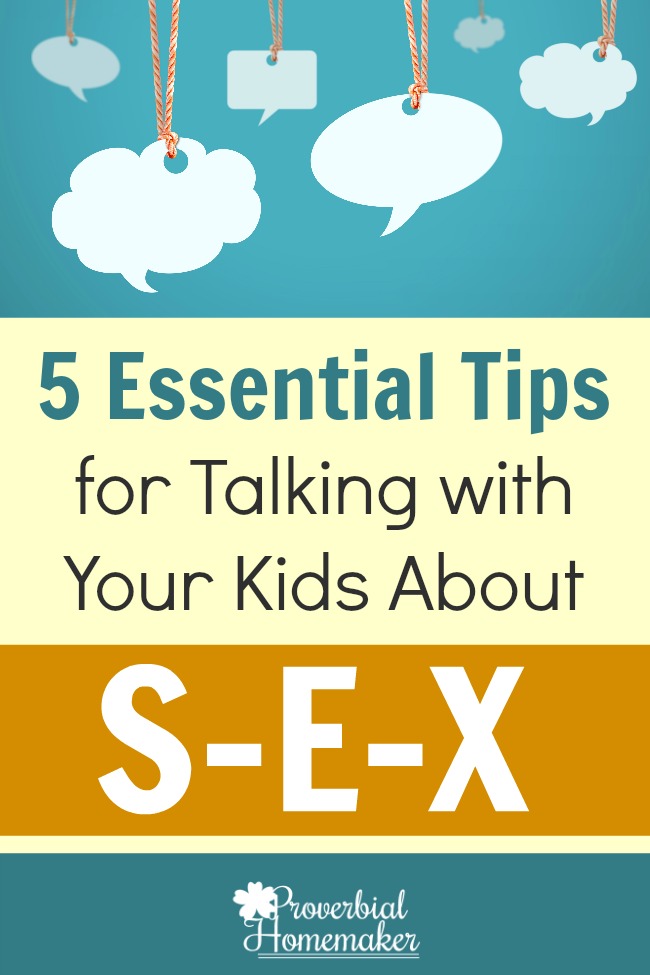 Our kids are all 8 and under. Still very young, yet they are at the right age to begin talking about gender and sex in a biblical and developmentally biblically appropriate way. Sometimes it can be difficult to know when and how you should be talking with your kids about sex.
As I've gathered information and resources for my own parenting journey, I've learned 5 essential tips for teaching your kids about sex.
1) Seek God First
God created us and He created sex. He's not afraid to guide us as we teach our kids about it! In fact, God is the first and final authority on this and all other matters. Pray about how and when to teach your kids about sex. Ask for open eyes and a listening heart so that you can really engage your children in this ongoing conversation rather than just talking at them a few times. God will help you shepherd your child in this area if you seek Him first.
2) Examine Your Heart
Sex is a beautiful gift from God and serves and important role in marriage. Many times, our hesitation or embarrassment comes from negative experiences we've had in our past. Perhaps we weren't taught about sex, or not appropriately, or perhaps there are some traumatic experiences or poor choices that make us nervous to talk with our kids.
I encourage you to identify these things and lift them up to God. Ask for His perspective on sex so that you can carry out the important responsibility of teaching your kids about it well. Seek help on these issues yourself if needed! This kind of baggage is not only a parenting issue, but can impact our marriages. God is the ultimate healer and the master of "fresh starts."
3) Start Now
Many times parents will think that it's too early to talk to their kids about sex. They don't want to bring up something that could expose their kids to impurity or wrong ideas. Or they assume they can just talk with their kids as questions arise.
The truth is, it's never too early to start talking with your kids about sex. Of course, that might look vastly different for a 4 year old than a 10 year old, but this is an ongoing conversation with your children, based on a relationship of trust and sharing. Brick by brick, you are building a God-centered perspective on sex that will be essential to your children as they grow and mature.
4) Don't Wing It
I don't know about you, but I have two modes when I am unprepared to talk about something: Say far too little or ramble until their eyes glaze over. Instead, find some great parenting tools and Bible studies specifically about teaching your kids about sex.
Talk with your spouse about how and when to broach the subject, and how to handle sticky questions. Having a general game plan will give you the confidence and information you need to handle conversations about sex the way you want to.
5) Be the Parent
When we are faced with a difficult parenting issue, it's far to easy to ignore it or to throw a patch at it and hope it will work out. Talking to your kids about sex is not something you can do once and check off a box. It's not something you should leave to Google, or their friends, or their cousins. And we certainly don't want them navigating this on their own.
We need to be the parent. It is our responsibility to teach and train our children in all things for the glory of God. That includes teaching them a biblical view of sex and dealing with our own issues on the matter.
DO NOT WORRY!
There are some truly great resources available to you. My husband and I have been going through Having the Talk – the new video series from Luke and Tricia Gilkerson. I have used several of their resources before so I knew this would be great too, and I was not disappointed!
Having the Talk is a video course that includes:
8 video lessons and 3 bonus lessons
Digital download of the book "The Talk"
Answers to frequently asked questions
A full year of access
Fantastic bonuses for a limited time!

You Might Also Like…