We've been working as a family the past few years to be intentional in choosing great gifts for each other – gifts that inspire imagination, grow along with us, and are worth the space in our home.
This year, choose some gifts that focus you and your children even more on Christ!
Below are 50+ Christ-Centered Gift Ideas I've collected for your family and mine, including:
Gifts for Jesus
Movies
Bibles
Books
Audiobooks
Toys and Games
A Few Things for the Adults
More Ideas!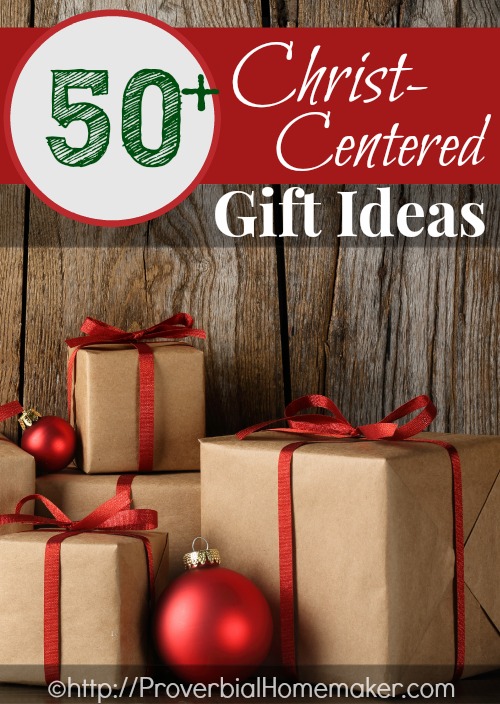 Disclosure: *This post may include affiliate links. As an affiliate, I earn from qualifying purchases. Read the disclosures and terms for more information.
Gifts for Jesus
First things first!
Some of the most memorable gifts you can give are those you give as a family to help others. Consider going through the World Vision gift catalog and choosing an animal or other product that will help a family be self-sufficient. Sign up at a local giving tree.
Donate your time or money as a family. Find out how you can sponsor a family in need for Christmas, whether helping them put a holiday meal on the table or gifts under the tree. I promise you, you won't regret it, and your children will never forget!

Movies
What's in the Bible DVDs! Entertaining for all ages and very educational.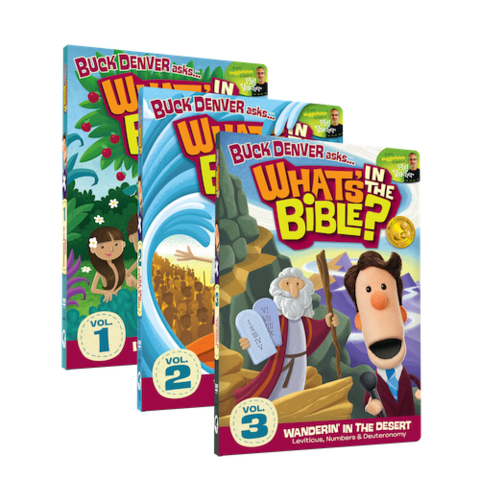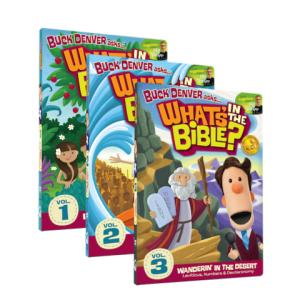 Veggie Tales DVDs – So many to choose from!
Donut Man – These are older shows but our kids LOVE them!
Hide 'Em in Your Heart by Steve Green – Again, older movies and CDs, but the kids love them and learn scripture through them!
Drive Thru History
– Almost too educational for a gift, but we homeschoolers like that sort of thing. 🙂 These are fun history lessons with a biblical worldview.
Praise Baby
– Cute videos for babies and toddlers set to worship music.
The Jesus Storybook Bible Animated DVD Complete Set Volumes 1-4 – We love the Jesus Story Book Bible! So I was excited to see these animated DVD versions.
Bibles
The Action Bible
– This is my son's favorite Bible. He often sleeps with it nearby his pillow!
ESV Children's Bible (Red)
– We gave this as a gift for my 7-yo to grow into. It's kid-oriented with the color pictures and maps, but is a full-text ESV Bible. We also use it as our primary Bible for devotions and in use with the Bible Road Trip curriculum we use every day.
The Jesus Storybook Bible: Every Story Whispers His Name
– I cry every time I read these stories because they're all so Jesus-focused. Love sharing them with my children!
Read Aloud Bible Stories: Volume 1
– There are four volumes and they are ALL worth having. Probably the best Bible stories for young kids I've ever seen.

For more Bible recommendations, see what we have in our Bible Basket!
Books
Christian Heroes Books 1-5 Gift Set (Christian Heroes: Then & Now) – These missionary biography books are surprisingly popular read-alouds for my kids. You can get the gift set of books 1-5 or for books 6-10 for a pretty reasonable price, or just buy one and see how they like it!
Sugar Creek Gang Books 1-6 Set – My kids LOVE mysteries, so I've had my eye on these books that follow a group of Christian boys on their adventures.
These last book choices are a little advanced for my own kids, but we've given them as gifts or have them in the queue for the future!
A Boy After God's Own Heart: Your Awesome Adventure with Jesus
A Girl After God's Own Heart: A Tween Adventure with Jesus
Through My Eyes: A Quarterback's Journey, Young Reader's Edition
Audiobooks
Jonathan Park Creation Science Audiobooks
– Some of our favorites!
Adventures in Odyssey
– Another favorite series. You can get the DVDs here as well.
The Chronicles of Narnia Complete 7 Volume CD Box Set (Unabridged)
– Our kids have really been enjoying the Narnia audiobooks lately. You can also get the DVDs, but we prefer the BBC versions for the kids rather than the most recent version. The visuals seem to be a little less graphic for them.
The Brinkmann Adventures is a series of stories about a missionary family and their adventures. They are very good. Here's a complete review I did for the Crew.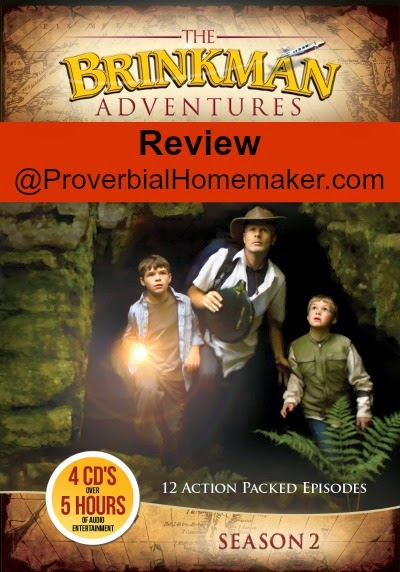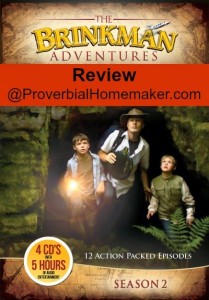 Teddy's Button Dramatic Audio (Lamplighter Theatre)
– The lamplighter books and audios are truly amazing and worth the investment. They're better to order through CBD or Lamplighter itself. Many are too intense for our younger crowd, but we often enjoy Teddy's Button (over and over), Basket of Flowers, and Sir Malcolm and the Missing Prince.
Christopher Churchmouse
– We found this treasure at the library and had to get it for ourselves! Great for all ages and wonderful character-building stories.
Toys and Games
Fisher-Price Little People Noah's Ark
My Bible Quiet Book
– Quiet books and felt sets are a great way to keep little ones busy, and there are plenty of Christ-focused ones available. You can also try ETSY or make your own!
A DIY Ruby Doll kit from Doorposts – Acting out the Proverbs 31 passage as play! See more biblical Doorposts toys, such as the Armor of God Pattern.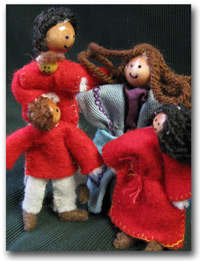 Playset Full Armor Of God-6 Pc-Gry/Red
POOF-Slinky – Ideal Children's Bible Trivia Game
Apples to Apples Bible Edition
Days of Creation Nesting Block
David: A Man After God's Own Heart Tales of Glory Playset
– really any of the Tales of Glory play sets
, which include a nativity, Jesus feeding the 5000, and more.
Gund Prayer Teddy Bear Stuffed Animal Sound Toy
Nativity Giant Floor Puzzle & CD (I'm Learning the Bible Floor Puzzle)
A Few Things for the Adults
Flexi Hair Clip with the cross – From Jennifer at Lilla Rose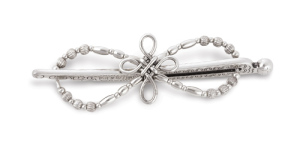 Hymn Art Necklaces – Beautiful and unique necklaces featuring old hymn art!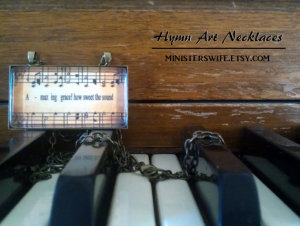 Cranium Bible Edition
Retro Blessings Red "Hope" Verse Mug – Romans 15:13
– or other scripture mugs
Scripture Tea: Raspberry Blend
– or the other Scripture Tea selections available
Vinyl Scripture Decor from Wise Decor – We love what it's done in our home!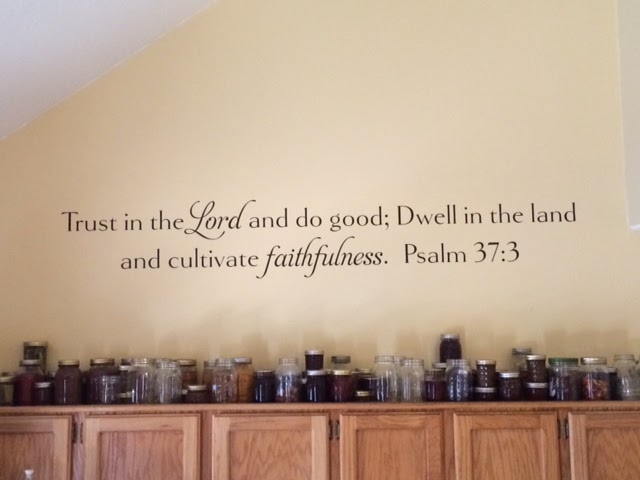 More Ideas!
Scripture Cards! Print out scripture cards or framed art to give to relatives and friends. Here are just a few:
Printed and laminated cards from Proverbs and Pacifiers on Etsy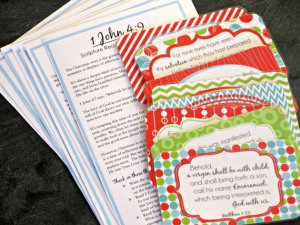 Printable Scripture Cards for Pregnancy and Labor from My Joy-Filled Life
Seeds Family Worship CDs – great for whole-family scripture memorization
You Might Also Like…