I don't know a single woman who doesn't say she needs to take better care of herself. All the wives, moms, grandmothers, career women, stay at home moms, homeschoolers, volunteers… they ALL seem to say that taking care of themselves is next on their to-do list. Well, essential oils are a helpful and effective way for us women to make some progress in this area. Here are 14 essential oils for women's health that are fantastic for physical and mental well being, with some fun ways to use them.
14 Essential Oils for Women's Health
Clary Sage – Antidepressant, immune support, respiratory support, hormone balance, etc.
Geranium – Skin care, dermatitis, stress and anxiety, hormone balance, etc.
Oregano – Antiseptic, edema and cellulite remedy, respiratory health, intestinal health., etc.
Frankincense – Mood lifting, immune and respiratory support, aches and pains, skin care, etc.
Lavender – Relaxation, sleep aid, antidepressant, digestion support, skin care, etc.
Bergamot – Calms stress and anxiety, helps with yeast issues, relieves water retention, etc.
Ginger Root – Stimulates circulation, digestion aid for nausea, flatulence, morning sickness, etc.
Neroli – Aids with better sleep, depression and anxiety, and skincare issues such as fading stretch marks, etc.
Lemon – Deodorizing, digestive care, immune booster, relaxation, concentration, etc.
Rose – Skin care, reducing scarring, helps aging skin, aphrodisiac, mood lifting, etc.
Chamomile – Skin care for sensitive skin, cleansing, reduces puffiness, hair care, first aid, calming, etc.
Marjoram – Aches and pains, arthritis, respiratory support, digestion, headaches, fatigue, etc.
Basil – Mental clarity and concentration, digestive aid, pain reliever, anxiety, etc.
***

Deal Alert! Did you know that there is a special FREEBIE code for Proverbial Homemaker readers?

Well, there is! Use THIS LINK along with code PHM49 at checkout to get a bottle of

Clary Sage

($30 value) FREE when you order over $49 in products! ***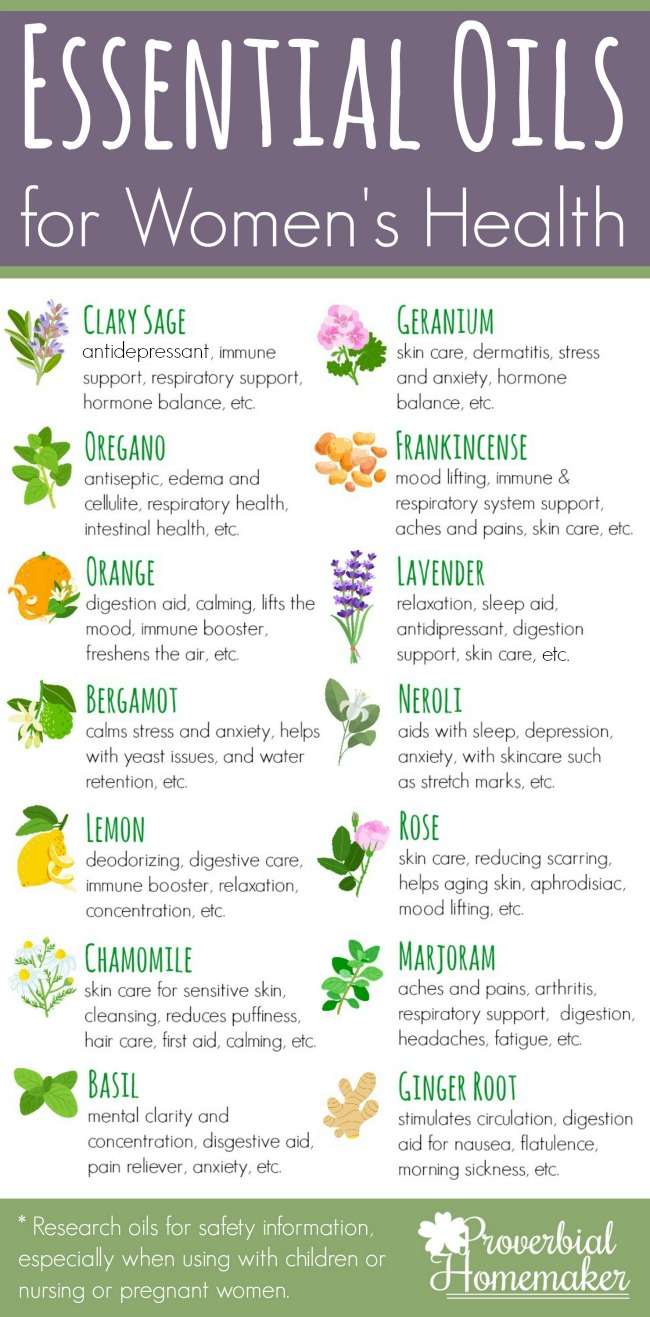 Download MORE Ideas & Recipes on Essential Oils for Women's Health!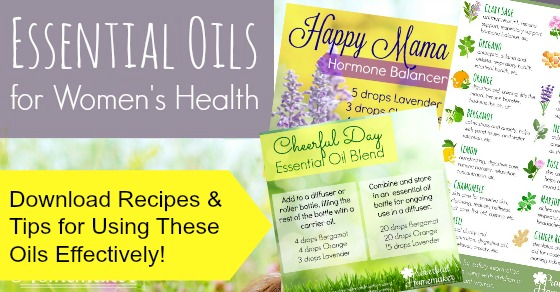 Download the Essential Oils for Women's Health Printable
Your download link will be emailed to you and you will be subscribed to Proverbial Homemaker if you aren't already. Be sure to check your spam/promotions folder. If you have any issues, check out this troubleshooting guide or feel free to email me!
You Might Also Like…