Clary Sage is a delightful oil that I have learned about this past year and have really enjoyed adding to my stash of essential oils. There are many ways to use it and several recipes you can try out. Here you will find 7 ways to use Clary Sage essential oil, as well as a recipe that's a personal favorite and more information to help you make the most of this fantastic oil.
Disclosure: *This post may include affiliate links. As an affiliate, I earn from qualifying purchases. Read the disclosures and terms for more information.
What is Clary Sage?
Clary Sage essential oil (Salvia sclarea) comes from the distillation of the flowering tops and leaves of the clary sage plant, and is considered by aromatherapists to be a natural antidepressant and powerful relaxant.
The scent of clary sage essential oil is also very appealing. The sweet, floral fragrance blends well with oils like lavender, ylang ylang, geranium, cedarwood, and sandalwood.
What Does Clary Sage Essential Oil Do?
Clary Sage essential oil is very versatile and has often been used for the following:
Lift the mood
Relax muscles
Calming anxiety and stress
Promote restful sleep
Relieve menstrual cramps
May lower blood pressure
Promote health against infection
Ease muscle aches and pains
Combat hair loss and dandruff
Help relieve cramping such as colic, flatulence, or other intestinal issues
Help alleviate skin issues such as boils, acne, and dry skin
7 Ways to Use Clary Sage Essential Oil
Blend the Happy Mama Hormone Balancer (below) as a roller bottle recipe or in your diffuser to help with your hormones.
Switch out peppermint for lavender in that recipe and apply to help relieve hot flashes.
Add 3 drops to 1 oz of a carrier like sweet almond oil for massage to alleviate menstrual cramps.
Diffuse with lavender to calm the household or aid with restful sleep.
Add 3 drops clary sage, 3 drops grapefruit, and 2 drops lavender to a roller bottle and massage into feet and ankles to relieve bloating and aches during period.
Create a hair rinse to fight dandruff: Add 3 drops clary sage, 3 drops eucalyptus citriodora, and 3 drops lavender to 1/4 cup apple cider vinegar and 2 cups water. Keep in an empty shampoo bottle and apply to scalp as a rinse after shampooing.
Add a few drops to coconut oil or your regular facial lotion to help clarify and moisturize the skin.
Happy Mama Hormone Balancer
This is the recipe I have been using Clary Sage with the most lately (well, before I became pregnant) to deal with the emotional and physical discomforts of hormone issues during PMS and menstruation. I'd often add a few drops to whatever I was diffusing as well, for a little pick-me-up.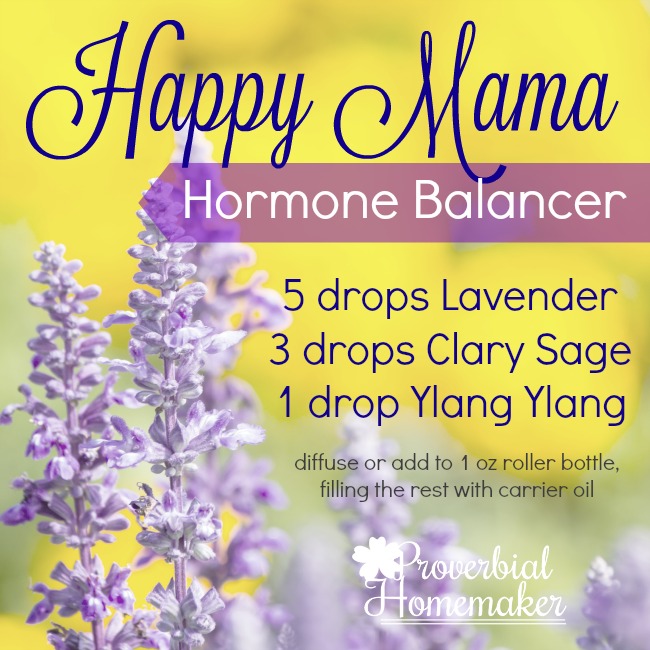 Cautions
There may be moderate skin sensitization with clary sage. In Essential Oil Safety, Tisserand and Bouhlal recommend a 0.25% maximum dermal use level. That's about 1-3 drops of essential oil per ounce of carrier.
Some sites have suggested that clary sage is estrogenic and should therefore be avoided by people with breast cancer or during pregnancy. However, when I looked into it, the books I reference below both indicate that actual studies have shown clary sage has no estrogen-like activity and so there is no known reason to avoid it in those situations. If you want to stay on the uber safe side (which I tend to do), avoid using it during pregnancy except during active labor, where it appears to help with labor pains.
Safe for children over 2 years old and for nursing mothers.
References:
You Might Also Like…