Yearly visits to the local zoo are always highly anticipated and enjoyed by our family. Zoo excursions totally count as homeschool field trips and pass for zoology and other science-related classes if you are being intentional about it. Supplemental zoo learning activities kick the educational value and fun of a zoo trip up a notch. Choose one or several activity ideas that you think your child(ren) will enjoy and plan your next zoo visit!
Tip: Quickly checking out your local zoo's website before visiting would be helpful for many of these zoo learning activities.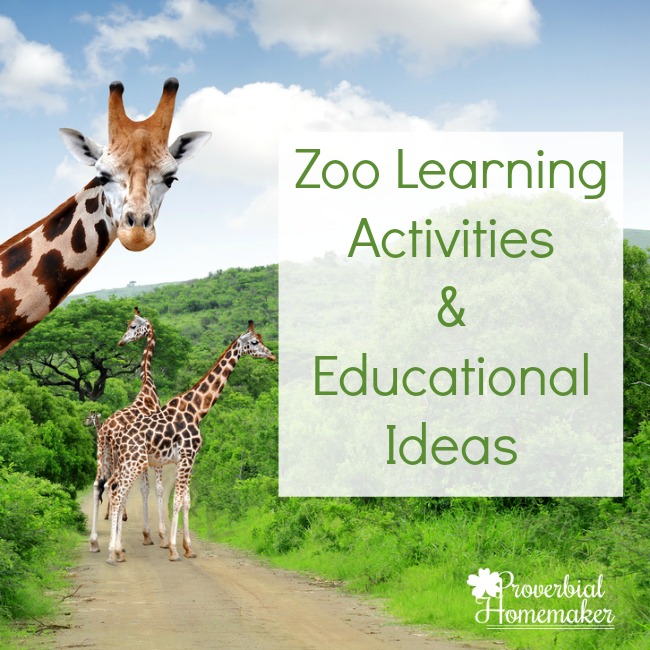 Disclosure: *This post may include affiliate links. As an affiliate, I earn from qualifying purchases. Read the disclosures and terms for more information.
Zoo Learning Activities & Ideas
Research Activity – Give your child a blank notebook (or art journal) and a pencil. Have them sketch pictures and/or write facts about each animal they see at the zoo. Later, have older children write a research paper on their favorite animal. This also works great for a geography report.
Scavenger Hunt – Give each child a list of items to find while at the zoo. The list can include animals, plants, foods (animal & human), and more. Use pictures of each item in place of words for younger children.
Matching Game – Create two columns on a paper; 1 list of animals and 1 list of animal foods. Have your child match them by drawing a line, based off of what they learn while at the zoo. This will also teach kids about prey vs. predator.
Geography-related – Print blank maps of each continent on paper, make a little booklet, and while at the zoo, have the child draw pictures of the animals in the continent they belong in. Include a world map for geographical awareness.
Domestic VS. Exotic – Have your child learn the differences between animals that are domestic to your area and animals that are exotic. How does the geographic location influence the animal's diet, habitat, and traits?
Photography Assignment – Pretend you are on assignment with National Geographic to catch specific animals on camera. Provide a disposable or child-friendly camera and an "assignment" for each child and let them capture some photographs on their own!
Safari Guide – Let your child be your "Safari Guide". Tell them they will need to read about each animal from the information provided at the zoo and then, in turn, give you a simple summary of the animal. Give them a safari hat and kid binoculars to help them pull it off. This will teach them leadership and teaching skills while allowing them to have fun!
Multi-Subject Activity – If you are feeling ambitious or desire to incorporate more educational value into your zoo visit, then put together a pack of zoo-themed worksheet pages and have your child practice spelling, critical thinking skills, math, and more while walking through the zoo. Placing the pages in a clipboard with an attached pencil (using string or yarn) works great for this! Or have them complete the worksheets at home afterward.
Continue Learning After You Visit The Zoo
Be Inspired – Use the zoo trip to inspire your child to choose an animal or geographical region to learn more about. Make a trip to the library to gather books on the topic. Find appropriate documentaries of the topic to watch on DVD or Netflix.
Build A Zoo – Create a mini zoo habitat or an entire zoo with several habitats using Lego, craft supplies, or even food. Be creative, have fun!
Go On A Safari – Send your child outside and let them spot the amazing creatures in their own backyard! They can observe the animals and look them up in books or online to learn more about them.
Recreate A Zoo – Encourage your child to set up a "zoo" in your home or backyard using their stuffed animals or animals they built with Lego bricks, complete with signs with facts about each animal, snacks for the humans, and admission tickets. Then let them be your tour guide. Read Amelia Bedelia Goes Wild for inspiration!

Whether you homeschool or not, zoo learning activities are a fun supplement to your child's typical school day. You can easily adjust the difficulty of each activity based on the child's age. These ideas are perfect for your next family outing or homeschool field trip!
You Might Also Like…