Disclosure: *This post may include affiliate links. As an affiliate, I earn from qualifying purchases. Read the
disclosures
and
terms
for more information.
Have you been feeling like a weary and overwhelmed mom? It is easy to get to that place. We juggle all the responsibilities of the day, cook meals, wipe messes, tend to hearts and minds. At the end of the day we have very little left for ourselves and just a few hours before the next day comes with all its demands. I hear your sigh… or maybe that was mine.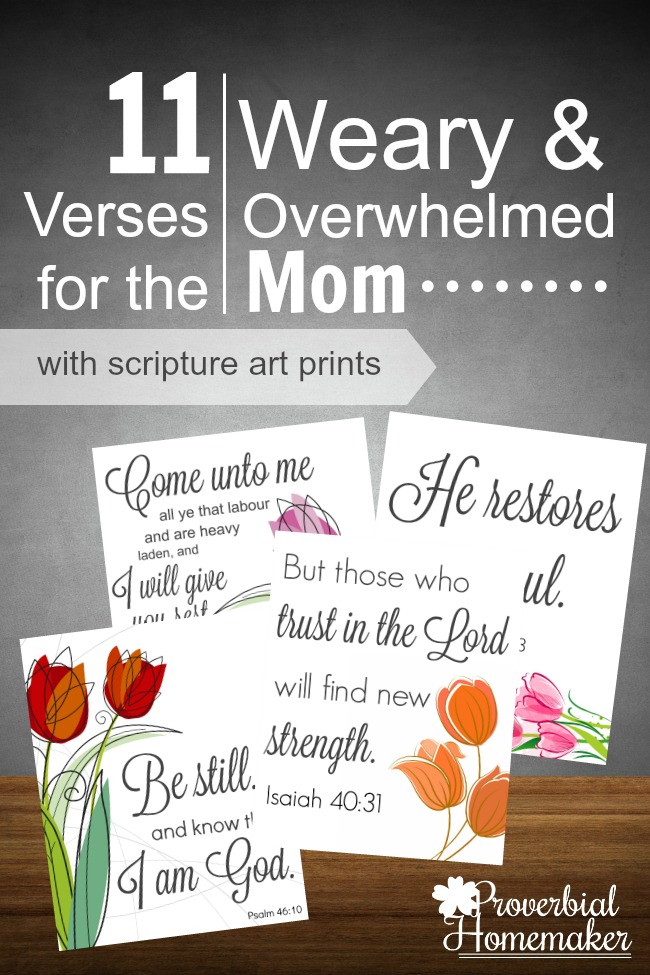 We need Jesus. Only He can come sweetly in these moments and lift our burdens, wipe up our heart messes, and tend to our souls. Only the Lord can give us the strength and courage to continue running the race and serving our families joyfully. We are not enough, in and of ourselves.
We need the equipping and empowering of the Holy Spirit to do this work before us because – and this is important – what we are doing is critical t0 the Kingdom of God! He cares about it, He cares about us, and He wants to be our focus in everything we do as moms, wives, teachers, leaders, lovers, and friends.
I love my calling as a mom, wife, and homemaker. I take great joy in it! However, I need daily (sometimes hourly) reminders to lift up my chin and fix my eyes on the King. You do, too, friend!
Let us turn to the Lord together, drinking in His Word and allowing it to transform our hearts and minds. Lets square our shoulders and let the love and mercy of God wash over us, giving us fresh perspective and passion.
11 Scriptures for the Overwhelmed Mom
Here are 20 scriptures (ESV) that you can meditate on and pray over when you feel like a weary and overwhelmed mom. I encourage you to choose a handful to memorize.
He restores my soul. He leads me in paths of righteousness for his name's sake. – Psalm 23:3
But they who wait for the Lord shall renew their strength; they shall mount up with wings like eagles; they shall run and not be weary; they shall walk and not faint. – Isaiah 40:31
Come to me, all who labor and are heavy laden, and I will give you rest. 29 Take my yoke upon you, and learn from me, for I am gentle and lowly in heart, and you will find rest for your souls. – Matthew 11:28-29
"Be still, and know that I am God. I will be exalted among the nations, I will be exalted in the earth!" – Psalm 46:10
He who dwells in the shelter of the Most High will abide in the shadow of the Almighty. I will say to the Lord, "My refuge and my fortress, my God, in whom I trust." – Psalm 91:1-2
Finally, be strong in the Lord and in his mighty power. Put on the full armor of God, so that you can take your stand against the devil's schemes. For our struggle is not against flesh and blood, but against the rulers, against the authorities, against the powers of this dark world and against the spiritual forces of evil in the heavenly realms. – Ephesians 6:10-12
Finally, brothers, whatever is true, whatever is honorable, whatever is just, whatever is pure, whatever is lovely, whatever is commendable, if there is any excellence, if there is anything worthy of praise, think about these things. – Philippians 4: 8
And let us not grow weary of doing good, for in due season we will reap, if we do not give up. – Galatians 6:9
You are my hiding place and my shield; I hope in your word. – Psalm 119:114
"For I am the Lord your God who takes hold of your right hand and says to you, Do not fear; I will help you." – Isaiah 41:13
Therefore do not be anxious about tomorrow, for tomorrow will be anxious for itself. Sufficient for the day is its own trouble. -Matthew 6:34
You can download the first four as beautiful scripture art prints (in ESV and KJV) to put up on your wall or tuck into your journal. I hope they bless you!
Download the Scripture Art Prints!
Download the Scripture Printable
Your download link will be emailed to you and you will be subscribed to Proverbial Homemaker if you aren't already. Be sure to check your spam/promotions folder. If you have any issues, check out this troubleshooting guide or feel free to email me!
You Might Also Like…