There are so many great uses for essential oils, but still many times men have no idea what they're missing out on when they don't use them! Perhaps they just don't know which ones to try or how to use them. Let's solve that problem, shall we? Check out our list of 16 essential oils for men and then enter to win an essential oils kit just for the special guy in your life!
Really, any of the essential oils available can be used and appreciated by men. However, there are a set of them that are particularly loved for their more "manly" aroma (my husband says "flowery" is not for him) or some of their specific uses.
The men in your life will love these oils! Get them a few along with some tips for how to use them. When applying topically, a general guideline is 4-8 drops in ½ teaspoon of carrier oil (such as fractionated coconut oil or sweet almond oil) for adult topical use. I like to put about 10 drops of the essential oils in a roller bottle and fill the rest with carrier oil. Diffusing works well for many of these, too!
THREE DAY SALE! From 7/19 – 7/21 get up to 40% OFF 40 popular essential oils and accessories!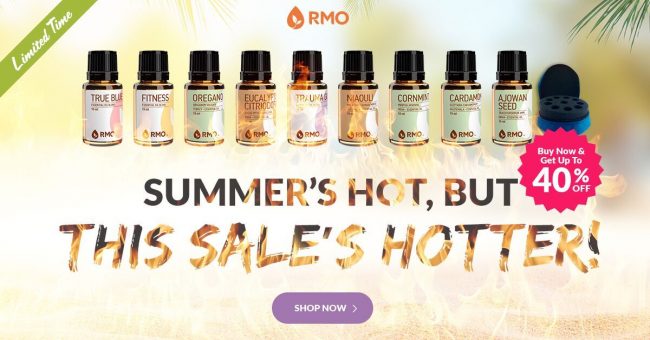 16 Essential oils for Men
(Scroll down for an infographic with much of this information included.)
Aligning. Calming and relaxing with a nutty, woody aroma. This is one I personally like to dilute and rub into my neck and shoulders when I just need to relax. Would make a great cologne in a roller bottle!
Joint Support. Relieves arthritis, bruises, sprains, and other inflammation. Can help with hemorrhoids, hypertension, and other circulatory issues. Anti fungal properties help with jock itch, cold sores, and more. Helps get rid of lice and other pests. Apply topically or using a roller bottle.
At Peace. Uplifting, stimulating yet calming, with a fresh scent he'll love. This is a great oil to use or diffuse when you're under extreme stress or grief and need help physically relaxing.
Fitness. Suppresses the appetite, motivates you to keep pushing during your workout, relieves stress, and more. Has a great citrus and cinnamon scent.
Bug Off. Repels insects and has a strong citronella aroma. Helps with fleas, ticks, and more. Can also help with fighting bacteria, mold, and body odors. This can be made into a spray (in a bottle with witch hazel or water) and shake before use, or diluted for topical use. May also be useful in candle making for outdoor candles.
Focusing. Increases alertness and mental focus. Has an herbal minty aroma. Stimulates circulation and helps relieve mental fatigue. This would make a great mist or diffuser oil.
Energize. Supports the digestive system and gives you a boost in energy. Has a warm, grainy scent. Helps with symptoms of depression and anxiety, and can be used to prevent headaches. Opens airways and thus helps improve circulation and fight of respiratory infections.
Majestic Breeze. Balancing, soothing, and stimulating with a strong pine and cedar aroma. Stimulates circulation and provides an energy boost. Diffuse to relax, use to deodorize different areas of the house, or wear as a cologne.
Tranquility. Relaxes you and relieves stress. Has a pleasant warm citrus scent. Apply as a cologne or diffuse for the whole family to benefit from this calming oil.
Sports Pro. Relaxes the muscles, aids repair of bruises and joints, and has an energizing quality. Reduces swelling and inflammation and increases circulation.
Bergamot. Calming and soothing oil. Very good for skin care as well. Mixes well with other citrus oils.
Cedarwood. Great for skin and hair care with a woody scent. Helps with dandruff and preventing hair loss, and helps control body odors. Works really well for acne, Repels mosquitos and moths and helps with ADD and ADHD issues.
Frankincense Serrata. Uplifting, supports the immune system and respiratory system, great for skin care. Has an earthy citrus aroma. Dilute and rub on to bring relief to painful and achy joints. Diffuse to clear up sinuses and lungs.
Patchouli. Great for skin and hair care including dandruff and dry scalp. Repels insects and much more. Uplifting earthy scent. Great as a cologne on it's own or with other single oils.
Peppermint. Good for so many things including relieving headaches, boosting energy, and digestive and respiratory care.
Sandalwood. Good for many different skin types. Gives great help for mature skin and skin conditions, helps relieve stress and depression. Excellent in creams or as part of a cologne blend.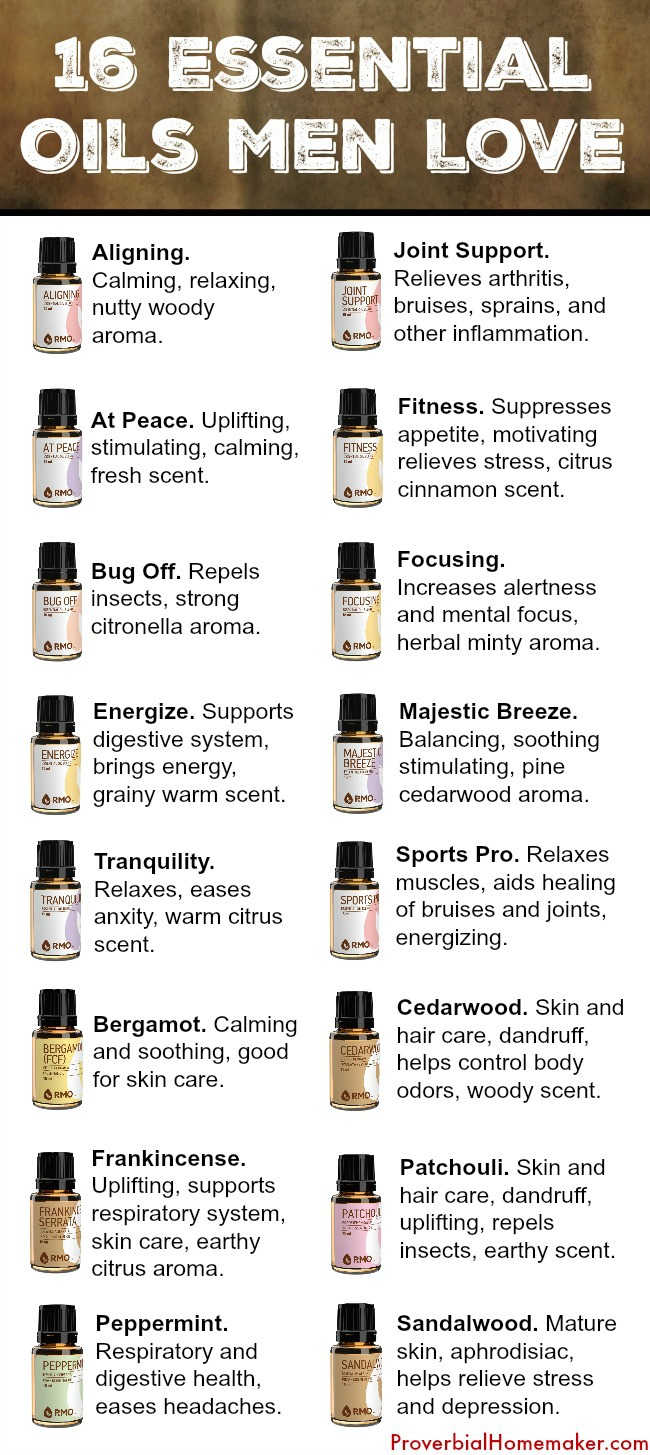 (OVER)Giveaway: Essential Oils for Men!
My favorite essential oils company, Rocky Mountain Oils, is giving one Proverbial Homemaker reader a fantastic set of essential oils for men! Check out what you can win:
Giveaway ends 6/26/16 at 11:59PM. Winner will be notified via email and has 48 hours to respond before another is chosen.