When fall rolls around, I slip into cozy mode and start nesting in our home. Bringing the delightful scents of the fall and winter seasons is something that brings me joy! Bring your kids along and try this fun activity for making DIY scented pinecones. You'll find instructions below as well as a list of fall and winter essential oils to try!
Disclosure: *This post may include affiliate links. As an affiliate, I earn from qualifying purchases. Read the disclosures and terms for more information.
DIY Scented Pinecones Using Essential Oils
Making DIY scented pinecones is such a fun activity for kids. Start by gathering pinecones (or find that stash of them from last year) and prepare them for scenting. Then add your essential oils and enjoy!
Here's how to go about it:
1. Gather Pinecones
Go on a nature hunt with your kids and gather a lot of pinecones. I prefer to find ones that are already open or that I know will open nice and wide once prepared. You can get a single variety of many different colors, shapes, and sizes!
2. Prepare Pinecones
Soak the pinecones in water for a couple of hours. This opens them up and flushes out any bugs or debris.
Then bake the pinecones. Put the pinecones on a sheet pan lined with parchment paper. Set the oven for 200 degrees and put the pinecones in for about 20-25 minutes. It will dry them out and kill off anything you don't want growing.
3. Add Essential Oils
Put the pinecones into one or more gallon ziplock bags. Sprinkle generously with drops of essential oil (we used Autumn Air this time or you can use any of the fall blends we love), then seal the bags and let sit for 24 hours or so.
NOTE: Please be careful with children and essential oils! Get familiar with which ones not to diffuse or apply directly, and have them wash their hands immediately or consider having them wear gloves if they will be handling objects with oils on them. For this project, my daughter had little to no direct contact with the oils but I had her wash her hands afterward anyway.
4. Arrange Basket / Display
Find a basket, box, or other display for your pinecones. Keeping them altogether in a bundle makes it easier to refresh the scent by adding a few drops of oil later.
My daughter arranged the pinecones in a box my brother-in-law made us for Christmas last year, adding some fall decor to complete it.
5. Enjoy and Share!
We really enjoy making these bundles for the start of autumn, Thanksgiving, Christmas, and in January with a fresh pine and orange scent.
You could also scent the pinecones and have the kids decorate them and add pipe cleaner hooks to hang them from the Christmas tree or fireplace mantle! (Just be sure to have them wear gloves for safety, because essential oils are extremely concentrated.)
DIY scented pinecones make great gifts, too! Bundle them in a basket and gift with a few bottles of essential oils, tins of hot cocoa, and cozy socks. Your friends will thank you!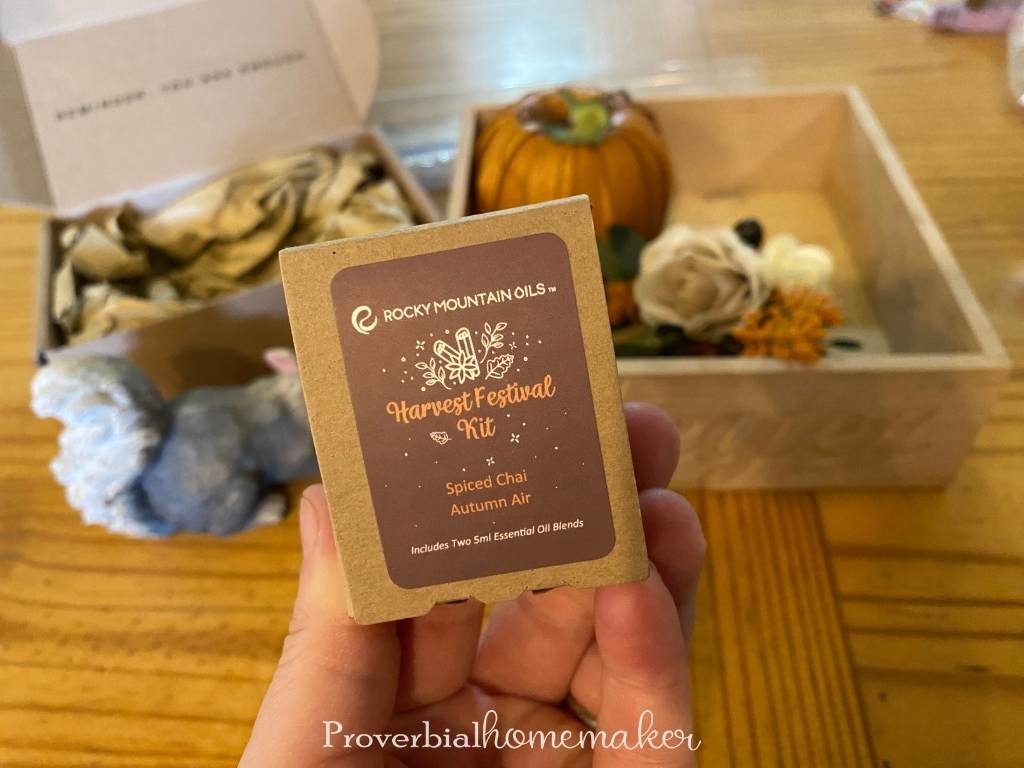 Choosing Essential Oils for Your Scented Pinecones
Use your favorite essential oil blends for fall or the holiday season! Like I said, this time we used Autumn Air from Rocky Mountain Oils and I LOVE the scent. It came in their Harvest Festival Kit that also included Spiced Chai, which we used to refresh our coffee reed diffusers.
Here are more to essential oils consider for your DIY scented pinecones:
What to Do When the Pinecones Loose Their Scent
If your DIY scented pinecones start to loose some of the scent strength you can either just add a few drops of additional essential oil or repeat the process in the ziplock bags for 24 hours to set the scent.
Additional Activities to Make it Educational
If you're a homeschool mom of littles like me, it's hard not to turn things into educational opportunities. 🙂 Here are some ideas to try if you'd like to add to the learning fun!
Learn why pinecones open up in the water and experiment with it! Here's a post about that from Parenting Chaos. We put several in separate jars to compare how fast or slow they opened up, playing with hot vs. cold water.
Read books about trees and pinecones. Here are a few to check out:
Do a nature study about pinecones, drawing trees and pinecones as you gather them, studying the lifecycle of a tree, dissecting a pinecone, studying animals that rely on pinecones, etc. Nature studies can be so fun and simple!
Enjoy exploring pinecones and making this fun DIY scented pinecones activity together!
~ Tauna
You Might Also Like…
Simple DIY Coffee Bean Diffuser