Wondering how to homeschool kindergarten and preschool? You're not alone!
So, here you are, a mom with a preschooler or kindergartener and you are venturing into the world of homeschooling, trying to figure out what the best way is to go about teaching your children at these ages. Or perhaps you are wondering what your littlest one should do while the olders are "doing school."
Invariably, moms getting ready to figure out how to homeschool kindergarten and preschool all deal with the same questions at some point:
What curriculum should I use?
What method is best?
How do I give them the best start?
Are we doing too little?
Are we doing too much?
Sound familiar?
Disclosure: *This post may include affiliate links. As an affiliate, I earn from qualifying purchases. Read the disclosures and terms for more information.
How to Homeschool Kindergarten and Preschool
If you've spent any amount of time looking into how to homeschool kindergarten and preschool, you've likely discovered there are a lot of different opinions out there. It looks a little something like this:
Q: How do I teach preschool and kindergarten?
A: Don't stress it. They'll learn what they need to. Don't bog them down with "school" too early.
A: Focus on Christ and the Word of God. Start a habit of Scripture memory and character training to lay a good foundation.
A: Read, read, read! Have frequent read-aloud times, use audio books, build your library, and expand your own reading!
A: Have some things on hand when they want to "do school" but otherwise just have fun.
A: Find a fun resource or curriculum and enjoy it together if you want! It's a great way to start building a routine.
Honestly, they're all right and have good advice and experience to offer.
So What Should You Do?
Homeschooling opinions are a lot like parenting opinions. Everyone has one, and no matter what you decide about how to homeschool kindergarten and preschool, someone out there will think it's the best thing ever and someone out there will think it's the worst thing ever. So don't let yourself be sidelined by it when it happens!
Bottom line: do what you want. While it can be inspiring and useful to find out what others are doing and glean what is helpful, don't let it stress you out! Don't allow yourself to dwell in worry about all the opinions or articles that say you should be doing this or doing that, or doing nothing at all.
Comparison steals joy. Worry steals peace.
Three Steps to Getting Started
Here are the three things I suggest you focus on above all else when it comes to how to homeschool kindergarten and pre-k. From experience, they're the essentials.
1) Pray for Wisdom. There's no homeschooling tool more effective, more reliable, or more accessible than PRAYER. Learn now to go first to the Lord in prayer and He will guide you. Ask for help in finding the approach that is right for you, your kids, and your current situation.
2) Don't Get Stuck. It's a good thing to seek advice, do research, and find out what more experienced homeschool moms recommend. Weird homeschoolers like me actually consider that a good time. 😉 However, don't get stuck in analysis paralysis! Glean the useful tidbits and be sure to move on to #3.
3) You Do You. Only you as the parent are the best one to determine what your child needs at each stage. Trust that processes and God's leading in your homeschool. Choose an approach that seems reasonable right now and just try it out, adjusting as needed based on what you observe about your child's developmental readiness, needs, and family dynamic.
When to Start Homeschool Preschool?
I have tried a lot of different things in these years of homeschooling, and I still have one kiddo in what I'd consider the early education stages. I am always learning more about how they learn and how to best teach them.
Here's what our homeschool years have looked like for preschool and kindergarten. Note that I don't regret ANY of them.
Formal Pre-K / Kinder Curriculum: I spent time and money on our firstborn doing formal preschool. I don't regret it! We both had fun! He is not in therapy because of it and still loves learning. 😉
Delayed Academics: Nowadays I delay most formal academics until about 1st or 2nd grade (and for some subjects even longer) focusing instead on character, play-based learning, and habits. I don't regret this either! It is a fruitful use of our time and they aren't behind at all.
One Room Schoolhouse: As a large family mom, we do a one-room schoolhouse style for subjects like history, Bible, science, art, music, read alouds, etc. so that they all benefit at their own level. We LOVE this approach and they learn so much by tagging along. The olders take some opportunities to help teach the youngers basic things, too, which is a blessing all around.
Fun "School" Activities: My little kids often want to "do school" with the older kids. And recently, I have decided to add in some early learning because I think it's fun and even the older kids enjoy participating in it, too! So I keep simple workbooks on hand and pull in activities from different early learning curricula.
What is the Best Pre-K and Kindergarten Curriculum?
Well… I hate to say it but there is no "best" preschool curriculum or kindergarten curriculum. It is a blessing that we have so many options to choose from these days, but it can also be overwhelming. There are several great ones to choose from and a lot of times it comes down to things like preference (for you and your child), learning style, and budget.
These are some resources that we have enjoyed over the years:
Rod and Staff Preschool and Kinder Books – These are what we keep on hand when they want to do school. They're simple and the kids enjoy them.
Five in a Row – These are sweet literature-based unit studies we have fun with. You can make them as simple or involved if you want. Before Five in a Row is for the youngest kids and the older levels work for up through elementary.
A Year of Playing Skillfully – If you want a beautiful and and fun resource for play-based learning, A Year of Playing Skillfully from The Homegrown Preschooler is definitely one to check out! It's like the best of Pinterest in a binder to help you make a delightful and memorable early learning experience for your kids. Watch my video review here.
Fun Printables – Our kids enjoy these Bible printables as well as occasional packs from The Crafty Classroom (especially their resources that use a lot of mazes like MazeWriter.)
LOTS of Read Alouds – we get tons of books from the library, nature books, historical fiction, audiobooks, easy readers, and more. We eventually have my 1st graders read aloud with us, alternating pages.
Enjoy Your Kids
The preschool to first grade years are some of my favorite. It's so fun to watch them make connections and begin to love learning. Whatever you choose to do, keep it light, enjoy your kids, and don't stress over when they start learning specific skills or subjects. You'll do great and so will they!
A Resource to Consider: Gentle+Classical
Are you looking for a beautiful curriculum to use with your children? Gentle + Classical is a wonderful Christ-centered experience for homeschool families and provides resources for kids preschool through 6th grade. Print and digital formats are available and materials include catechism, literature, handicrafts, science/nature, virtues, and more!
Preschool
The Gentle + Classical Preschool curriculum is SO easy and joyful to implement – and it was created to be that way! Here's what it includes:
Preschool Teacher's Guide (you can even download the download the digital version FREE)
Preschool Handicraft + Activity Guide
Preschool Art + Music Pack
Preschool Morning Binder
Memory Statement Cards
ABC+123 Flashcards
Character Statement Songs
Kindergarten
Gentle + Classical Primer curriculum is the perfect solution to your Kindergarten and first grade years for the mama who is concerned with Beauty, Virtue, and Truth above all else and loves to blend classical education and Charlotte Mason philosophies.
This 36 unit program is a rich feast for the imagination and the soul and includes the following:
Wonder Tales (28 total)

Poetry
Nursery Rhymes
Scripture memorization
Catechism
Bible Reading
Artist Study
Artistic Basics
Composer Study
Orchestra
Math memorization
Daily Morning Binder Work
Daily Morning Basket
Letter review
Numbers 1-20
Early math skill introduction: 2D and 3D shapes, basic geometrical terms, addition, subtraction, mathematical symbols, and more
(*This program is not a complete math or phonics program. You will need those programs when your child is ready for them.)
Nature
(Ages K4-4th Grade)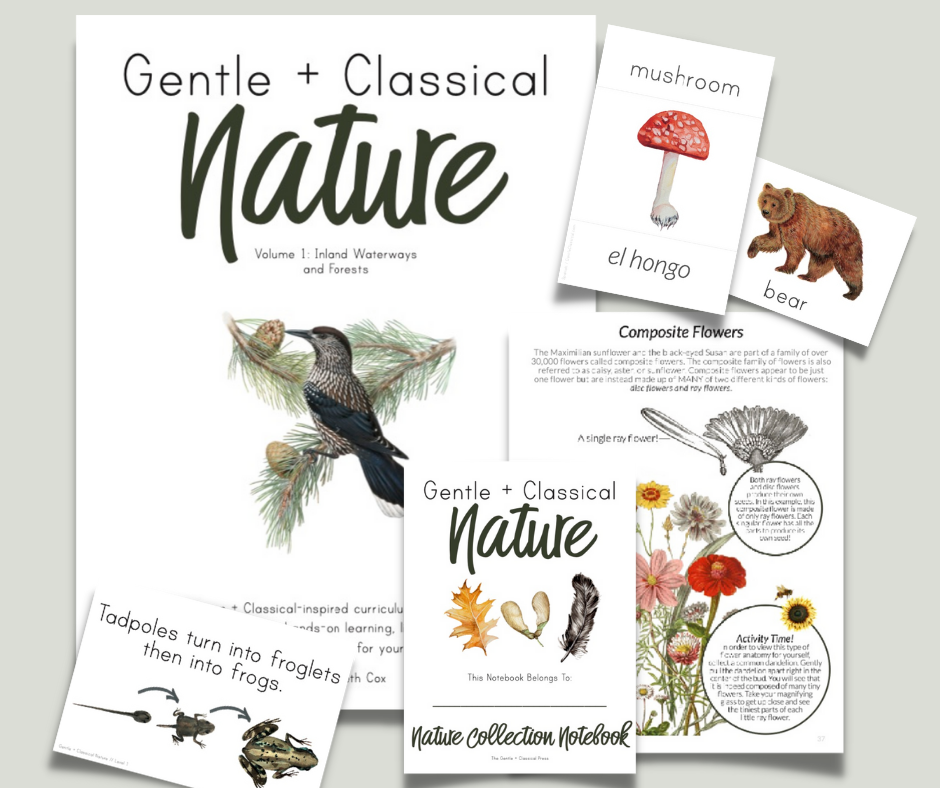 Gentle + Classical Nature Volume 1: Inland Waterways and Forests and Gentle + Classical Nature Volume 2: Shorelines & Oceans have been created to make Charlotte Mason's "Formidable List of Attainments for a Child of 6" all the more attainable without overwhelm.
Both volumes include the following:
Gentle + Classical Nature Teacher's Guide
Student Notebook Level 1
Student Notebook Level 2
3-Part Montessori Cards
Memory Statement Cards for all 3 Levels
Spanish Flashcards
French Flashcards
Nature Collection Notebook
Morning Virtues
(1st Grade and Up)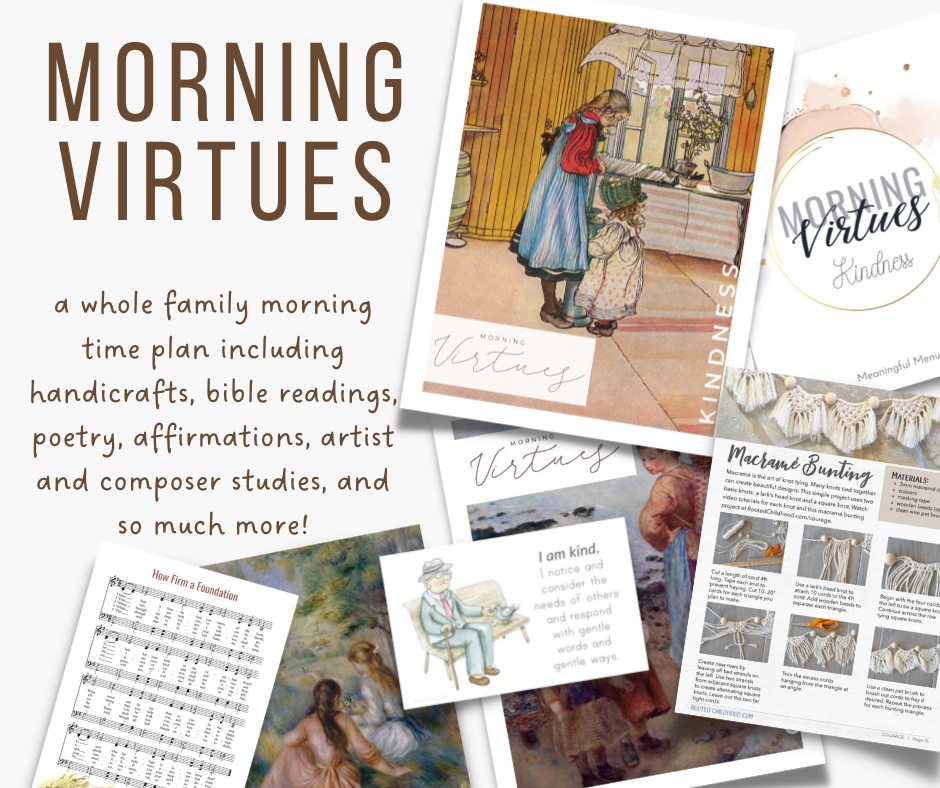 If you're looking for a Morning Time curriculum, your search can stop! Gentle + Classical, Meaningful Menus, and Rooted Childhood have joined together to create Morning Virtues. Morning Virtues is not only convenient and flexible but rich, meaningful, and beautiful. It is sure to bring beauty and connection to your homeschool!

It includes:
2 scheduled read alouds

28-day schedule

Affirmation
Catechism
Hymn
Handicraft
Memory Statement Cards
Folk Song
Sonnet and/or Poem
Manners/Hygiene Statement
Artist History + 4 Prints
Composer Bio + Study
Virtue-Inspired Short Story
Morning Virtues Menu
Check it out today by downloading the Courage (digital) Issue 100% Free!
On Mission
(K4-6th Grade)
On Mission, a magazine-style cultural study curriculum is written for ages PreK through 6th grade with opportunities for everyone! It can be used as a stand-alone study, but is also a GREAT family-style, morning basket addition to your homeschool days!
Issues include:
52 pages of content (Year 1 issues have 42-48 pages.)

Living Book List

Guidance on scheduling and planning (free digital co-op planner and suggested scheduling)

Modern Missionary Challenges

Current Missionary Efforts

Historical Missionary

History

Geography terms

Geography

Animal Feature

Music and Art

Special Feature

Everyday Terms in the Culture's native tongue

Daily Life like housing, schools, clothing, and games

Food Parade

In the BONUS digital files you'll receive: Flashcards, Maps, a Printable Passport with a flag and "stamps," Vocabulary Flashcards, Notebooking Pages, and More!