Disclosure: *This post may include affiliate links. As an affiliate, I earn from qualifying purchases. Read the
disclosures
and
terms
for more information.
Preschool is such a fun age to teach! It's the year that gets the most questions, too, as far as what preschool homeschool curriculum to use.
Here are some things I've learned about teaching preschool:
You don't have to. Play, living life along with you, and enjoying read alouds provides a rich education without the busy work and fuss! Focusing on things like obedience, good habits, and simple routines is the best use of these early years.
You can if you want to. Moms are often just eager to get started and that's totally fine. As long as you remember #1 above and are doing it for fun, go ahead and enjoy it!
Observe and adjust. If it becomes stressful for you or your child, or you sense that it's not really helping, set it aside without guilt and go back to #1. You'll have plenty of time for formal academics later.
With that in mind, today I'm sharing my favorite preschool curriculum picks and what we've landed on after years of riding this rodeo with 6 kids. 🙂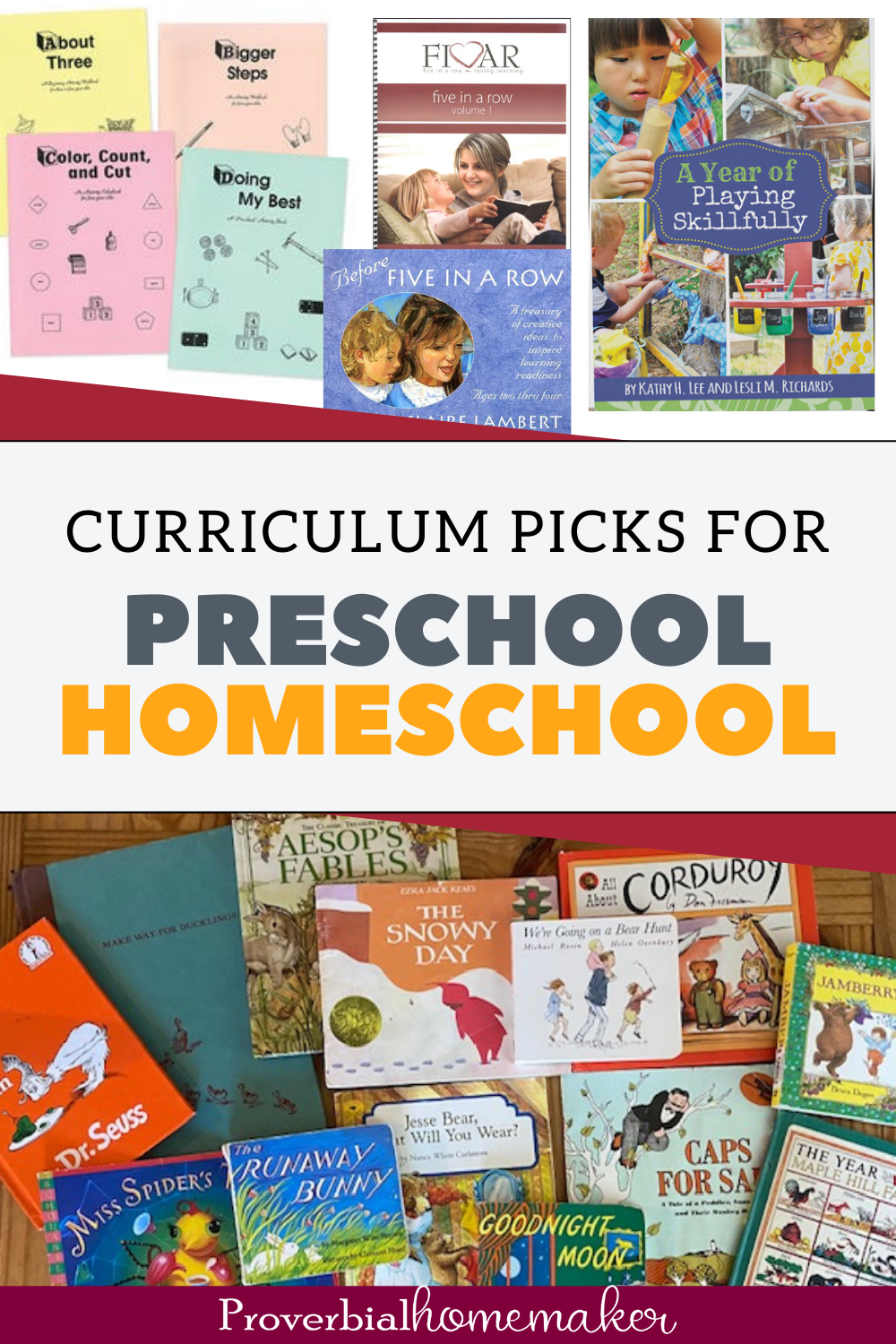 Favorite Preschool Homeschool Curriculum Choices
A Good Book List
Your children learn so much by hearing you read good books out loud. It develops their language and listening skills, inspires their imagination, and teaches them about whatever the topic is you're reading about.
When you read to them, they are learning vocabulary, comprehension, and attentiveness. Snuggling on the couch with a good book is also a blessing to your relationship!
Read them good books, and you can consider your preschool curriculum is complete, in my opinion. Some book lists to consider: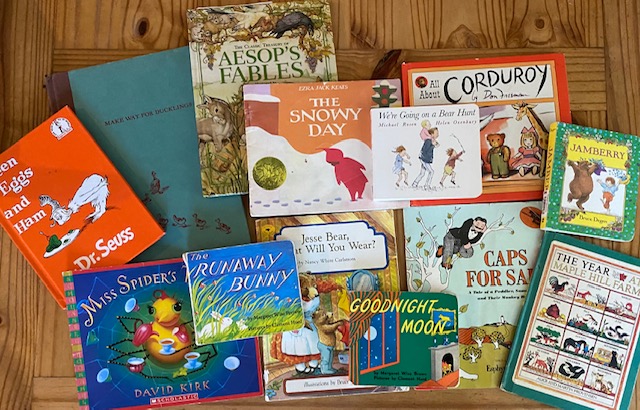 Literature Units
Some of our earliest homeschool experiences were with Before Five in a Row and Five in a Row. We have the older editions, which you can find used for a great price. We had SO Much fun with these! You read aloud wonderful children's literature together and then use the guides to do fun activities related to the books.
You can also try out some of my free children's literature unit studies if you want to try out this approach with your kids!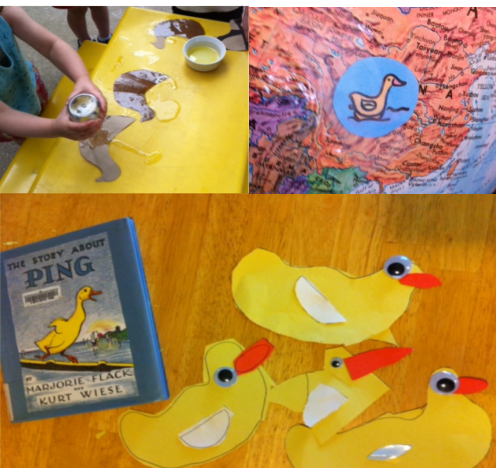 Hands-On Learning
If you're looking for beautiful, hands-on preschool curriculum, you'll love A Year of Playing Skillfully! It's great for ages 4-7, but even older kids enjoy tagging along with the activities. It's great for narrowing down the plethora of hands on activities to the best ones tested by moms and kids. You can see my full review here.
Simple Workbooks
Rod and Staff workbooks – I always have these preschool workbooks on hand (see them here and here) for when they want to "do school" at the table with the older kids. We also keep copies of the next level up — the ABC series — for when they finish these.
What We Do Now for Preschool Homeschool Curriculum
So what do we do now? Whatever we want. 😉
These days, our homeschool involves a lot of read alouds and the youngers will tag along with whatever the olders are doing. I keep the Rod and Staff workbooks on hand for when they want to "do school" but there's no pressure to work on them consistently. Most years, that's all we do and they learn and develop wonderfully!
More recently, I've found myself missing those earliest years and some of those fun activities. Last year, we loosely used A Year of Playing Skillfully because I thought it would be fun. It was! All the kids enjoyed it. We didn't do everything so I plan to dip into it often.
This year, we're pulling out our old Before Five in a Row and Five in a Row books to enjoy reading together. We'll casually go through the activity ideas in the guides, too. The last time we did them my 13 year old was only 5! Lol! It will be fun to enjoy them again.
---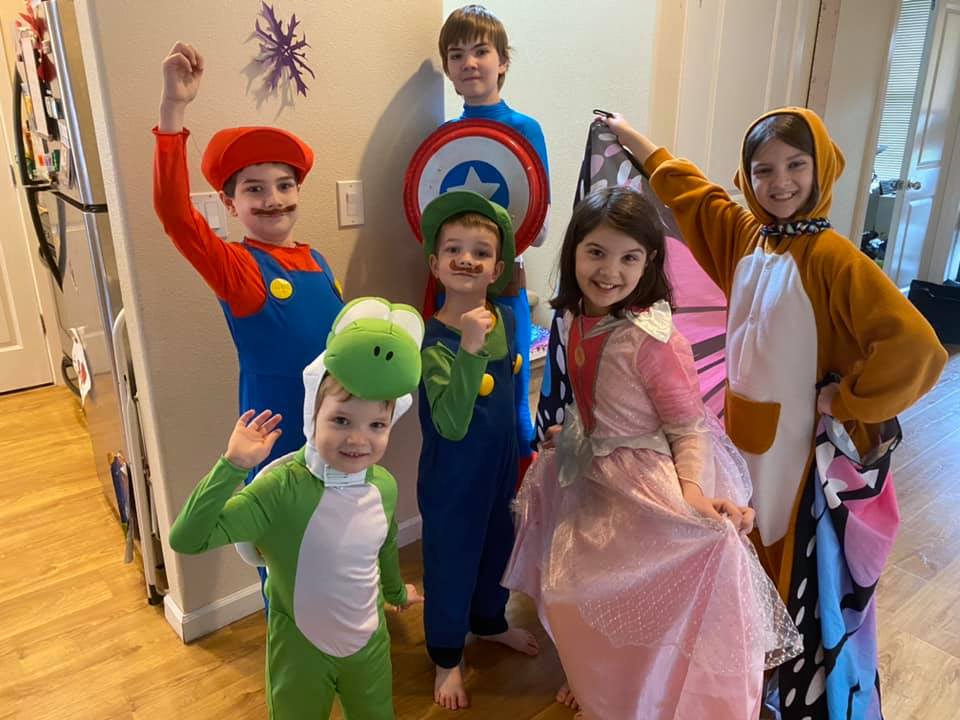 A regular day in our homeschool! 😆
So there it is, friends! Do what you want and have fun! While I've tried MANY great resources in the past, the ones I've shared here are the TOP preschool curriculum choices, in my opinion.
Remember that preschool homeschool curriculum and resources should be helpful tools to make your homeschool days fun while you enjoy learning together. Once they become a burden or you start feeling like your kids are "behind" if they're not doing it all, it's time to drop it and let them play in the dirt while you read them a story. 🙂
Enjoy, sweet mamas! These years will go by in a blink of an eye.
~ Tauna
Looking for more curriculum suggestions?