As Christian parents who know and love the Lord, we strive to present our children with a biblical perspective of history, daily life, and who we are as image-bearers of God. It takes intention and purpose, because in this fallen world, the default is most definitely NOT biblical. We work to create a Christ-centered home that teaches and trains our children well. Part of that training is to teach kids biblical worldview.
But what exactly is biblical worldview? Why is it important to teach it to our children? And how do we go about doing that?
This is a sponsored review post and giveaway in cooperation with Apologia. All opinions are my own.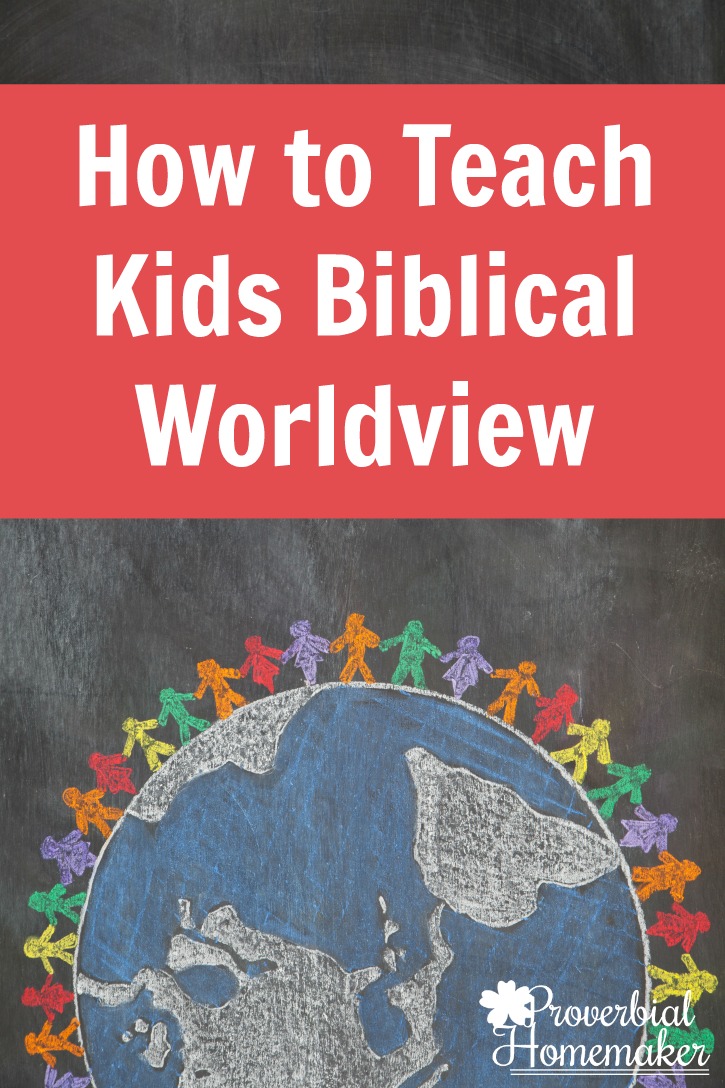 Disclosure: *This post may include affiliate links. As an affiliate, I earn from qualifying purchases. Read the disclosures and terms for more information.
Sometimes it can be hard to navigate the waters of what to teach our kids and how to find solid resources to help us in that effort. I think that is especially true as parents who want to raise kids who know and love the Lord! Right now we have 6 kids who are all 9 and under. We are in the trenches of teaching and training, so having a clear direction and helpful tools is essential. While we are by no means experts by experience, we have grown in passion these past years for being a Christ-centered home that will teach kids a biblical worldview.
What is a worldview? A worldview is simply the way we view the world. Everyone has a worldview because it is basically the way we see and experience the world through the lenses of our beliefs. Our worldview influences everything in our lives. Everything! Relationships, choices, how we thing, what we say, and what we do. The worldview of individuals and groups comes into play in families, people groups, politics, governments, and more. Worldview matters!
Why teach kids biblical worldview? Our kids will one day go out into the world and make their own decisions. We want them to be fully equipped for that! While our kids are at home, a big part of our job is to teach them how to view, interact with, and process the world through the lens of scripture, which never changes. It is helping them to build their house on solid rock and not the shifting sand of popular culture. It is also teaching them discernment, helping them to identify differing worldview in daily life, the public arena, and world history.
Cultivating the soil of their hearts. We are not responsible for the salvation or sanctification of our children. That is the job of the Holy Spirt. However, we are called to cultivate the soil of our children's hearts and the environment of our home, to plant the seeds of the gospel, and to pray for them diligently. In my view, teaching them a biblical worldview is a part of that work to cultivate the soil of their hearts.
Ways to teach biblical worldview. There are may ways you can be intentional to teach kids biblical worldview. First of all, read the Bible! Making the scripture a regular part of your family life will go far in this. Not only will they be hearing God's Word, but family discussions about how to handle real-life situations in light of God's truth will be a treasure. Biblically solid sermons at church are also important.
You can also use tools such as good Bible curriculum and devotions, Christian kids' entertainment, and more. One of my favorite resources is actually specifically written to teach biblical worldview! Apologia's What We Believe series is a goldmine of books and other tools for parents.
Teach Kids Biblical Worldview with Apologia
I first came across Apologia's What We Believe series a few years ago when we reviewed the book What on Earth Can I Do? It was such a fun experience that explored how to properly steward all the blessings God has given us. Not only did the kids and I love our daily time reading through the book and its stories together, but the message was amazing and had a lasting impact.
The What We Believe series includes four volumes:
Who is God? – Introduces foundational truths of biblical worldview, including creation, sin, God's character, and His plan of salvation
Who Am I? – Explores how we are created in the image of God, fostering a healthy and biblical self-image
Who is My Neighbor? – Shows kids how to serve others – including family, their community, and the world – in the name of Christ
What on Earth Can I Do? – Helps kids learn how to use all their gifts, including time, talent, and possessions, for God's glory
Additional resources are available for each volume, including Notebooking Journals, Jr. Notebooking Journals, MP3 recordings of the text, and coloring books. Each book can be read in sequence or you can choose any one to start with. They also can be used for a wide range of ages!
Each volume is designed to take a year but that is flexible as well. In our homeschool we primarily used it as a read-aloud and discussion guide along with the coloring pages. The journals make it a more complete curriculum, and for older kids it can be used as independent work. If you don't homeschool, the What We Believe series would make a great family devotion, too!
Here are just a few things to love about the What We Believe series:
Presents culture and history in light of scripture
Truly engaging stories with conversational tone
Hard-back books with beautiful illustrations
Related coloring pages to keep the hands busy during read aloud time
Fun Notebooking Journals to kick the learning up a notch
GIVEAWAY! (5 Winners and over $450 in Prizes!)
As a part of the Christ-Centered Home Giveaway series, Apologia is generously giving 5 Proverbial Homemaker readers a chance to try out this amazing series!
4 winners receive: Choice of volume + choice of notebooking journal
Grand prize winner recieves: ALL 4 volumes + choice of notebooking journals for each one
Giveaway ends 2/8/17 at 11:59PM PST. Winner will be notified via email and has 48 hours to reply before a new winner is chosen. U.S. only.
(Don't forget to enter ALL The Christ-Centered Home giveaways!)