Looking for 3rd grade homeschool curriculum ideas? You're in the right place!
In our homeschool, 3rd – 4th grade brings a transition to more independent work. We also usually introduce studied dictation (Charlotte Mason style) and start letting them choose an elective activity here and there.
For our children this age level, we still provide lots of physical play, free time, read alouds, and hands-on studies. Table work is about 1 hour and includes math and reading instruction. We go at their pace!
Here are our top picks for 3rd grade homeschool curriculum and resources!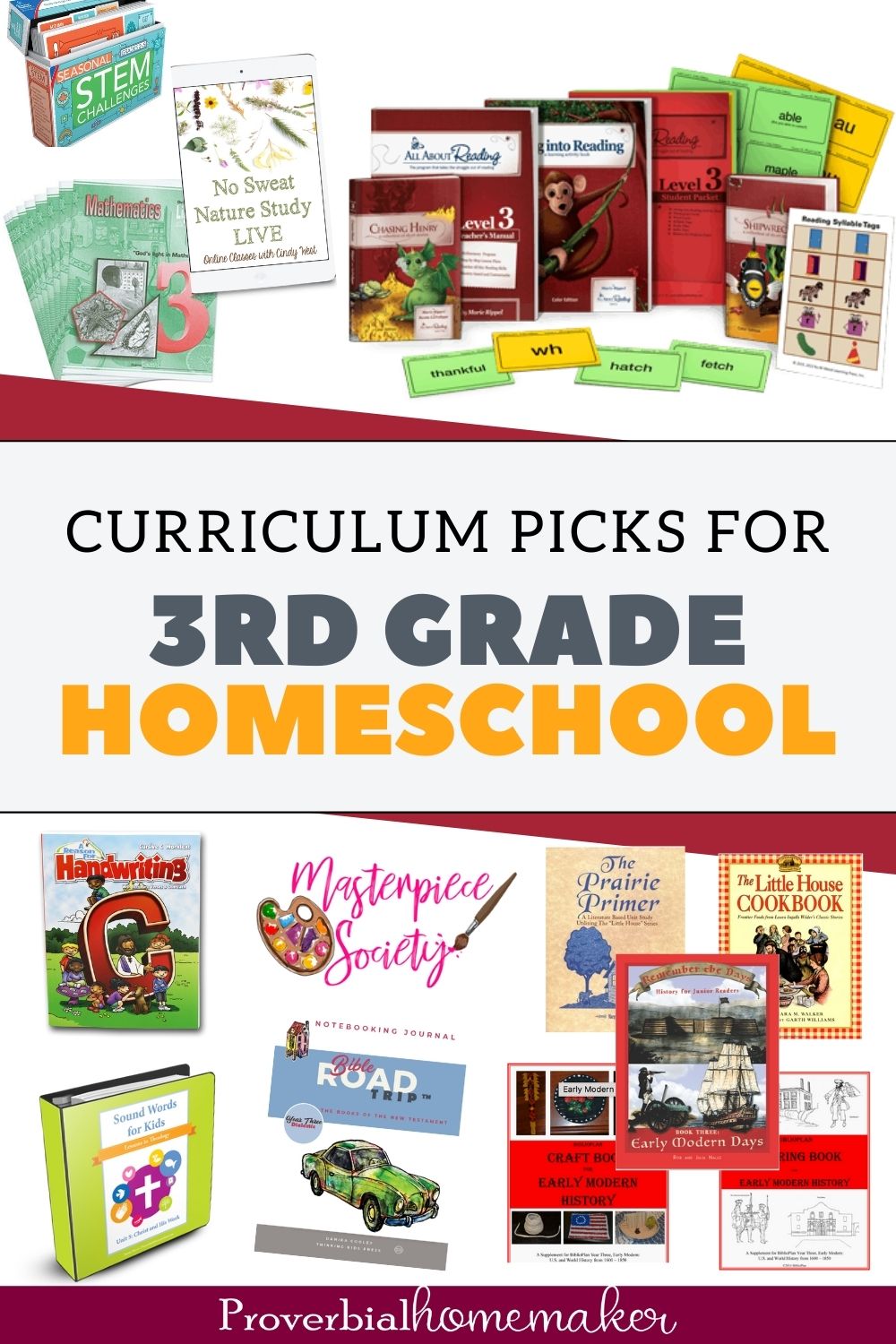 Disclosure: *This post may include affiliate links. As an affiliate, I earn from qualifying purchases. Read the disclosures and terms for more information.
Daily Checklist
While my oldest kids use the whole Student Work and Habit Tracker, the younger ones just use the loop scheduling sheet from the planner. I laminate it and post it on the wall for easy tracking. They simply mark what they've done each day to help us all stay on track!
You can also download free simplified loop schedule templates here. This is a great way to start teaching your kids to take ownership of their time management.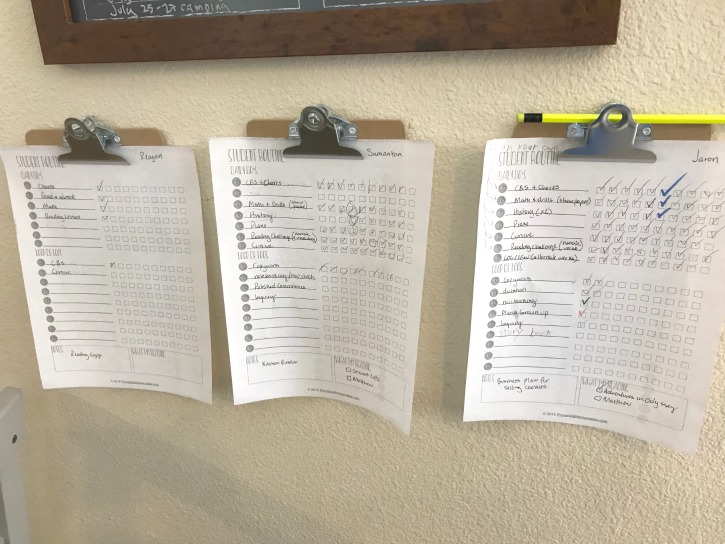 Language Arts
For language arts we do more of a Charlotte Mason approach. I really don't prefer an all-in one language arts program for 3d grade homeschool curriculum. My kids are rarely at the same level in their reading, writing, spelling, etc. Instead, we focus on reading and narration skills, and then add bits here and there as needed.
All About Reading (sometimes) – Generally my children are reading well by this time and we just do read aloud practice. However, one of my kids has dyslexia and All About Reading has been a HUGE blessing. You can read my All About Reading review here and a post about how we teach reading in our homeschool. We also added All About Spelling for him as reinforcement and it works nicely.
Narration – Narration is a huge part of our homeschool. It's the Charlotte Mason practice of orally telling back what was just read / heard. Eventually it will include written narrations / notebooking. (Narration helps with pre-composition skills, speaking skills, retention of knowledge, and more.)
A Reason for Handwriting – Advancing to the next book. This curriculum focuses on letter formation and Scripture copywork.
History
BiblioPlan (Year 3 – Early Modern this year) is what we use for multi-level group learning of history, church history, geography, and literature. For my 3rd grader, that will involve listening to read alouds and audiobooks, using the coloring pages, their suggested hands-on projects, and orally narrating. We may use some of the scheduled books at his reading level for reading practice, too.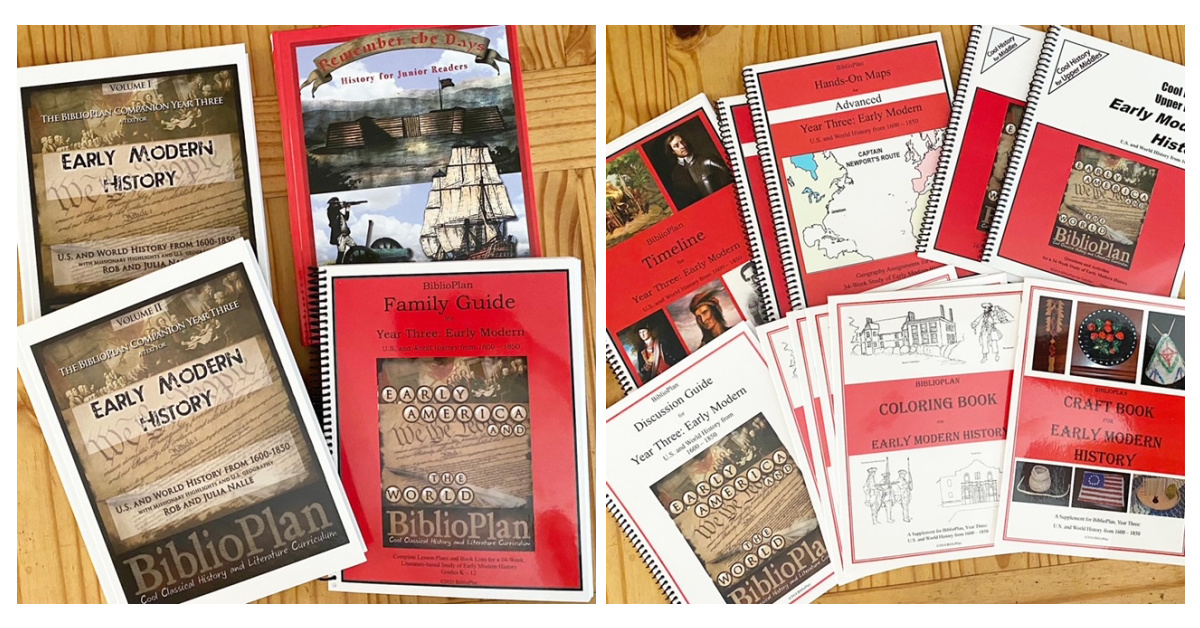 Science / STEM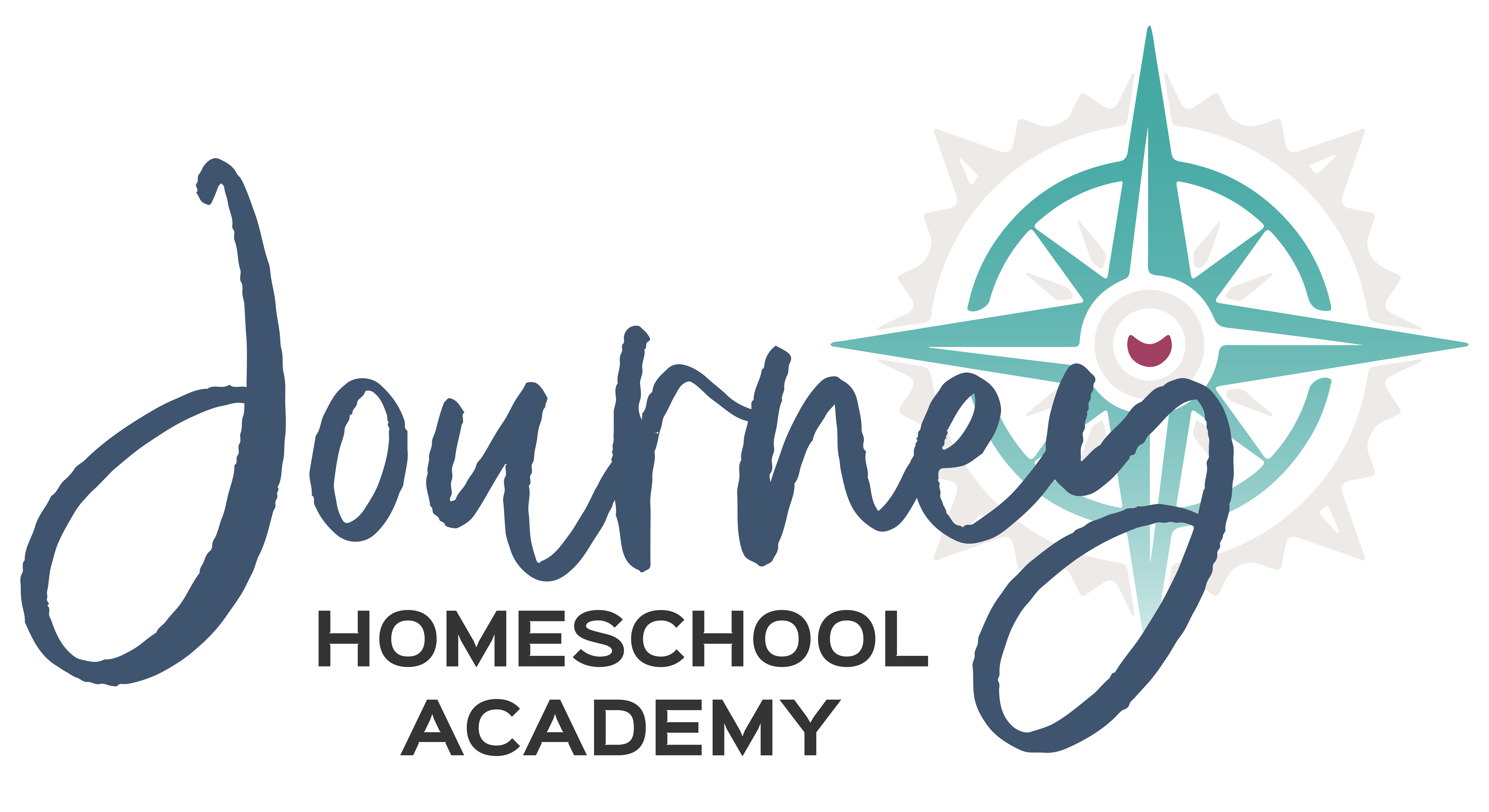 Math
Christian Light Education for Math – My preferred math curriculum if you're looking for something straightforward and not online. Uses a spiral approach and lots of practice. Just delete extra problems if you think there's too much.
Bible
Bible Group Work – We do Bible Road Trip and Sound Words for Kids together. See more info in the "Group Work" section below.
Bible Journal – My two daughters (10 and 11) are using the Bible Drawing Journal for their personal Bible time. My third grader asked to do something similar. I think the Bible Drawing Journals might be a bit much still for him so he's going to use a composition book with drawing space so he can draw about our daily Bible study each day. I'll also use this as an opportunity to introduce him to notebooking, having him write one sentence each day to go with his drawing. (Normally I ask for a sentence per grade level, but this is a great start!)
Other Group Work
Sound Words for Kids: Lessons in Theology – My theology curriculum for ages pre-k and elementary. Once a week with some weekly memory review. For third grade it involves listening to me read the lesson, coloring, and doing one of the activity pages.
Bible Road Trip – Our staple Bible curriculum that we've used for years. It's excellent and can be used for pre-k through high school. It includes simple activities, Bible reading and discussion, and memory work.
Masterpiece Society Art – Once a week my daughter and the younger kids will enjoy a selection from the seasonal art projects, drawing lessons, or artist studies. You can find out more here: Individual Courses or Membership (this is what we have – it includes all the courses)
Music in Our Homeschool – We use this as a group resource for hymns, preschool music, music for history, geography, and more. We do about one lesson a week.
That's it for 3rd grade homeschool curriculum! Keep in mind that many of these things aren't done every day, but rather are on a loop schedule. It means we get to work through great materials without overloading our day!
What Else Would I Consider for 3rd Grade Homeschool Curriculum?
Looking for more curriculum suggestions?