In our homeschool, 7th grade is proving to be somewhat of a transition year as we strengthen independent work skills and ease into a larger workload. By the end of 8th grade I want them prepared for high school, and 7th grade is a good start for that preparation! Our 7th grade homeschool curriculum picks reflect that.
This year, I have an upcoming 7th grader who is a bit different than my last. She is a BIG reader, really into art and handicrafts, and is not nearly as interested in science as her older brother.
Here are my top picks for 7th grade homeschool curriculum!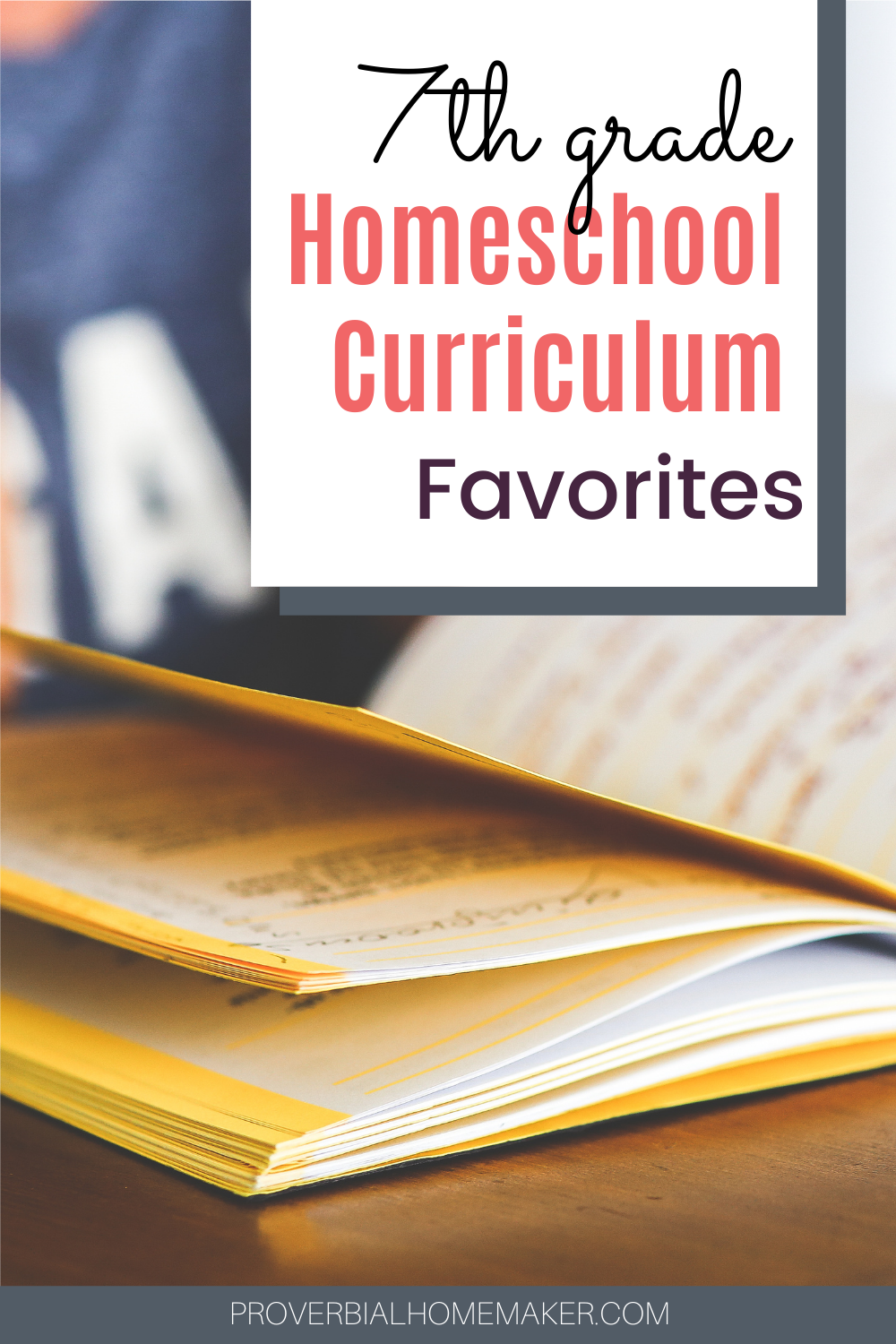 Disclosure: *This post may include affiliate links. As an affiliate, I earn from qualifying purchases. Read the disclosures and terms for more information.
Our Top 7th Grade Homeschool Curriculum Choices
As early as possible, we start letting our kids make choices as we plan their homeschool work. We've definitely landed on some favorites, though.
In addition to our homeschool group work, which we do all together as a family, the following is what we'll be doing to homeschool 7th grade.
Student Planner
My 7th grader will use the Student Work & Habit Tracker to manage her daily work, including homeschool tasks, Bible reading, personal habits, etc. It's been a super helpful part of our homeschool diligence and time management training.
Bible & Character
Bible Road Trip – This is our staple Bible curriculum that we've used for years. In 7th grade, our kids participate in the daily Scripture read aloud and discussion with the family, do some extra reading assignments on occasion, then use the notebooking journal to do notebooking and research. Highly recommend this resource! Read more about Bible Road Trip here.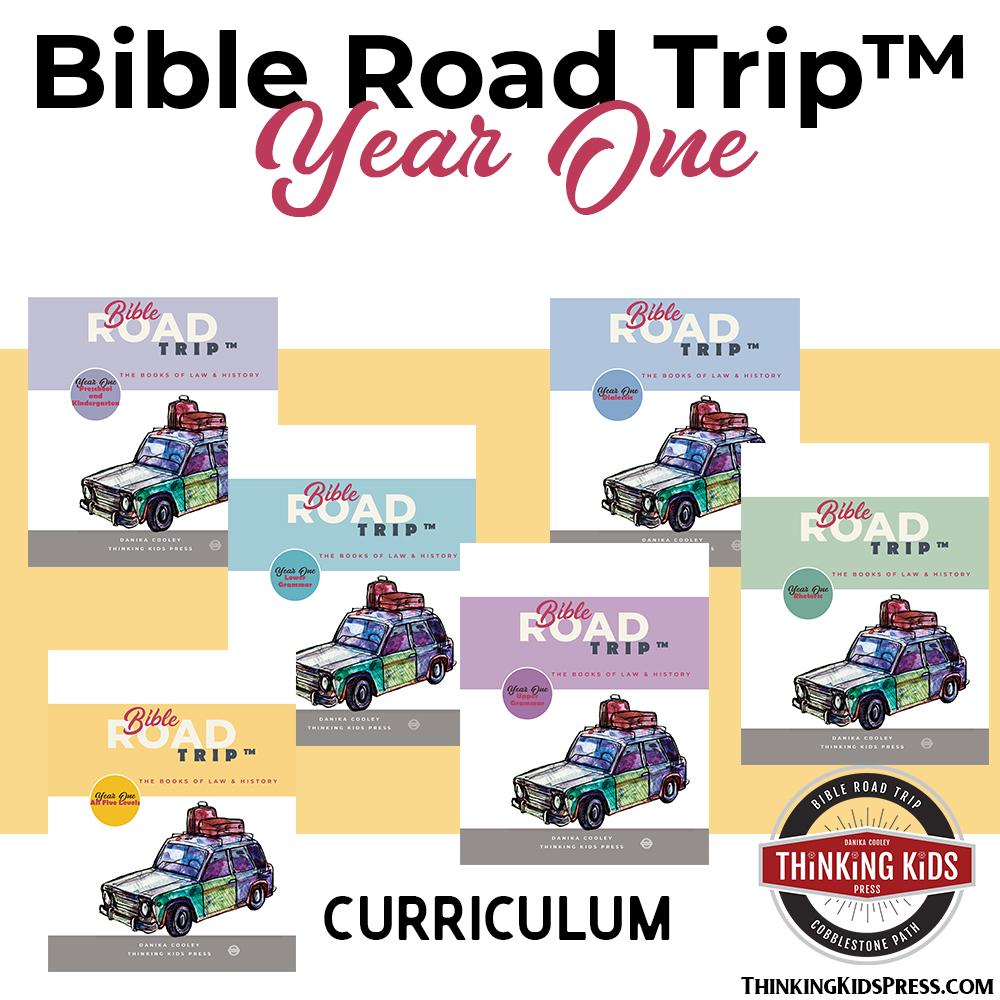 Devotions with Mom – When they get to this task on their loop schedule, we do a brief Bible study together on a relevant topic such as a character issue. The resource we use most often is Doorposts' For Instruction in Righteousness. I do this activity with all the kids and I cannot emphasize enough how fruitful it has been!
Language Arts
Writing
In addition to notebooking and narrations, which is what we rely on for composition in lower grades, I usually add a writing curriculum sometime during middle school. This year, my 7th grader will be teaming up with her younger sister (at their request) and doing Writing & Rhetoric together. They actually started already and are really enjoying it.
Each level is about 1 semester long so we felt fine starting at the beginning (which is typically for 3rd – 5th grade) because she's zooming through it. They cover different forms of writing, re-writing/embellishing, copywork and dictation, oral narration/public speaking, literary discussions, and more. I think it's a win!
We'll see if we stick with it in 8th or switch over to Jump In by Sharon Watson, which is excellent and my older son enjoyed.
She'll also be using NitroType for typing practice and will start doing her written narrations on the computer.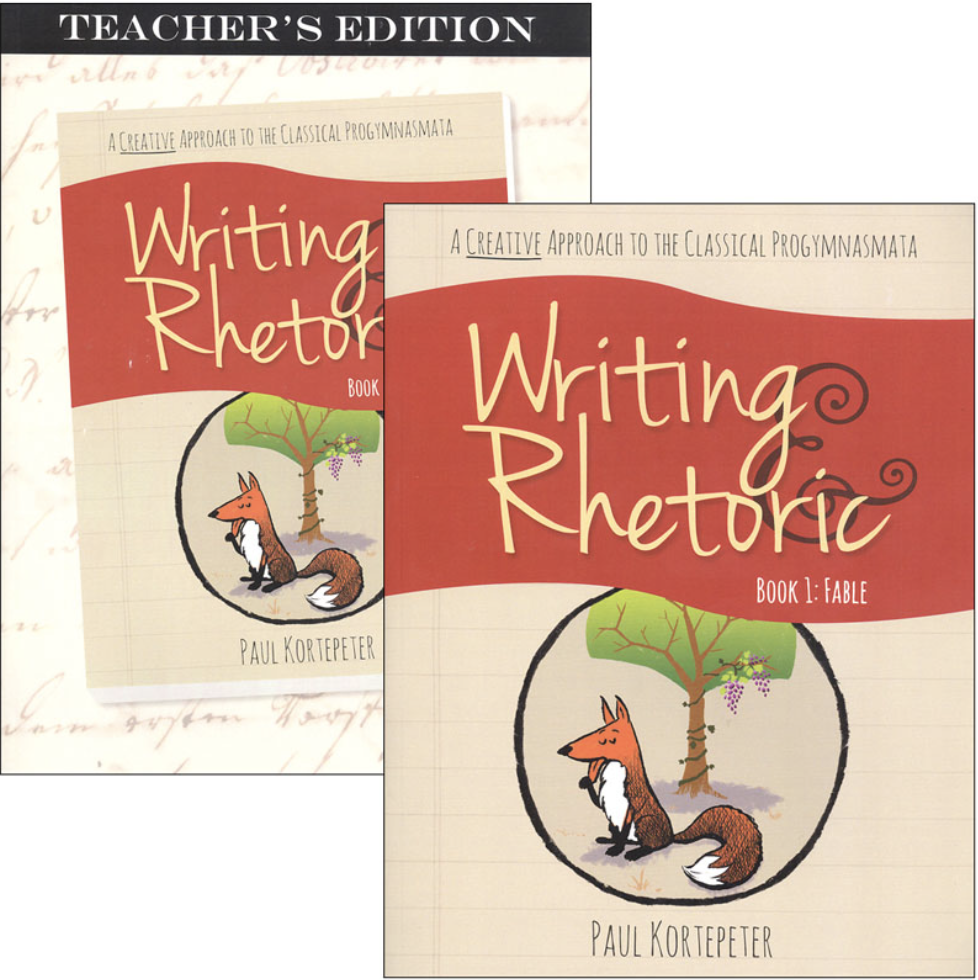 Grammar Instruction
Formal grammar is something I often wait until middle school to do. I just don't see the point in hammering on grammar over and over for K-12. Of course, they learn some grammar and composition naturally through their notebooking and narration. But for formal grammar instruction, I usually start around 6th or 7th grade.
My older son used Easy Grammar Plus with the workbook, starting mid-year in 7th and finishing in 8th, and that worked just fine as well. He'll be continuing with the Easy Grammar Ultimate series in high school for review while he needs it.
My upcoming 7th grader will be trying out The Mother Tongue: Adapted for Modern Students. (This is a recently updated version of a vintage curriculum, not to be confused with Our Mother Tongue by Nancy Wilson.) We got the student workbooks and answer keys as well.
I can't remember how I came across this, but I thought it might be a little more interesting for my literature-minded kiddo this year. It uses interesting sentences from classic literature and is a bit more conversational. It has a 1, 2, and 3 year plan (we'll try for 2 but I'm in no rush). I'll let you know how it goes! You can find a review on The Mother Tongue here.

Literature – Reading & Narrating
Our 7th grader will have several reading selections for literature from our history curriculum already built into her weeks. This particular kiddo is a heavy reader and I actually have a hard time keeping up with her and making sure she has a good set of books available. Here's what I use to fill her reading list:
History & Geography
BiblioPlan (This year we're doing Year 4 – Modern History) – This is one of my favorite parts of our homeschooling weeks. This will be our third year using BiblioPlan. It's fantastic for multi-level group learning and covers history, church history, geography, and literature. View my full review here.
In addition to our read alouds and group work, the 7th grader will be doing additional literature reading, map work, and doing the timeline notebook for review.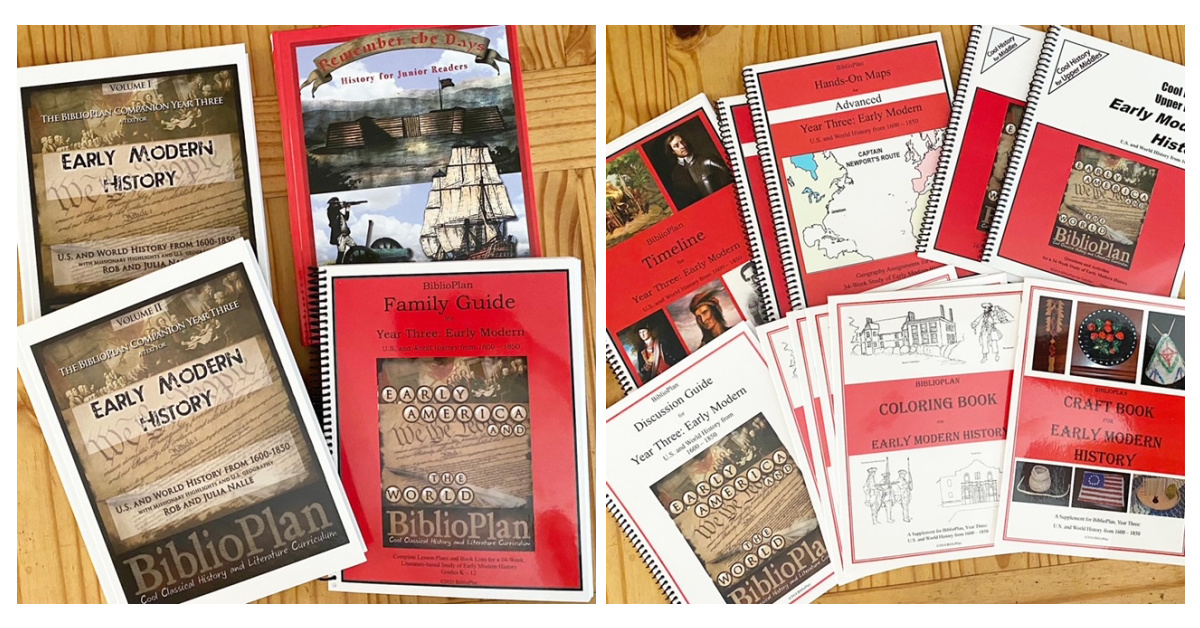 Math
Christian Light Education is my preferred math curriculum. It's straightforward and uses a spiral approach. In fact, I love it for all grades. Here's a video review I did of CLE Math.
Science
Great Science Options for 7th Grade Homeschool Curriculum
My older kiddo did Apologia's General Science for 7th grade and he loved it. We got the videos, bought a kit so I wouldn't have to collect items, and he did it all on his own. Here's a video review we did of Apologia General Science.
This year, my 7th grader is more interested in reading than labs and experiments right now, and I'm ok with giving her another year. She has also already read all the Wonders of Creation science series by Master Books, which is what they use for their General Science 1 and 2 courses. So I decided to let her pick what to do this year.
Here are some resources I gave her to choose among:
My Student's Pick This Year
This year, she chose to do two elementary-level books by Apologia. She will be reading through the Land Animals of the 6th Day book with her younger sister and narrating back to me. We'll also watch videos from YouTube playlist like this after each chapter.
The other book she chose was Apologia's Exploring Creation with Chemistry & Physics. She'll be doing the notebooking journal with it as well, although she'll get to pick which pages to do, aiming for at least half.
In addition, she'll be watching the General Science 101 DVD, probably with the whole family tagging along since we love that series. 🙂 They're fantastic Christ-centered science videos that can be used as a supplement if you're just watching, or as a full course if you use the downloadable PDF and labs with it.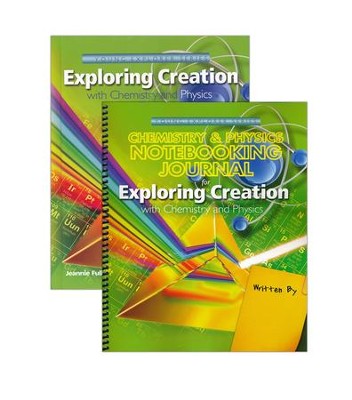 Fine Arts
Piano Lessons – She'll continue his weekly piano lessons for the third year with daily practice.
Violin – A violin teacher attends our church and has offered to give her free lessons after church each week. What a blessing! They've been going well so far so we are thankful.
Masterpiece Society Art – My upcoming 7th grader has been the most artsy among us so far and gets a lot out of this membership. It includes some handicrafts and nature drawing, too, which she is excited about. We've loved all their courses for every age as well as their seasonal art projects and artist studies. You can use the membership like we do or individual courses.
Resource for Moms Homeschooling Middle School
Finally, I want to mention a resource I picked up when my oldest was going into 7th grade that was really helpful. Middle School articles and resources from Lee Binz of The HomeScholar really helped me prepare myself for these jr. high years and look forward into the high school years with more confidence and support. So if you are feeling anxious about the middle school years, do explore that site!
It's going to be a great year with all these fantastic 7th grade homeschool curriculum picks!
Happy homeschooling!
~ Tauna
Looking for more curriculum suggestions?