Cultivating good habits in my children has become one of the most important priorities for me as their parent. It's an area that has been somewhat of an uphill battle in my own life, and I want to give my kids a good start at building those underlying habits so they are better able to succeed in life and meet their goals.
As I've worked on myself for these skills, as well as on establishing good habits for kids, I've learned that there are some things that are even more important that we MUST start with if we're going to succeed:
Trust that the Lord has given us all we need for life and godliness.
Rely on the Holy Spirit for real, lasting transformation.
Stay focused on the gospel.
Pray, pray, pray.
This is THE starting point for personal change and cultivating good habits for kids.
*** Hey! Don't miss the set of FREE printable Scripture bookmarks at the bottom of this post! They go along with the Student Work & Habit Tracker that I use with my kids in grades 3 and up! ***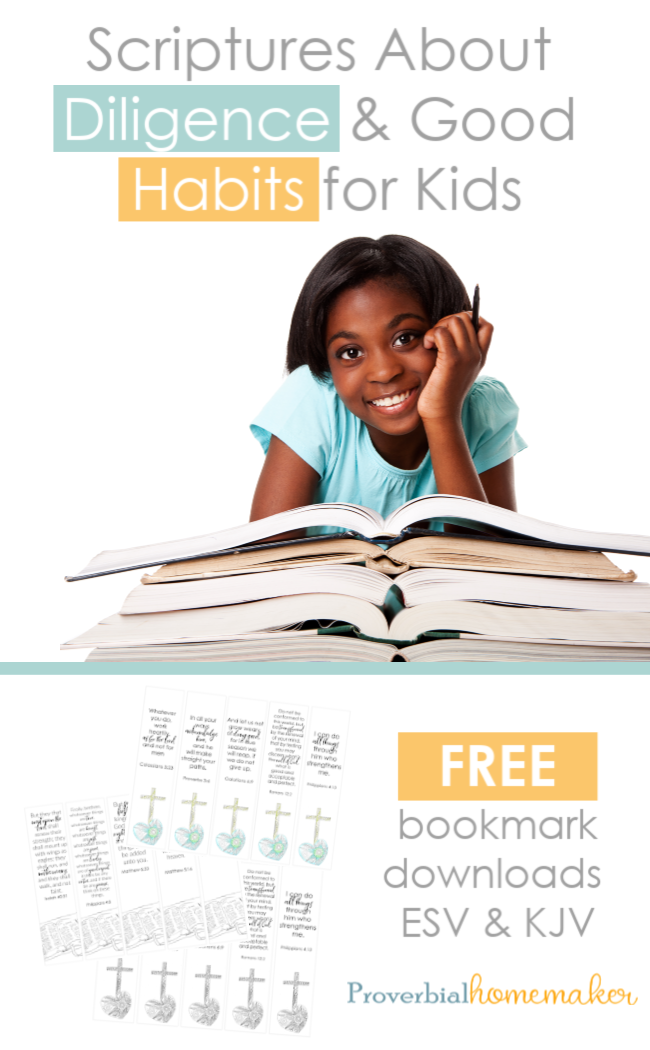 Disclosure: *This post may include affiliate links. As an affiliate, I earn from qualifying purchases. Read the disclosures and terms for more information.
Praying for Diligence & Good Habits for Kids
There is great power in the Word of the Lord. Amen? As I've worked on my own habits and on good habits for kids, I've gathered weekly Scriptures that I can pray through.
Here are 52 Scriptures about diligence, good habits, and overcoming the obstacles that will come their way when your child pursues the things of God. I have found these incredibly helpful in coaching my children through challenges and encouraging my own heart as well.
You can pray these for your child, have them memorize and pray them with you, or even use them for copywork and character study. You will find a download at the end of this post with printable bookmarks as well!
If you want to go even further into establishing good habits for kids, these Scriptures are also found in the pages of the Student Work & Habit Tracker, which is a fantastic tool that helps keep your child focused on Christ as they manage their tasks!
"Thy word is a lamp unto my feet, and a light unto my path." Psalm 119:105
"Trust in the Lord with all thine heart; and lean not unto thine own understanding." Proverbs 3:5
"Therefore if any man be in Christ, he is a new creature: old things are passed away; behold, all things are become new." 2 Corinthians 5:17
"Watch ye, stand fast in the faith, quit you like men, be strong." 1 Corinthians 16:13
"Let the word of Christ dwell in you richly in all wisdom; teaching and admonishing one another in psalms and hymns and spiritual songs, singing with grace in your hearts to the Lord." Colossians 3:16
"And whatsoever ye do, do it heartily, as to the Lord, and not unto men;" Colossians 3:23
"For where your treasure is, there will your heart be also." Luke 12:34
" I can do all things through Christ which strengtheneth me." Philippians 4:13
"But my God shall supply all your need according to his riches in glory by Christ Jesus." Philippians 4:19
"For I know the thoughts that I think toward you, saith the Lord, thoughts of peace, and not of evil, to give you an expected end." Jeremiah 29:11
Thou wilt keep him in perfect peace, whose mind is stayed on thee: because he trusteth in thee. Isaiah 26:3
"If any of you lack wisdom, let him ask of God, that giveth to all men liberally, and upbraideth not; and it shall be given him." James 1:5
"Oh that men would praise the Lord for his goodness, and for his wonderful works to the children of men!" Psalm 107:8
"And thou shalt love the Lord thy God with all thine heart, and with all thy soul, and with all thy might." Deuteronomy 6:5
"And the second is like unto it, Thou shalt love thy neighbour as thyself." Matthew 22:39
"Be careful for nothing; but in every thing by prayer and supplication with thanksgiving let your requests be made known unto God." Philippians 4:6
"And the peace of God, which passeth all understanding, shall keep your hearts and minds through Christ Jesus." Philippians 4:7
"Every word of God is pure: he is a shield unto them that put their trust in him." Proverbs 30:5
"Whether therefore ye eat, or drink, or whatsoever ye do, do all to the glory of God." 1 Corinthians 10:31
"The heavens declare the glory of God; and the firmament sheweth his handywork." Psalm 19:1
"I, even I, am the Lord; and beside me there is no saviour." Isaiah 43:11
"Ye are the light of the world. A city that is set on an hill cannot be hid." Matthew 5:14
"Let your light so shine before men, that they may see your good works, and glorify your Father which is in heaven." Matthew 5:16
"But seek ye first the kingdom of God, and his righteousness; and all these things shall be added unto you." Matthew 6:33
"Let every thing that hath breath praise the Lord. Praise ye the Lord." Psalm 150:6
"Behold, I will do a new thing; now it shall spring forth; shall ye not know it? I will even make a way in the wilderness, and rivers in the desert." Isaiah 43:19
"If they obey and serve him, they shall spend their days in prosperity, and their years in pleasures." Job 36:11
"Finally, brethren, whatsoever things are true, whatsoever things are honest, whatsoever things are just, whatsoever things are pure, whatsoever things are lovely, whatsoever things are of good report; if there be any virtue, and if there be any praise, think on these things." Philippians 4:8
"And let us consider one another to provoke unto love and to good works:" Hebrews 10:24
"Who is this King of glory? The Lord strong and mighty, the Lord mighty in battle." Psalm 24:8
"Beloved, let us love one another: for love is of God; and every one that loveth is born of God, and knoweth God." 1 John 4:7
"It is of the Lord's mercies that we are not consumed, because his compassions fail not." Lamentations 3:22
"Delight thyself also in the Lord: and he shall give thee the desires of thine heart." Psalm 37:4
"Peace I leave with you, my peace I give unto you: not as the world giveth, give I unto you. Let not your heart be troubled, neither let it be afraid." John 14:27
"But they that wait upon the Lord shall renew their strength; they shall mount up with wings as eagles; they shall run, and not be weary; and they shall walk, and not faint." Isaiah 40:31
"Jesus Christ the same yesterday, and to day, and for ever." Hebrews 13:8
"For by grace are ye saved through faith; and that not of yourselves: it is the gift of God: Not of works, lest any man should boast." Ephesians 2:8-9
"I will praise thee; for I am fearfully and wonderfully made: marvellous are thy works; and that my soul knoweth right well." Psalm 139:14
"Jesus saith unto him, I am the way, the truth, and the life: no man cometh unto the Father, but by me." John 14:6
"For God hath not given us the spirit of fear; but of power, and of love, and of a sound mind." 2 Timothy 1:7
"In every thing give thanks: for this is the will of God in Christ Jesus concerning you." 1 Thessalonians 5:18
"And we know that all things work together for good to them that love God, to them who are the called according to his purpose." Romans 8:28
"Surely goodness and mercy shall follow me all the days of my life: and I will dwell in the house of the Lord for ever." Psalm 23:6
"The Lord is my shepherd; I shall not want." Psalm 23:1
"Know this, my beloved brothers: let every person be quick to hear, slow to speak, slow to anger;" James 1:19
"For he satisfieth the longing soul, and filleth the hungry soul with goodness." Psalm 107:9
"But he answered and said, It is written, Man shall not live by bread alone, but by every word that proceedeth out of the mouth of God." Matthew 4:4
"Jesus saith unto him, I am the way, the truth, and the life: no man cometh unto the Father, but by me." John 14:6
"All scripture is given by inspiration of God, and is profitable for doctrine, for reproof, for correction, for instruction in righteousness:" 2 Timothy 3:16
"One thing have I desired of the Lord, that will I seek after; that I may dwell in the house of the Lord all the days of my life, to behold the beauty of the Lord, and to enquire in his temple." Psalm 27:4
"Now the God of hope fill you with all joy and peace in believing, that ye may abound in hope, through the power of the Holy Ghost." Romans 15:13
"For God so loved the world, that he gave his only begotten Son, that whosoever believeth in him should not perish, but have everlasting life." John 3:16
Download Bookmarks with Scriptures on Diligence
Here are 10 of the above Scriptures in a beautifully custom illustrated bookmark set. Color and black and white are included, and there are KJV and ESV versions in the file.

You Might Also Like…
Want to really set your children up for success? As a part of your efforts to teach good habits for children, set up a Student Work & Habit Tracker for them! It will help them develop meaningful goals, practice good habits, and manage their daily and weekly work independently. It even includes the Scriptures on diligence listed above in ESV or KJV!