Disclosure: *This post may include affiliate links. As an affiliate, I earn from qualifying purchases. Read the
disclosures
and
terms
for more information.
Looking for some fun summer activities? Download these free summer bingo printable cards and enjoy!
You can use these to actually play bingo with these themes, as scavenger hunt games, a summer reading tracker, etc.
For any of these bingo printable cards, you can simply play bingo if you have more than one player. Use one of the cards yourself to randomly call out items and cross them out as you go. The first child to get a whole row or column wins.
There are other uses for these printable bingo cards, however! Here are some ideas to try:
Summer Fun BINGO Cards
Print and post the sheet on the wall
Play as a family to complete as many as possible
Decide on a small reward for each BINGO completed (treat, sticker, etc.)
Decide on a larger reward for completing the whole sheet! (outing, sundae party, etc.)
Summer Reading BINGO Cards
Print one for each child
Help your child meet their reading activities to compete toward completing 5 in a column/row
Completing a BINGO gets a reward (sticker, bookmark, etc.)
Each child who completes the whole sheet gets a new book or similar reward
Summer Camping BINGO Cards
Get fun smiley stickers or a special award pin.
Print one camping bingo game for each child.
Go camping and use the camping bingo printable as a scavenger hunt.
Kids color in each circle as they spot the items.
Whoever completes 5 in a row gets to wear the pin/sticker for the rest of the day.
Summer Road Trip BINGO Cards
Have your kids decorate a paper crown for the winner to wear.
Print one road trip bingo printable for each child.
During your road trip, encourage them to fill in each item they see.
You may want to have them call it out when they see it and whoever sees it first gets the circle.
Completing five in a row gets to wear the crown until the next bingo is won.
GET YOUR FREE DOWNLOAD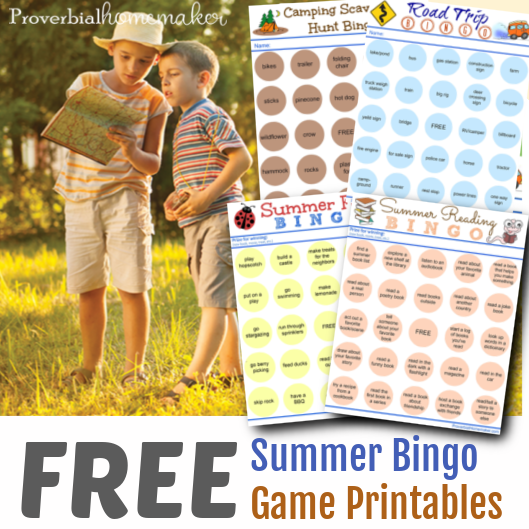 You Might Also Like…
Fun Summer Homeschool Ideas and Resources