*** Hey! There's a BIG curriculum giveaway at the end of this post worth over $1,000! Don't miss it! ***
Does it ever feel like you're juggling a thousand tasks and hundred kids, trying to get all the things done with some measure of success? As more and more kids in our families enter into the schooling years, homeschool moms (especially the large family moms) have a unique challenge: we are trying to navigate the one room schoolhouse model and figure out how to do multi-level homeschooling!
How do you keep the tots and preschoolers busy while hand-holidng your early readers and writers and keeping the papers graded and the instruction on-point for the older kids? All without losing your sanity or just watching it fall apart?
Well, truth be told, some days it falls apart. (Let's just keep it real, shall we?) Teaching multiple grades can seem daunting. But the trick to making progress in spite of the "off" days is to be flexible, set realistic expectations, and employ some tried-and-true multi-level teaching tips and tricks for our version of the one room schoolhouse!
Multi-Level Homeschooling Tips and Tricks
There are several ideas you can try to make multi-level teaching work for you and your family. I have tried several and still employ many of these tips for teaching multiple grades. You veteran homeschool mamas, feel free to add to this list yourself in the comments!
Do More Group Work
When you are teaching multiple grades, it is relatively easy to find curriculum that involves a reading of some kind (text, living books, etc.) that can be done as a family during a meal. It's a great "morning time" or "basket time" activity to do together!
During our morning basket, which is an excellent multi-level homeschooling tool, we eat breakfast and at least cover our group lessons for Bible and memory work. Then after chores we come back together for another group time rotating through art, music, nature study, etc. Afterward our older kids follow that up with extension activities that suit their level, such as drawing and/or writing about what we studied, or doing an extra reading on their own.
Similarly, we do projects, experiments, field trips, and other group activities together to extend our learning, and then assign additional reading, notebooking, or worksheets for the older kids to deepen the learning experiences without adding more time to your own schedule! Combining subjects and activities is a great strategy for the homeschool one room schoolhouse.
Round Robin for Teaching Multiple Grades
While group work is helpful, there are subjects that the kids will do on their own, such as math, reading, and writing. We will all sit down at the table and they will start working. I start with my younger kids first since they only do almost an hour a day. They start working on their tasks as I bounce around the table and help each one as they need it. That could be doing a reading lesson, answering a math question, reviewing their handwriting and giving feedback, etc.
My older kids will float in and out during the day to do any 1:1 instruction needed, do dictation, ask a question, or get direction on the next thing on their list. This round-robin type management approach may seem a little chaotic sometimes, but it's an efficient way to get through our work quickly and keep everyone moving forward.
Use Nap Time / Quiet Time
Every day we have quiet time (nap time if possible for the youngest children). During this time the older kids often take advantage of the quiet to finish up any independent work they didn't complete that morning that needs more focus, and I usually have a break or some 1:1 sessions with any child who needs extra help with a subject that's challenging for them. It's a great way to focus since the littles aren't needing attention!
However, I do try to keep that teaching time brief during nap time and reserve the more independent work for that slot. Why? Because I need to get other work done, take a break myself, or even take a power nap! Nobody likes being homeschooled by an exhausted mama or one who is stretched so thin she's about to snap. So use that golden time wisely!
Use Audiobooks
Audiobooks are one of my all-time favorite multi-level homeschooling tips and tricks. With audiobooks, my olders can spend some of that quiet time learning quietly and getting a little rest themselves while they listen and learn. When it's meal time, which is one of our regular read-aloud times, and I. just. can't… audiobooks to the rescue! Car rides are even better, using up that time on the road when your kids are a captive audience to learn something new or reinforce a subject.
We use all kinds of audiobooks for homeschooling, including both fiction and non-fiction. Some homeschool companies offer audio versions of their materials now, too, which is excellent! You can do the lessons together and use the audios for review, or use the audios for the main content, which is especially effective for those audio learners.
Have Older Kids Help Younger Kids
Begin teaching your older kids to help with the younger kids. There are many ways they can do this. They can play with or read to the preschoolers and babies, do simple math or reading practice with the younger kids, enjoy special outside time with a sibling, and more!
Some people worry about putting too much on the older kids with this kind of approach. My feeling is that as long as I don't rely too heavily on my older kids and treat their time with appreciation, including them in helping their siblings in these ways can be good for their character, bless their relationship with their siblings, and help them know how important they are to the overall functioning of the family! It's a good situation, in my opinion.
Keep the Younger Kids Occupied
Doing group work and including your younger kids in on "lessons" when they want to is a huge help. However there are times when you just need to keep them occupied! When we have read aloud time, such as during our morning time routine I mentioned above, I have coloring books and pages on hand with crayons, pencils, and markers. When they finish eating they can color or draw while they listen to me complete the day's morning time reading. It's simple but it works!
Most of the time my younger children play until I call them to the table to do their own lessons with mom. They spend a lot of time in our backyard or playing around the house, and we've set up areas where they can play without disturbing everyone else. Mostly. I mean, I do have four boys.
I also keep activities on hand for their own play discovery or to pull out when things are just getting too crazy and I need a little bit longer to finish with the olders.
Here are some ideas:
Mini indoor trampoline
Baskets of books
Box of musical toys
Box of costumes
Busy bags (look them up! lots of ideas)
Playdoh
Water painting books
Play kitchen
Chalk board with chalk or little paint brushes and a little water to "paint" with
Bubbles
A bug collecting kit
Wikki Sticks
Card making supplies
Pinto beans and pouring containers and tools
Blues Clues (we try not to do screen time, but there are days…)
Teach Independence
As my kids get to be about third grade level, we work more on having them do independent learning. I still do 1:1 instruction for certain subjects, more so depending on the kid, but teaching them to do more independent time management is valuable for us all and essential for multi-level homeschooling.
They have their own loop schedule they work through and touch base with me after each assignment is complete. As they get older they don't have to check in so much. But the idea is they do their work before their play (with reasonable breaks, of course).
We also take advantage of some online learning options. For us it's important to be sure not to overdo online lessons where I'm not intimately involved in their work (especially for the 11 and under ages). But we do make use of technology as a teaching tool because not only can be a blessing for mama but it can teach important computer skills.
Be Watchful and Adjust As Needed
As with all things homeschooling, there is no one size fits all. We experiment with different resources and ideas to make multi-level homeschooling more effective, and then prayerfully observe the results.
Most often a simple tweak to how we're doing things will fix any issues, but whether or not we use a one room school house model, I've learned that the best thing for my children and their individual needs is a watchful and flexible mom who can adjust their homeschool program as needed to help them thrive!
GIANT Bundle Giveaway – Homeschool Curriculum to Start the Year Right!
This is our final bundle in the big How to Start Homeschooling series here on Proverbial Homemaker! Be sure to check out all the great posts and giveaways– we have 3 bundles like this one PLUS 10+ individual giveaways AND articles that give you all the info you need to launch into your homeschool year with confidence!
*** Note: Although I look into each resource before adding it to a giveaway on my blog, unless otherwise indicated I have not thoroughly vetted all companies or curricula and do not personally recommend them. Always prayerfully use discretion when choosing curriculum for your children.
1 Year Membership to Schoolhouse Teachers ($224.97 value)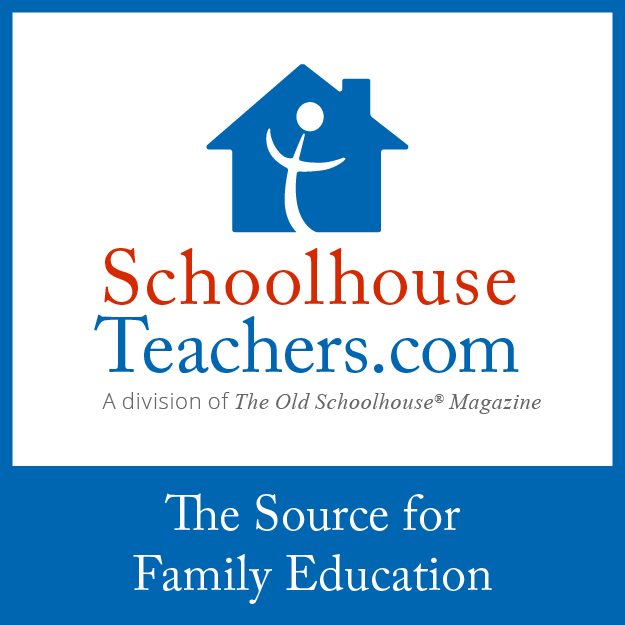 Schoolhouse Teachers is a resource we've used as a supplement in our home for years (although many families use it for their entire homeschool). It is a Christian curriculum site with hundreds of self-paced online courses for your kids ages pre-k through high school. They cover ALL ages and ALL subjects. One membership gives you access for all your kids! It comes with some great perks, too, teacher helps, college and career planning, portfolio builder, and more.
Charlotte Mason Bundle from Our Journey Westward ($43 value)
Want to get started with Charlotte Mason homeschooling method? This bundle from Our Journey Westward will help! Some of our favorite nature study resources are in this store and they make a great addition to our homeschool!
Masterclass: Charlotte Mason Inspired Designing a Practical Homeschool Schedule – You really can have a practical homeschool schedule that includes all the academics, several of the extras, and lots of peace and joy. Let me help you develop your perfect plan!
Charlotte Mason Homeschooling in 18 Easy Lessons – The Charlotte Mason homeschooling method encourages curiosity, enthusiasm and excellence learning…and in life. This book guides you step-by-step through implementing Charlotte Mason's methods in your home.
NaturExplorers Nature Studies (Your Choice) – NaturExplorers nature studies were written to celebrate both the traditional Charlotte Mason style of nature study and the inquiry-based exploration of project-based learning. Which ever style you prefer, any of the 19 studies can be perfect for you. You simply pick and choose what you and/or your children want to. A simple walk, nature journaling, in-depth walks, experimentation, creating models, designing research projects… enjoy nature together and learn while you do it!
State History from a Christian Perspective Bundle (
Up to $49.98 value)
State History from a Christian Perspective is your source for complete state history courses for all fifty states, on all levels (age 4-grade 12, correlated so you can teach all ages together). All students make a project notebook using text and state symbol pictures that we provide, along with pictures from free tourist literature. Includes tests, quizzes, and answer key. Books can be ordered individually as well.
Giveaway includes winner's choice of one of the following Combo Courses:
3-course combo for grades 3-12, which includes the following:

Our Fifty

States

Under God (US

History

via 50

states

in order of statehood with a timeline and progressive map study)
Geography of the Fifty

States

(US Geography via 50

states

in order of statehood correlated to the geographical regions of our country to show how much geography affected the growth and settlement of our country)

State

History

from a Christian Perspective (Student Booklet on

state

of winner's choice plus Master Lesson Plan Book, for student to make a project notebook on his own

state

)

2-course combo for age 4 – grade 2, which includes the following:

Fifty

States

Under God for Young Learners (color-cut-paste introduction to all 50

states

in order of statehood)
My

State

History

Funbook (color-cut-paste introduction to the

state

chosen by the winner)
Bundle of 10 Cultural and History Books from Carole P Roman ($99.90 value)
Win this 10-book bundle from Carole P. Roman! You get your choice of any 5 books from the "If You Were Me and Lived in…" cultural children's books AND your choice of any 5 books from the from the "If You Were Me and Lived in…" historical series.
These unique books put the reader in the shoes of a person living in that country or time period. They will learn where they might live, what their name could be, what they would call their parents, what they would wear (historical series), their parent's occupation (historical series), currency, food, recreation, games, and sports as well as where they would take a person visiting their country. Both series open gateways to discussions broadening a child's perception of history and culture.
If you were me and lived in… culture books take readers traveling all over the globe visiting 22 countries where they can experience customs and cultures.
If you were me and lived in… historical books take readers to 10 historical time periods around the world demystifying history and making it relatable to reluctant students.
Book Selections:
1 Year Family Subscription to the eTAP Online Learning Platform from eHomeschool.org ($360.00 value)
eTap Online Learning from eHomeschool.org is a complete online learning curriculum for grades K-12. (Secular) The curriculum is aligned to the national and key state standards and includes assessment exams, lessons, and tests automatically graded by the system and recorded for you. All lessons include a variety of material, such as videos and resources, to give each student alternative ways to learn.
Online Curriculum for Homeschool Families
Flexible Learning with Self-Paced Lessons
Family-Friendly Pricing
14-Day Trial Available
I

See

,

I

Spell,

I

Learn – Literacy, Reading & Spelling Program + Amazon Fire 7 ($298 value)
Win the I See, I Spell, I Learn – Literacy, Reading & Spelling Program for ages 5 and up (Includes Physical & Digital Products + Free Amazon Fire 7″ Tablet & Free US only Shipping)! From early childhood literacy to K-5, a comprehensive Reading & Spelling Program for all learners in K-5, homeschoolers, children with learning differences like dyslexia, and all levels of English language learners. For a limited time, get a Free Amazon Fire 7″ Tablet with the purchase of our complete Reading & Spelling Program.
"No monthly subscriptions or per student fees; one time purchase for multiple, unlimited use!"

"Based on established ORTON-GILLINGHAM principles"

"This program targets all important areas of language acquisition:

Phonics, Vocabulary, Comprehension, and Reading Fluency (including extensive practice with sight words and homophones)."
PHYSICAL PRODUCTS (Free shipping via USPS Priority Shipping)
Picture Sight Words™ Flashcards (Sets 1, 2 & 3) – Qty: 3
Picture Homophones™ Flashcards (Sets 1 & 2) – Qty: 2
Phonics & Sight Words storybooks Levels A, B & C – Qty: 3
(

I

See

,

I

Spell,

I

Learn® physical products – learning materials in this program are manufactured in the USA).
eWORKBOOKS – DOWNLOADABLE after the order
Picture Sight Words™ eWorkbooks (for Sets 1 & 2) – Qty: 2 eWorkbooks
Picture Homophones™ eWorkbooks (for Sets 1 & 2) – Qty: 2 eWorkbooks
Phonics & Short Vowel eWorkbooks (1 to 5) – Qty: 5 eWorkbooks*
*(Please email us if you are a Barton tutor or a parent following the Barton program. We have Phonics & Short Vowel eWorkbooks 1 to 5 that follow the Barton program and we will email those to you for free!)
Includes one FREE Amazon Fire 7 Tablet (7″ display, 16 GB) – $49 Value (For US orders only)
*** Note from Tauna: Curriculum purchase also comes with a free children's book that is generically spiritual in nature that I would not recommend. Giveaway prize may not include this book. The curriculum itself is secular and looks like a great resource.
ENTER TO WIN THE GIVEAWAY!
By entering this giveaway you agree to sign up for Proverbial Homemaker emails (if you aren't already signed up). Must be 18 years of age or older to enter. Contiguous U.S. states only. Giveaway ends August 17th at 11:59pm PST. Each vendor is responsible for delivery of the prize. Winner has 48 hours to claim prize before another winner is chosen.