A few years ago our family started the tradition of having a "We love our family" celebration on Valentine's Day. The celebration includes family fun activities using a "treasure map," a special lunch or dinner, and time spent making memories with the ones we love the most. It's such a great part of being a family is being able to do these special things that become part of our family culture!
We had so much fun with it that we have expanded upon it and are inviting you to join us!
Disclosure: *This post may include affiliate links. As an affiliate, I earn from qualifying purchases. Read the disclosures and terms for more information.
The Valentine's Day Family Celebration printable pack includes 9 pages:
Treasure map activities for the whole family
Fun lunch/dinner menus to enjoy
"I love you because…" place cards for the dinner table
"Love is…" treat toppers for cupcakes or other goodies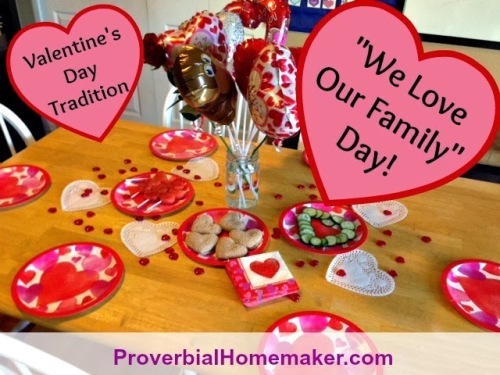 Valentine's Day Treasure Map Set Up
The Map. Print the map and glue or tape it in a file folder. The title page is for the outside front of the folder and the two heart map pages are for the inside. You could also just staple the three pages together like a book.
Activity Hearts. Print and cut out the activity hearts and write in the activities you'd like to do. Then write clues for each activity on the corresponding numbered hearts on the map. You can see we haven't decided for sure what we're doing yet. Gluing an envelope on the back to hold the activity hearts helps as well.
On Valentine's Day morning, show the map to your kids and begin your fun day together! Read the first clue together and help them brainstorm some ideas. Then present them with the first activity heart for them to tape or glue onto the map. Continue until the map is completed! Last year ours lasted the whole morning and ended with a fancy lunch.
Activity and Clue Ideas
Here are just a few ideas to get the creative juices flowing.
Go out for hot chocolate (Have a cuppa chocolate love!)
Blow bubbles (blow up some shimmery globes)
Write encouraging notes for friends (scribble love notes)
Deliver cookies/notes to a friend/neighbor who needs some love (cheer up a Valentine)
Have a foot race outside (race toward the prize)
Ride bikes or go for a walk (work out your legs)
Build a fort (build a loving house)
Set up tents in the living room and watch a movie (camp out and watch a lovely scene)
Play active video games together (Wii love each other!)
Play a board game (Chutes and Love Ladders)
Play legos (Build with bricks of love)
Have a special lunch (Enjoy a LOVEly meal)
Valentine's Day Dinner
We plan on using the expanded printables this year for Valentine's day, and we'll add pictures when we do! I would love to see pictures of your family's celebration as well.
Use the pre-printed menu or fill in the blank menu with your own choices. Here is what we're including for our dinner!
A Pizza My Heart: Heart-shaped pizza, of course!
Healthy Heartbeats: vegetables and fruits cut out into heart shapes (cucumbers, jicama, watermelon, strawberries, etc.)
Love-ly Greens: A green salad with poppyseed dressing and heart-shaped strawberry slices
Cupid Crispies: Heart-shaped rice crispy treats with the printable treat toppers
The treat toppers can be printed, cut out, and glued/taped onto toothpicks and stuck into the treats. They also make great cupcake toppers. The hearts each have a different "love is" attribute from 1 Corinthians 13.
The heart place cards can be printed for as many family members as you have. For each heart, write the person's name at the top and then allow family members to write in what they love about that person. They can be the place cards for your Valentine's Day celebration dinner!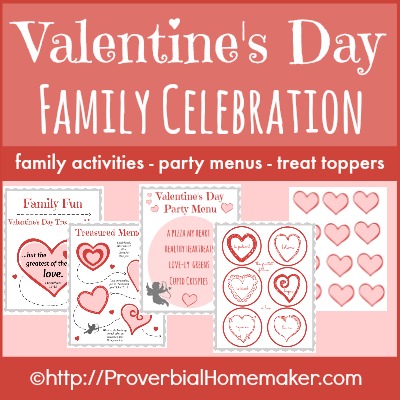 More Valentine's Day Ideas