Valentine's Day is coming up and I've been thinking of some ways to bless my husband without leaving the house. We have limited opportunities for babysitting lately and, let's face it, who wants to brave the crowded restaurants on Valentine's Day? Not us. 
So this year I came up with a great idea: Relaxation with our favorite couple's massage course (don't panic – it's clean! lol) and a delicious dessert! I set out to replicate the dessert we always get at our favorite restaurant, The Melting Pot. Now, that's not a cheap place by any means and there's NO way we're going to mess with trying to land reservations on Valentines' Day. 
You know what? We don't need it! Not only did I come up with the perfect easy recipe for Irish Cream Chocolate Fondue, but we get to enjoy a fantastic massage! So read on and find out how you can crush Valentine's Day, too! Your husband will be VERY impressed. 
This is a sponsored review post in cooperation with Melt. All opinions are my own.
I first heard about Melt: Massage for Couples a little over a year ago. I'm not great at things like giving massages but I know my husband loves it when I try. After a long day at work he appreciates it! Plus, then he's more likely to give me a massage too, so it's a win-win! But I had a hard time finding information about how to give a good massage. Let me tell you, Googling it probably isn't such a good idea, if you know what I mean.
Since learning about the Melt course we have SO enjoyed the videos. All you have to do is buy Melt once and you can access the videos anytime thereafter. I use it for date nights as well as special events, such as Father's Day and last year's Valentine's Day (you can check all those out here).  This is why I'm using it as a part of THIS year's Valentine's Day: I already know he'll love it! 
Here are some things I really appreciate about the Melt videos: 
It's a GOOD date night at home! This is a huge deal for busy families, especially when babysitters are hard to come by.
The videos are instructive, tasteful, and have no awkwardness. No nudity or weirdness. 
I'm just going to say it: it helps us be affectionate. He's tired, I'm tired, and sometimes we let things slide too long.  
I learn massage techniques that are effective to aid relaxation without getting sore hands. 
We can use what we learn anytime! Special events like Valentine's Day or just regular date nights at home. 
We can play them on our laptop, iPads, and iPhones.
Melt: Massage for Couples is provided by Denis, a Australian professional massage therapist with 15 years' experience. He and his wife, Emma, demonstrate the tips and techniques in really easy-to-learn ways. You can watch the videos as you implement the massage (which is what I did the first few times) or watch them beforehand as a refresher. They really help!
Melt Valentine's Day Special!
Melt is having a Valentine's Day Special! They are bundling up their foot massage videos for FREE with the Melt video series. Total value of $171 for only $99. So many tutorials, you'll be sharing massages for years to come! 
Here's what you'll get: 
17 Back Rub Techniques
3 Back Rub Routines (from Basic to Advanced)
Foot Rub How To Video + Routine Video (Yesssss….)
Includes Massage IOU Printables for a Little Fun
Important Facts
60 day money back guarantee
Payment plan available
Lifetime access to the videos. 
Over 20,000 couples taught, in more than 50 countries!
Offer ends Feb 14th, 2017

Irish Cream Chocolate Fondue
Melt massage and melted chocolate. It's a themed date! 😉 See what I did there? 
I was on a mission to complete this awesome date with a recipe that replicated our favorite dessert at our favorite restaurant. But it had to be EASY and quick. Because I'm busy! 🙂 I am happy to report that this is the perfect solution! Trust me, I tested it thoroughly.  You'll love this Irish Cream chocolate fondue! We use dark chocolate but milk chocolate works too.
PLUS it's only TWO INGREDIENTS – Score!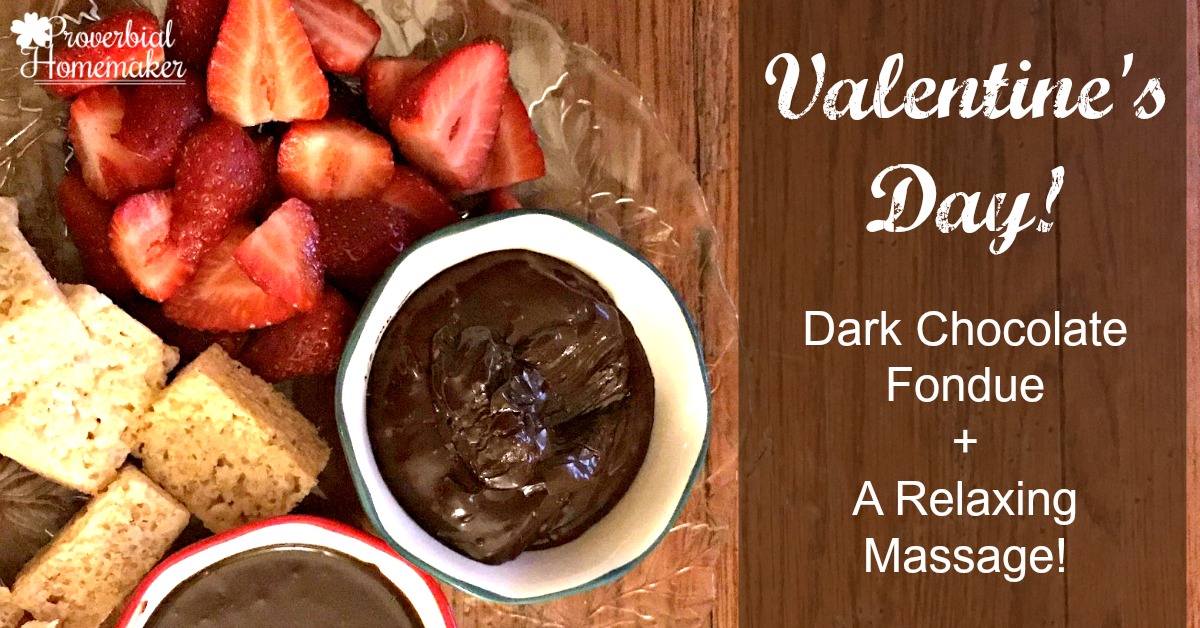 Irish Cream Dark Chocolate Fondue
Author:
Proverbial Homemaker
Prep time:
Cook time:
Total time:
This is a 2-ingredient recipe for non-alcoholic Irish Cream dark chocolate fondue! If you want to make an alcohol version, see the notes below.
Ingredients
11.5-12 oz dark chocolate chips (1 regular sized bag)
1 cup Irish Cream coffee creamer
Dippers and treats to drizzle (Rice krispy treats, strawberries, cherries, graham crackers, bananas, brownies, pound cake, cheese cake, etc.)
Instructions
Use a double broiler or electric fondue pot. If you don't have one, make your own by filling a pan ¼ full with water and bringing to a boil. Place a glass bowl on top (being sure to allow for venting on the sides and 2-3 inches between the bottom of the pot and the water).
Heat the coffee creamer in the microwave until just warm, about 30 seconds.
Place chocolate chips in the bowl and melt thoroughly.
Add the coffee creamer, stirring constantly until smooth
Pour into a bowl and serve with dippers!
You can add more or less creamer depending on how smooth and thin you like your fondue. You can see in the image where I had two consistencies, the smoother one being the full cup. For the alcohol version, Pour 1-2 shots Bailey's Irish Cream in a 1-cup measuring cup. Add heavy cream until full. Use that in place of the coffee creamer in the recipe.
I hope you enjoy the Irish Cream chocolate fondue all the melty goodness in your Valentine's Day this year! Don't forget to check out the deal on the massage videos – you will LOVE them and I don't want you to miss it!