Valentine's Day is coming up and I've been thinking of some ways to bless my husband without leaving the house. We have limited opportunities for babysitting lately and, let's face it, who wants to brave the crowded restaurants on Valentine's Day? Not us.
So this year I came up with a great idea: Relaxation with a back massage and a delicious dessert! I set out to replicate the dessert we always get at our favorite restaurant, The Melting Pot. Now, that's not a cheap place by any means and there's NO way we're going to mess with trying to land reservations on Valentines' Day.
You know what? We don't need it! Not only did I come up with the perfect easy recipe for Irish Cream Chocolate Fondue but a back massage is always welcome! So read on and find out how you can crush Valentine's Day, too! Your husband will be VERY impressed.
Disclosure: *This post may include affiliate links. As an affiliate, I earn from qualifying purchases. Read the disclosures and terms for more information.
Irish Cream Chocolate Fondue
I was on a mission to complete this awesome date with a recipe that replicated our favorite dessert at our favorite restaurant. But it had to be EASY and quick. Because I'm busy! 🙂 I am happy to report that this is the perfect solution! Trust me, I tested it thoroughly. You'll love this Irish Cream chocolate fondue! We use dark chocolate but milk chocolate works too.
PLUS it's only TWO INGREDIENTS – Score!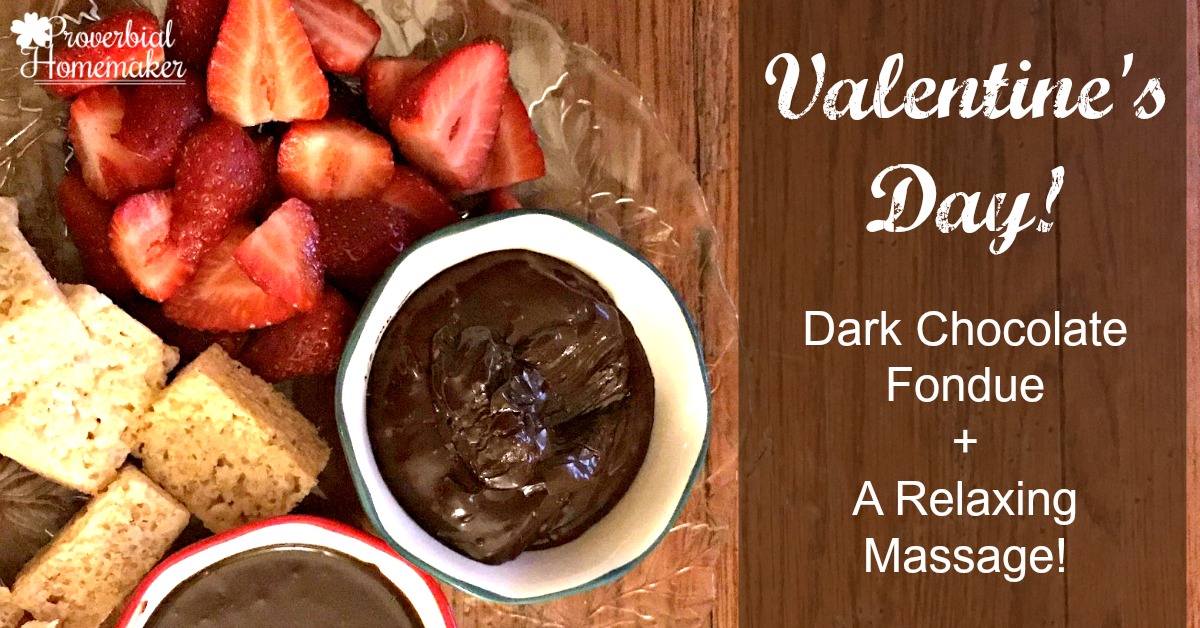 Irish Cream Dark Chocolate Fondue
Author:
Proverbial Homemaker
Prep time:
Cook time:
Total time:
This is a 2-ingredient recipe for non-alcoholic Irish Cream dark chocolate fondue! If you want to make an alcohol version, see the notes below.
Ingredients
11.5-12 oz dark chocolate chips (1 regular sized bag)
1 cup Irish Cream coffee creamer
Dippers and treats to drizzle (Rice krispy treats, strawberries, cherries, graham crackers, bananas, brownies, pound cake, cheese cake, etc.)
Instructions
Use a double broiler or electric fondue pot. If you don't have one, make your own by filling a pan ¼ full with water and bringing to a boil. Place a glass bowl on top (being sure to allow for venting on the sides and 2-3 inches between the bottom of the pot and the water).
Heat the coffee creamer in the microwave until just warm, about 30 seconds.
Place chocolate chips in the bowl and melt thoroughly.
Add the coffee creamer, stirring constantly until smooth
Pour into a bowl and serve with dippers!
You can add more or less creamer depending on how smooth and thin you like your fondue. You can see in the image where I had two consistencies, the smoother one being the full cup. For the alcohol version, Pour 1-2 shots Bailey's Irish Cream in a 1-cup measuring cup. Add heavy cream until full. Use that in place of the coffee creamer in the recipe.
I hope you enjoy the Irish Cream chocolate fondue all the melty goodness in your Valentine's Day this year!