This year the kids and I have been trying some new curriculum and subjects in our homeschool. They really wanted to learn Spanish and since there are so many Spanish-speaking people in our area it seemed like a great idea. I went on the lookout for a curriculum that would fit our needs. I wanted something that I could use with all the kids (ages 9 and under) and that was fairly easy to use. My high school Spanish is more than a little rusty!
Recently we've had the chance to try the Spanish for You curriculum. We have really been enjoying how flexible it is and the various pieces that pull together to make a great learning experience for the kids and I.
This is a sponsored review post in cooperation with Spanish for You. All opinions are my own.
Disclosure: *This post may include affiliate links. As an affiliate, I earn from qualifying purchases. Read the disclosures and terms for more information.
What is Spanish for You?
Spanish for You! is a program for grades 3 through high school that is divided into themes and grade ranges instead of skill levels. The packages each last a year and can be done in any order. Your kid's skill level will grow as they work through the various themes.
Each theme includes a package that goes through several lesson units. When you purchase a theme package, you get a paperback textbook for instruction, and then downloadable lesson guides, worksheets, audio files, and some great bonus resources.
Our Experience with Spanish for You!
We started with Conversaciones, which is about being able to have conversations about the places where we live and visit such as the park, grocery store, restaurant, etc. After downloading the files and reciting the printed book in the mail, I used the textbook to help me figure out where to start. The instructions are pretty clear, telling me what to print for each lesson and what activities to do.
Each week, I printed the lesson guide pages we'd be using along with the worksheets and other materials indicated. As a part of our morning time, we would practice the recent vocabulary and go through the new lesson together. I had the kids around the table (we do morning time after breakfast) and we would practice what we'd already learned, introduce the new lesson, listen to the related audio files, and then practice the new material and vocabulary.
One thing we love is the fun games and extra activity suggestions available. My kids eat up games and so it's a great way to get them to willingly participate in review. 🙂 As an example, one of the first games suggested was saying "Te gutsta ____?" and going through the various vocabulary words. The kids would each take turns answering, having to remember what the vocabulary words meant and then repeating back "Si, me gusta ____" or "No, no me gusta _____" It was simple but fun and effective!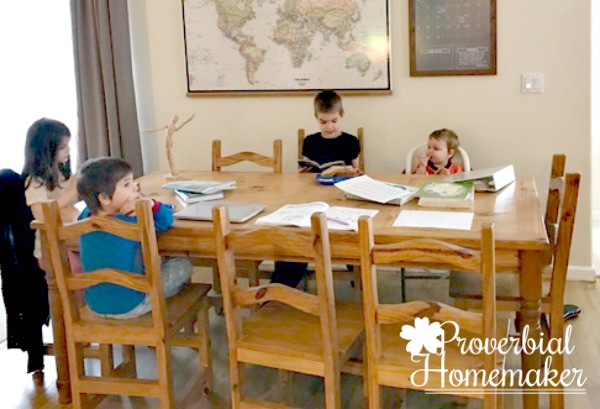 Tips for Making the Most of Spanish for You!
For further review, we'd play the songs and other audio files during car rides. I didn't have any other agenda except to give them another chance to hear the everything we'd been working on. I love that there are audios for this curriculum – it has always been an important part of the learning experience in our homeschool so I'm glad to have a way to include that for Spanish!
One thing I would suggest is not skipping some of the prep work like setting up flash cards. Many times I'll skip those activities in curriculum because I'm busy and we usually do fine without them. I realized early on that we needed those flash cards for review and for use in some of the games and activities, and they really are helpful. You don't have to do ALL The extra activities and games (there are many and they're great to pick and choose from!) but DO complete the prep and activities in the lesson guide if they are part of the regular lesson. You won't regret taking a bit of time to do that!
Many of you will be happy to know that in February this year Spanish for You! will have all the workbooks ready to sell in pre-printed format instead of just the PDF you have to print off for the lessons (it's available now for the Mi Vida theme). They will be available as an additional purchase for each of the grades levels, 3-4, 5-6, and 7-8. $19.95 each.
For us, having the PDF option available is great so that we can re-use the workbooks for later students. That way, the ENTIRE curriculum can be re-used! For a large family that's a big deal and a great savings on an already affordable curriculum! I would just suggest printing off the whole PDF right away if you tend to forget to prep ahead of time each week. *raises hand*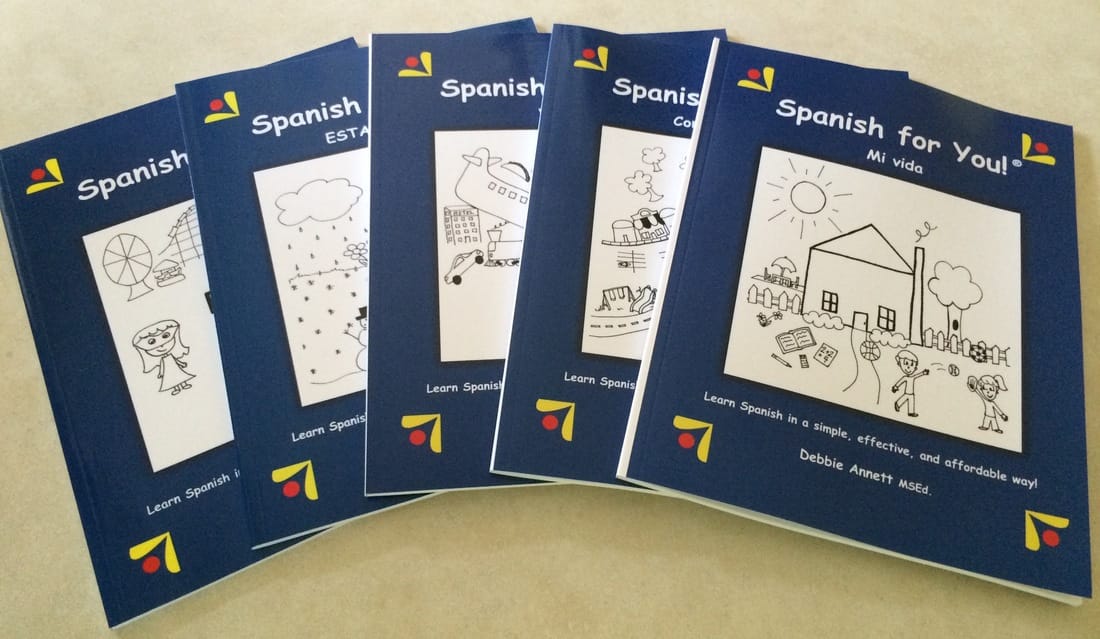 Adapting Spanish for You! for Younger Children
Our oldest is in the third grade and yet Spanish for You! starts at the third grade. Still, it was easy to adapt for young children. The main reason it's set for 3rd and up is because of the reading and writing. So I have my oldest do the worksheets himself any any other reading and writing task. My 7 year old does a bit of them too but often I just have her answer some the questions orally. The younger kids still learn a lot by listening to the audios, listening to the lessons each morning, and participating in the games.
When you get to verbs and grammar, you can just scale back on what the younger kids learn, having them just learn first person and make sentences with those instead of going into the second and third person like the older kids will. We simply go at our own pace through the lessons and the younger kids tag along learning a lot and enjoying themselves!
Here are some great reasons to try Spanish for You!
Can be used in homeschool or co-ops
Affordable at just $39.95 for an entire year of curriculum
Re-usable PDF and paperback resources
Can be used for multiple ages and learning styles
Includes audio for pronunciation and practice help
Self-paced, well-organized lessons
Speak, read, and write the language
Great for about 3rd to 8th grade children (but can be adapted lower if you have littles in tow, too)
30-day money back guarantee
You Might Also Like…