Disclosure: *This post may include affiliate links. As an affiliate, I earn from qualifying purchases. Read the
disclosures
and
terms
for more information.
Cultivating a more loving and kind home life is something we all want. The Bible has a lot to say about love, and often the first passage we think of is 1 Corinthians 13! A wonderful step toward a more peaceful and godly home is focusing our hearts and minds on what the scripture teaches us about love. Let's start by praying and memorizing 1 Corinthians 13:4-8 together!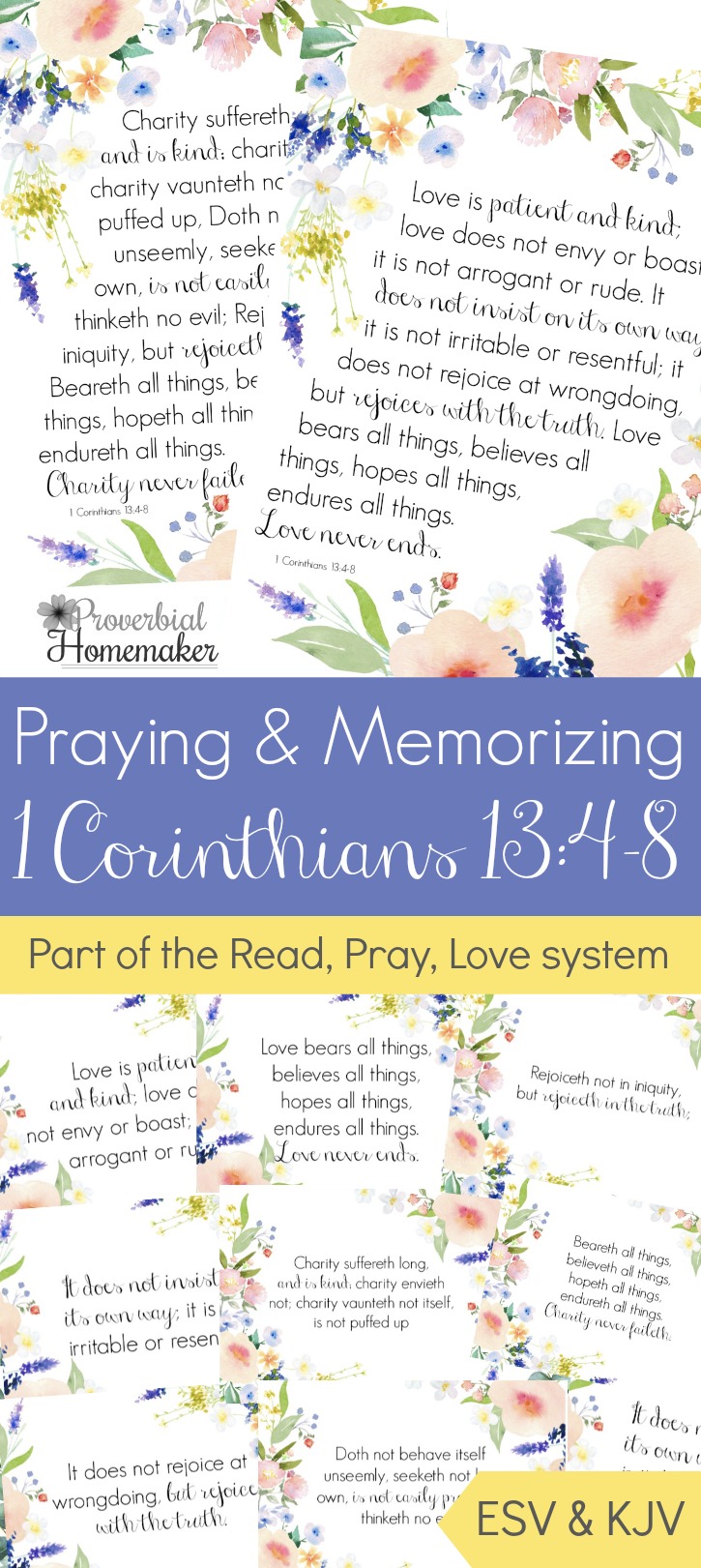 This scripture memory printable and prayer focus is a part of the 2018 Read, Pray, Love system (with comes with monthly printables and prayer binder setup files), but you can use it alone or jump in on our year-long efforts anytime!
As always, the scripture printables are available in ESV and KJV. Download the printable below and get started memorizing it with your family and praying through it! Below are some prayer prompts to get you started.
Don't forget to check out this post for more information on how to memorize scripture with your kids and how we are using these monthly printables to pray diligently for our families!
Praying Through 1 Corinthians 14:4-8
(These notes and prayers are also available in the download file.)
Reading this passage is always convicting, isn't it? Nothing better than to take that feeling of conviction and put it into action, repenting of our sins and praying through the scripture. We ask God to give us (and our children) wisdom and strength to choose better, more godly behaviors, but also to do a work in our hearts that brings about outward actions that match our righteousness in Christ.
Patience (bears all things, endures all things)
Lord, help our family to be patient with each other and with others, bearing all things with grace, trusting that You will bring about Your good purposes in every situation. When we're in the midst of a difficult moment, we ask that Your Holy Spirit would remind us of patience and help us bring a calmness to our hearts and proper perspective in every circumstance.
Kindness (Puts others needs above its own)
Lord, give us extra measures of kindness and compassion in our dealings with each other. Soften out hearts in those moments when we are prone to hardness or harshness toward teach other. Help us to be people who go out of our way to love and honor each other.
Contentment (No envy)
Lord, may we be full of a deep, unshakable contentment in our portion in You. Help us to be satisfied with all we have and not always be looking for some new or different situation. We want to trust in You and Your provision for all our needs, not giving into any temptation toward envy or strife.
Humility (No boasting or arrogance)
Lord, give us a heart of humility, thinking of ourselves properly in relation to others, but even more importantly, in relation to You. Help us have confidence in our place as Your sons and daughters while being always aware of our call to serve others in Your name.
Defers to others (does not insist on its own way)
Lord, give us the strength and wisdom to defer to the needs of others when it is appropriate, not insisting on our own way for the sake of pride or preference.
Slow to Anger (not irritable)
Lord, give us a gentle spirit that is slow to anger toward our family. May our home be free of irritability and strife, instead nurturing patience, care, and self-control in difficult situations and conversations.
Forgiving (not resentful)
Lord, help our family to be forgiving and gracious to each other, quickly overlooking small offenses and being loving enough to work through the big ones until they are resolved and relationships are restored. Give us hearts that easily forgive instead of holding on to grudges or resentments.
Loves Truth (no lying or indulging in deception)
Lord, give us a high value for truth in our dealings with each other and in what we choose to focus our attention on. Help us to seek out truth and goodness, and rejoice in it. May it guide our conversations, actions, learning, and entertainment.
Looks for the best (hopes all things, believes all things)
Lord, we want to be a family that always looks for the best in each other. Help us to give the benefit of the doubt, not getting weighed down or discouraged by struggles, but always hoping and believing in each other and Your work in our lives.
Makes Love the standard of life.
Lord, let love be our rule and our guide. You are love. Thank you for the instruction of Your Word and that you are ever transforming us into the image of Christ.
Download the 1 Corinthians 13:4-8 RPL Printables
Download the 1 Corinthians 13:4-8 Scripture Printables
*Your download link will be emailed to you and you will be subscribed to Proverbial Homemaker if you aren't already. Be sure to check your spam/promotions folder.
If you have any issues, check out this
troubleshooting guide
or feel free to
email me
!