Parent and child dates are important to incorporate into our busy lives. As a family with young children, it can be hard to find one-on-one time with each child. Taking time out regularly to really connect with each child will go a long way in tending to your child's heart.
Caring for their bodies is important (carnal needs and health), but caring for their souls is even more so (spiritual and mental health). Taking each child on special parent and child dates is one way to stay in tune with all of your child's needs. You can choose to go out or do activities together at home.
Extra Tip: Take 15 minutes at the beginning of each day to be alone with each child without distraction. Spend time talking with them, reading to/with them, singing, doing patty-cake, cuddling, or whatever is age-appropriate for your child. This can make a huge (positive) difference in your attitudes!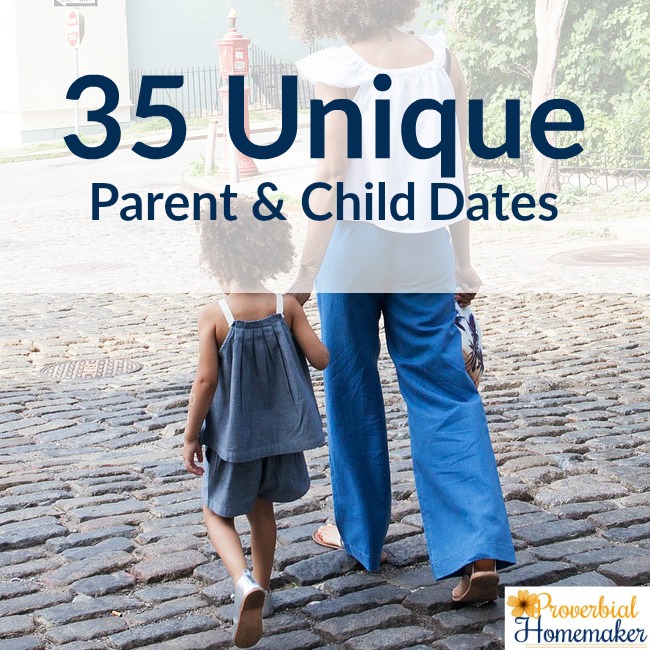 Disclosure: *This post may include affiliate links. As an affiliate, I earn from qualifying purchases. Read the disclosures and terms for more information.
35 Unique Parent & Child Dates
Take a class (Michael's, Home Depot, etc.).
Go fishing.
Go on a picnic.
Go to a Museum.
Go to a Library activity.
Go to a book store, browse the books, sit & read in the store.
Go to a coffee shop and sit inside to chat.
Build something (model car, bird house, doll house, etc.).
Fix something (bicycle, car, clock, etc.).
Put something together (Bought a new bookshelf? Enlist the help of your child to put it together!).
Read together at home.
Put together a puzzle.
Play a board or card game.
Color or paint.
Go on a nature walk.
Browse a store and "window shop".
Go to the ocean, lake, or river.
Go mini-golfing.
Try a new restaurant.
Have a tea party.
Go to a U-pick berry farm or fruit orchard.
Go for ice cream or milkshakes.
Visit a specialty candy shop.
Bake or cook for someone in need and deliver it together.
Have an at-home movie date with special snacks.
Research and learn more about a shared interest.
Buy a telescope and star gaze.
Prepare, plant, and tend to a garden or potted plant.
Choose, plant, and "dedicate" a special tree.
Go on a mountain hike.
Buy a magnifying glass and explore your back yard.
Make homemade cards to send to friends and family.
Make candles to give as gifts.
Visit a farm with animals.
Put together care packages to send to soldiers.
Whether it is weekly or monthly, choose an activity that you and your child will enjoy doing together and do it. Try something new. It will be a lot of fun and so worth it!
What is your favorite thing to do for parent & child dates?