Helping kids feel empathy for others and respond to them with a generous heart is an important character trait for them to learn about. Depending on the age of your children it could be as basic as teaching them about giving gifts ad sharing their toys, or more in-depth, teaching them about giving up their time to volunteer and help the homeless. Nevertheless, the main point is to teach them the best form of generosity: sincerely and expecting nothing in return. This Generosity Printable Pack includes Scripture cards, Bible Study activities, acts of generosity cards and more!
"Real generosity is doing something nice for someone who will never find out." – Frank A. Clark
In this 80-page printable pack, you will find many activities for a variety of ages. First, for the younger children, you will find:
Size Sequencing Cards– As they place them in order from smallest to biggest or vice versa, you can talk with them about the different ways they can show generosity to others.
Puzzles– Using the same pictures as the Size Sequencing Cards, these 3-part puzzles are so much fun.
Generosity Word Search– Learn new words relating to being generous and then find then in the word search. You can also look these words up in the dictionary for extra learning.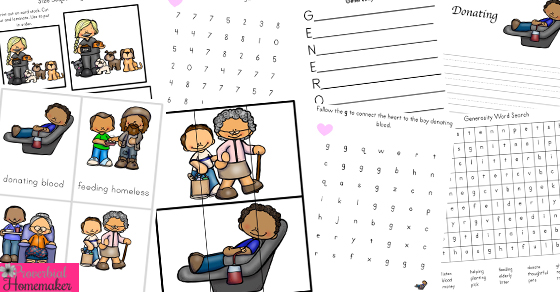 For the older children, you will find:
Writing Pages– These pages allow the children to write a few sentences about each way they can show generosity, what this attribute means to them or ways they can show this to others.
The story of The Widow's Offering– This story can be read to all the family. There are a couple of question and answer pages about this story which will make the older children dig deeper into God's Word.
For a variety of ages, you will find:
Random Acts of Generosity Cards– A great way of showing generosity to others is by completing random acts of generosity. While doing this, your children will also learn about empathy and how to serve others. They will also be inspired and encouraged to make a positive difference in their corner of the world.
Being Generous Bible Verse Cards– These are great Bible Verses that the whole family will enjoy learning and memorizing together.
Generosity Poster– This poster explains what being generous means and how to be generous to others.
Flashcards– These flashcards represent some acts of generosity and can be used for games such as memory/fish, and for handwriting practice. They are also a great way to help younger children learn some ways they can show kindness to others.
Bible Verses Copywork– These are the same Bible Verses as the Bible Verse Cards. There are two types of lines, one for the younger children and one for the older ones to copy these inspiring verses.
Download the Generosity Printable Pack
Download the Generosity Printable Pack
*Your download link will be emailed to you and you will be subscribed to Proverbial Homemaker if you aren't already. Be sure to check your spam/promotions folder. If you have any issues, check out this troubleshooting guide or feel free to email me!
SaveSave
SaveSave
SaveSave
SaveSave
SaveSave