Want to know one way to kill your homeschool joy? Allow homeschool boredom.
Now, I don't mean avoiding all instances where your kids get bored. When my kids are wandering the halls and kitchen saying "I'm bored!" I'm the first to rejoice and hand them a broom, point to the Lego bin, or send them outside to experience all the joys of suburban nature. What I'm talking about is the boredom that you can get from the same thing day in day out, week in week out, ad nauseam.
When our kids get bored with our same old homeschool routine, it can be harder to teach them well.

This post is sponsored by SchoolhouseTeachers.com. I have given my honest opinion – we have used this curriculum in our homeschool for quite a while. 🙂
Disclosure: *This post may include affiliate links. As an affiliate, I earn from qualifying purchases. Read the disclosures and terms for more information.
Although I don't tell my kids that I strategize against boredom (the last thing I need is them knowing boredom with homeschooling is even an option) I do practice some things in order to keep it at bay. Why? Because homeschooling can and should be interesting!
Of course, it doesn't always have to be funshine and roses; we know that the older they get, the more "real" work they need to learn to do without complaining. But I want to keep that spark for learning and growing alive so it will serve them well into adulthood when they've flown the nest.
There's another secret I should let you in on. We come across problems when I get bored with our homeschooling, too. I want to be enjoying and interested in our homeschool! After all, I spend a big part of my day in the midst of it and often I'm learning or re-learning alongside them! If I'm frustrated with a curriculum, bored with the routine, or having trouble staying engaged, I won't be a great teacher-tutor for my kids.
Whether it's you or your kids struggling with homeschool boredom, there are some easy ways you can deal with it to keep things fresh, interesting, but still clipping along nicely throughout the homeschool year.
Tool Spotlight – SchoolhouseTeachers.com
I use a great tool – SchoolhouseTeachers.com – that helps me do a lot of the ideas I'm going to share with you in this post. What we do in our homeschool is I have our core curriculum set for most subjects, and then I supplement and fill in any gaps with SchoolhouseTeachers.com. I can always find something fun to add to our studies, an interesting study to change things up a little, electives that my kids love, and even core curriculum where I find I am lacking or need a change.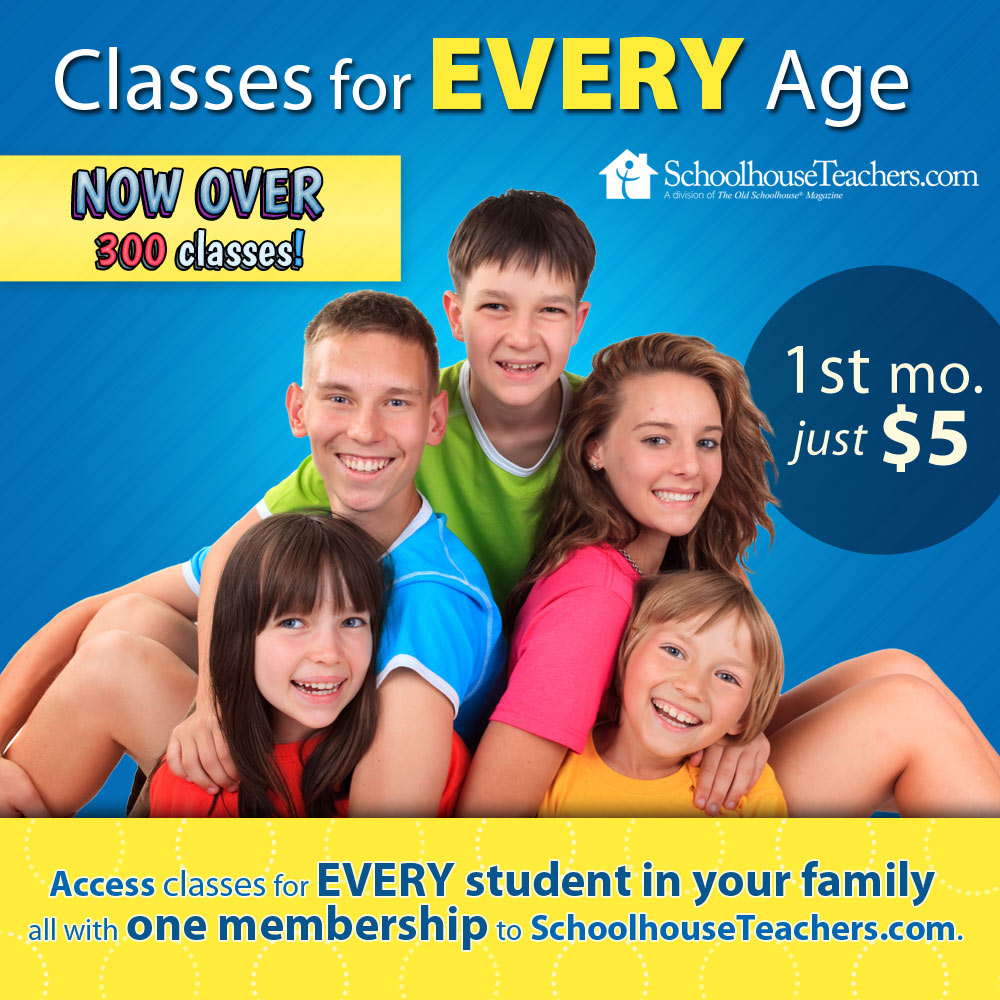 Schedule Fun Weekly & Monthly Activities
Go on educational field trips – these can be as simple as needed and break things up well!
Make a library trip each week to meet with another homeschool family or enjoy a library event.
When Daddy is home he does read aloud time and special projects with the kids
Set aside one day a week for a special educational film, experiment, project, outing, etc.
Share teaching duties with another homeschool mom: She can teach an art day once a month and you can do a science experiment!
Supplement With Fun Tools & Studies
Periodically pull out educational board and card games for fun learning!
Do a special unit study to change things up a bit.
Use videos and computer-based programs for lessons the kids will love.
Surf Pinterest for interesting lessons about whatever topic you're studying
Use audiobooks in the car, during meals, or during quiet time to reinforce what you're teaching
We use SchoolhouseTeachers.com to choose fun new studies or add interesting aspects to our curriculum
Incorporate Delight-Directed Learning
Work in opportunities for your kids to try delight-directed learning. You might simply allow them to choose a topic and then put together a study with some resources and activities. We like to do this and call it "Inquiry." The older kids each choose a topic and then we help them (at first) to research and find information on that topic.
We use SchoolhouseTeachers.com FIRST in this process because it saves a ton of time and we know it will be safe materials for them! Once they've put together their work, they present it to their dad and then choose another topic or question to explore.
Change Your Curriculum
Sometimes we have to consider whether the curriculum we've chosen is really a good fit for us or our child. It seems like with each passing year we get to know their learning styles and my teaching style more, and adjustments are needed. We also seem to move more and more toward Charlotte Mason style and a flexible approach to learning.
If you're really struggling, think about whether your curriculum is really a good fit for you and your kids and take a look at other options that might work. Jumping ship may not always be the answer. We like tools like SchoolhouseTeachers.com for this, too, because it's so deep and wide that we almost always find something we can try on that subject in our homeschool, so having that one huge resources available actually ends up saving us a lot of time and money.
Change the Scenery
Take the show on the road! Pack up the kids and go to the park, a coffee shop, a play place, the library, or another homeschool friend's house and do school there for the day. Even just going out in the back yard, listening to audiobooks in the car, or going to a different part of the house can be enough to break the same old routine and make things a little more engaged.
Use Flexible Planning
There are a few ways that flexible planning can help prevent homeschool boredom.
Homeschool year round – it gives you more flexibility for taking a day or week off when needed or taking a learning rabbit trail!
Use a 4-day week – you can use that fifth day for other learning activities such as field trips, art, life skills, home ec, and other electives.
Use loop scheduling – There are many ways to do this, but one idea is make a list of non-core subjects and loop through it, doing one a day.
Stay Encouraged and Inspired
You need to keep yourself interested and engaged too! Sometimes that is as simple as saying encouraged and inspired. Here are some ways to do that:
Go to your state homeschool conference each year
Read your favorite homeschool blogs or books
Use the "Just for Parents" section in SchoolhouseTeachers.com for helpful articles and resources
Listen to homeschool podcasts as you run errands
Join your local homeschool social group or online Facebook groups
Talk to other homeschoolers for encouragement and tips!
Want a Sneak Peek Into SchoolhouseTeachers.com?
Check out this replay of a FB Live demo session I did on the Proverbial Homemaker Facebook page!
You Might Also Like…
Teaching Sight Words in Kindergarten