Disclosure: *This post may include affiliate links. As an affiliate, I earn from qualifying purchases. Read the
disclosures
and
terms
for more information.
Are you looking for a fun way to review the Easter story with your kids? Our family loves building with bricks, and it is such a great learning tool as well. Our Jesse Tree Brick Challenge was such a hit this year that we decided to do another challenge leading up to Resurrection Sunday! I know you'll enjoy the Easter Story Brick Challenge as much as we do!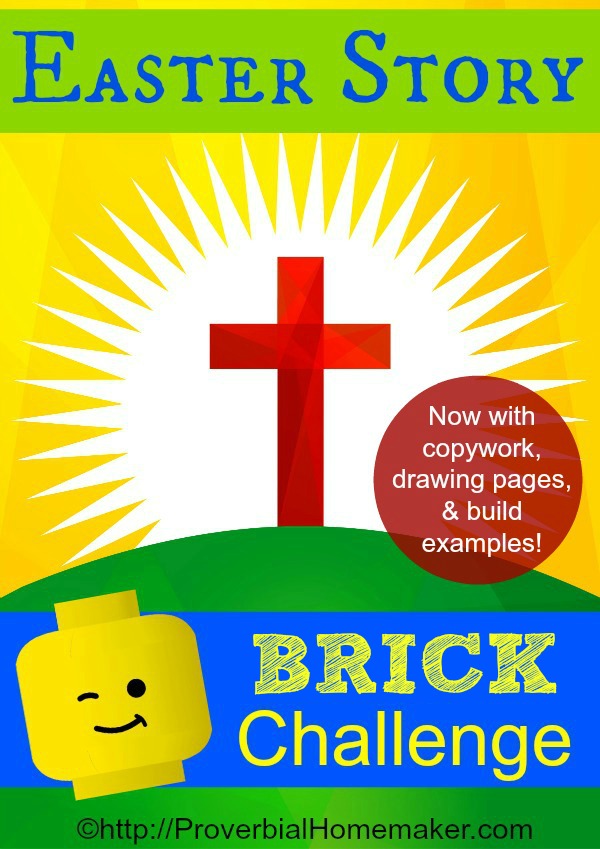 *** The Easter Story Brick Challenge has now been updated! There are now pages for coloring, drawing/journaling, copywork, and build example photos! ***
Our family does this Easter Story Brick Challenge each year and we love it! Your children will have so much fun building and creating all while learning the Easter story and focusing on Jesus.
Easter Story Brick Challenge
The Easter Story Brick Challenge officially starts the Sunday before Easter (8 days total) but you can start anytime
Read the scripture for the day (ESV)
Complete the copywork pages for the memory verse (3 pages)
Do the optional activity/craft and 4 coloring pages
Complete the Build It task and/or the Extra Challenge Task(s)
Complete the drawing/journaling pages for each day
Additional challenges listed for after Easter if your kids ask for them!
Examples From the Easter Brick Challenge
I prefer not giving my children pictures of builds to look at unless they're really stuck. You can go online and find pictures or use the handful of example photos in the Easter Story Brick Challenge document to give them ideas and spark their creativity. Although following instructions for a specific build project is fun and valuable, in our home we've come to believe that a good brick challenge isn't the right place for it!
Three crosses on calvary hill. Son: "I wasn't sure how to make a hill, so I thought I could just gently bend this board, like this." Perfect!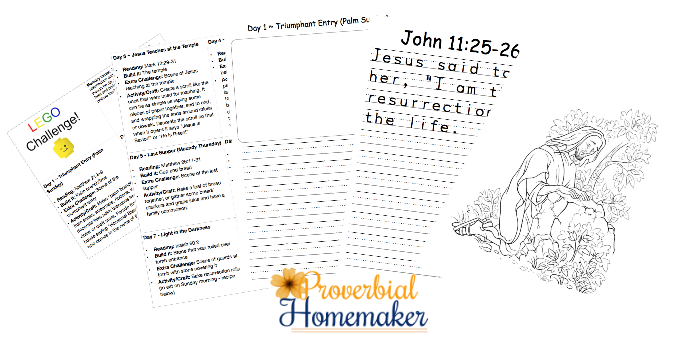 Start Your Easter Story Brick Challenge!
Print the Easter Story Brick Challenge document
Make sure you have the materials for the crafts/activities if you decide to do them
Start on Palm Sunday and take pictures of their creations! (share with me on Instagram or email them to me and I'll share them!)
Let them use their creativity. Look at pictures from a children's Bible if they need inspiration.
Need More Bricks?
Amazon has great deals on LEGO sets and parts! You can often get a pound or two of pieces for a low price, not to mention all the fun sets available! Craigslist and ebay can also have good finds.
If you're strapped for time or cash, consider adding non-brick materials to complete the scenes. Leaves can be palm branches, paper cutouts can be people, farm animals can be added, etc. Someone also recently told me about BrickLink.com, a place where you can buy individual parts and bricks. Pretty cool!
You Might Also Like