These are two very easy Easter art activities for kids that even your youngest kids can do. We did both of these recently and the children really loved them.
Salad Spinner Calvary Painting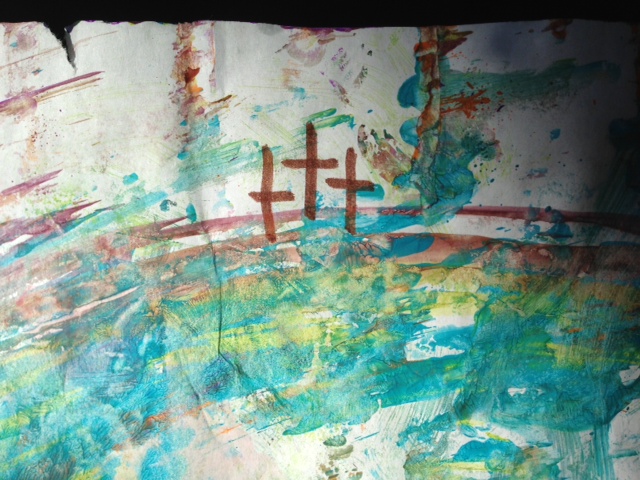 When my oldest was a toddler I came across the idea of decorating easter eggs by putting them in a salad spinner with paint. It works. You should do it. In the bathtub, preferably.

This is a spin off that idea. "Spin!" Haha. I made a funny.

Moving on.

We cut a piece of paper into three strips and laid them around the sides of the salad spinner bowl. We put the strainer thingy (clearly I'm not up on my salad spinner terminology) over the papers and glopped two or three different colors of paint in the strainer. Then we put the lid on and let the kids spin away!

The result was a streaked painting that curved to look like a hill. We let it dry and then used a brown marker to make three crosses on the hill. You could also use crayon, twine, twigs, etc.

Pretty!



Tape Painting Cross

I found this idea through My Joy-Filled Life. She did a roundup of Easter activities that I really enjoyed. One of them was an Easter Cross using watercolor and painters tape from Apples and ABCs.

I cut up a white poster board and the kids did their project on the non-glossy side.

The dollar store watercolors didn't really cut it. So I broke out the acrylic and finger paints and a variety of different paint brushes and sponges.

The kids helped me put the cross on with tape. We used masking tape because that's what we had. We wrote "Jesus is Alive" on the paper and they colored other shapes on it. Then they painted over it and covered as much white as possible.

When we removed the tape it ripped the poster board a bit but it actually looked good that way. The kids had a lot of fun with it!

See? You can tell by looking at my toddler. 🙂

What Easter art activities do your kids enjoy?