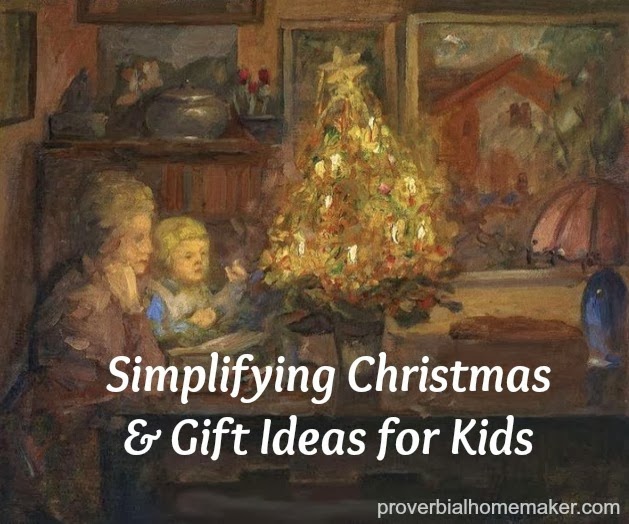 Perhaps we've hit that point where we have all we want and need. Or perhaps (and hopefully) we're growing in contentment. Or maybe it's just that we're short on money and energy, especially with a new baby on the way. 😉

Whatever it is, this year our family is having a simpler Christmas.

In years past, I've been drawn to the idea of simplifying Christmas when it comes to spending and activities, but I would get caught up in all the cool stuff and fun things to do.


Christmas Present – Corinth
As much as post-Christmas let-down just should not be in a Christ-loving family… it happens. It is that over-stuffed but somehow not satisfied feeling of a meal that is too big and leaves you stretched out, wanting more the next time. I don't want that for my family.

I don't mind the idea of giving gifts for Christmas, although I admire those who choose not to, and we may end up there one day. Giving gifts can be a fun and beautiful way of expressing love, gratitude, thoughtfulness, and remembering the real gifts God has given us.

On the other hand, it is WAY too easy to let mere things and empty activities take over the awe and reverence that are due in remembering God With Us.


The First Christmas – Sinkel
This is what we feel led to do as a family this Christmas:

Quantity
We're going to limit our gifts. For the kids, we're following the read, wear, do, share idea. They'll each get a carefully-selected book, toy, and pj's. They'll also get one big gift to share. It has been a good exercise to be choosy in what each of the gifts is.

The truth is, they're not going to suffer any sense of loss. The focus will be on making and giving gifts instead. If they want to make a list, it will be one of what they dream of giving instead of what they dream of getting.

A similar idea is want, need, wear, read. Here is an article from Simple Kids about it.

Quality and Practical Use
We're seeking out more lasting, educational, or practical gifts this year. Our kids are 5, 3, 18m, and (in a few days) a newborn. We want toys that are more likely to grow with the kids or be passed down to the next. Things we won't likely want to toss or give away the following year. In the meantime, we're weeding out the "fluff" from what they already have.

Focusing Our Activities
We will definitely be doing our Jesse Tree this year, although we're going to use the Jesus Storybook Bible as devotions to go along with scripture readings.

Instead of an activity/craft a day like we've done in the past, or any other elaborate events, I'm working on a jar of popsicle stick activities we can choose from when we feel like it.

Each popsicle stick will have an activity written on it. There will be green tips on easy activities and red on the more involved ones so I know which ones to pick based on my level of energy and commitment that day. 🙂

Gifts for Jesus
As usual, we'll help the kids go through their toys and choose ones to give away to kids in need. The kids are also going to make some simple gifts for extended family members. We'll continue the tradition of making boxes of goodies with a personal note for our neighbors as well.

Room for Further Simplification?
Yes, but this is where we are right now. I am inspired to hear about other families that are farther in this than we are. Who knows – next year we may nix gifts under the tree and focus all on giving gifts to Jesus. Or maybe stick to homemade only! But I know it's a different journey for each family and that's ok.


The Magi – Mowbray
Our Gift List for the Kids:
Read:

Wear: Pajamas for each of them.

Do:

Share: Magna Tiles (From the grandparents – love this)
Stockings: Will be handled by the other grandma. (Love this too)

Are you choosing to simplify your Christmas this year? What does that look like for your family?


You Might Also Like:
Holiday Planner for Christmas & Thanksgiving