Disclosure: *This post may include affiliate links. As an affiliate, I earn from qualifying purchases. Read the
disclosures
and
terms
for more information.
I'm an over-thinker. I'm sure I'm not alone in that. In the earlier years of my parenting, I spent a lot of time fretting over Christmas gift giving. I mean… it can be stressful. There are expectations (mine and others'). But, mostly, we just want to do things right.
Here are some of the things I would fret over:
How many gifts is too many?

How do I bless my kids without spoiling them?
How do we focus on Jesus instead of a wish list?
How do I teach them to GIVE instead of just receive?
What are the grandparents getting them?
What are the "right" gifts to get? (Christ-centered? Open-ended? Learning toys? Non-cluttering?)
Should we just ditch gifts altogether?
What is everyone else doing about gifts?
What is my [super impressive and godly] friend doing about gifts?
What if I'm doing this wrong and my kids will need therapy?
Fret, fret, fret.
I told you I'm an over-thinker. 😉
Nowadays, I don't worry about these things. Don't get me wrong, though. We are still intentional. We still focus on Christ. And we still make adjustments to how we approach gifts and the Christmas season in general.
BUT you know what I've stopped doing? Fretting.
Here's the thing: You don't have to get Christmas gift giving and all the traditions perfect this year. In fact, there are many ways to approach gift giving that are just fine, and you're sure to change how you do things over time. The real goal isn't getting everything "right." It's honoring the Lord and building character.
Don't compare or worry about what other people are doing (really). And don't judge them for doing things differently, either. Instead, ask God for wisdom and for one small change you can make this year toward a more peaceful, joyful, and Christ-centered gift-giving season.
A "better way to do Christmas gift giving" will vary from family to family.
Christmas Gift Giving Ideas to Consider
Now, if we can set aside comparison and fretting, it can actually be pretty helpful to look at other Christmas gift giving ideas for inspiration and encouragement.
In that spirit, here is what our family has done over the years, along with some posts with more ideas that you might find useful.
We Focus on Jesus
For us, the Christmas season is about the wonder of the Incarnation. It is about the most perfect gift from God and the gospel message of salvation in Christ. Of course, we focus on Jesus all year long, but we use this time as yet another fantastic opportunity to do so.
One particularly fun Christmas unit that our family enjoys is Every Good and Perfect Gift. I wrote it as a Bible study, devotion, and activity pack all about a biblical perspective on giving and receiving gifts.
We Keep Gifts Simple
For simplicity and to avoid over-buying, we give each kid pajamas on Christmas Eve plus something to READ, something to SHARE, something to DO, and something to WEAR.
We also attempt to keep clutter down and give meaningful Christmas gifts or ones that are highly useful. Not everything will turn out that way, and that's ok. (No fretting!) But we've found it helpful to focus on these kinds of Christmas gift giving:
Gifts that can be shared
Homemade gifts

Experiences
---
Download these beautiful Scripture gift tags for Christmas!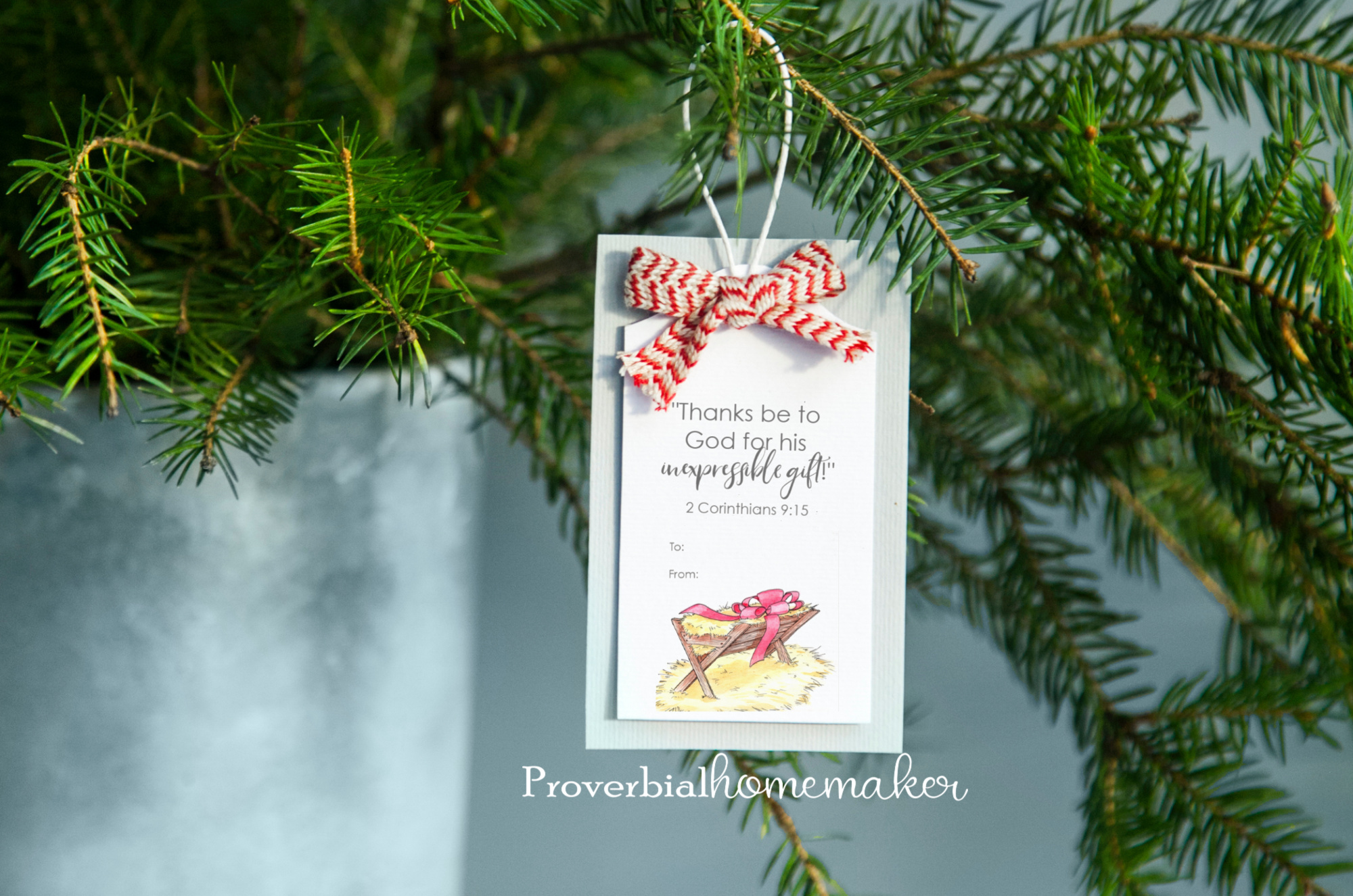 ---
We Give From What We Have
At the beginning on December we like to purge all our toys and belongings. Anything that's been in the house for a year or more is game for purging.
I like to encourage my kids to pick some nicer toys that they can gift to kids in need. Something they are truly giving as a gift and as an act of love, not just something they would toss. They have also found ways to use what they have to craft or assemble gifts for their siblings or friends.
We Give Thoughtfully
Each year after Thanksgiving, we write Christmas gift GIVING lists instead of wish lists, and focus on the joy of making/choosing and giving those items. Many times those lists include actions or kind words, not just objects.
We also started encouraging our children to be prayerful and thoughtful about gifts, considering someone's needs, personality, interests, or what they just hope will be a blessing to them.
There are enough kids in our family (and lots of winter birthdays) that this year we decided to try a "secret Santa" style Christmas gift exchange between the kids so they can really focus on choosing or making a thoughtful gift for one sibling.
We Give to the Least of These
Christmas is another great time to bless the "least of these." Of course, there is an abundance of opportunities around us to help others and share the light of Christ.
We especially like to find members of the church body who are struggling, give extra to pastors and missionaries who rely on support in order to continue their ministries, and help Christian organizations who serve the poor and oppressed or work to spread the gospel. The kids can help come up with ideas and raise funds.
Here is a list of ideas for ways to give gifts to Jesus (giving to the "least of these").
We Practice Acts of Service
This is a wonderful time to serve others as a family. Encourage your children to always be looking for new ways to help others, whether it's planning to serve in a soup kitchen or seizing an opportunity spontaneously to just bless someone.
You can look at this Random Acts of Kindness page for ideas or use the Acts of Service calendar from the Every Good and Perfect Gift Christmas unit.
We Acknowledge Yahweh Jireh
The Lord Provides. We remember and talk with our kids about how God provides us with all we need. We can trust Him and not fret over what we receive or are able to give, but instead give what we can with a cheerful heart and rest in His care.
(This leads into our special Yaweh Jireh New Year's Eve tradition.)
What we DON'T Do for Christmas Gift Giving
Now, I'll tell you what we don't do:
We don't do Santa and my kids aren't missing out on any blessing or on the wonder of Christmas. (You do you – I'm just saying this for those who are considering taking the same route we did and are worried the kids will miss out. They won't.)
I don't worry about what the grandparents or other relatives are getting the kids. At all.

I just let them enjoy that part of giving and teach my kids to be thankful.

With extended family, we either don't do gifts or we do gift baskets with food or a mix of fun purchased or handmade items, and my kids help.

I don't try to make Christmas perfect. Only Jesus is perfect. 😉 Heaps of grace and flexibility for myself, my kids, and everyone else when Christmas doesn't go the way I expected. (Pro tip: adjust your expectations.)
I don't expect my kids to be giving and thankful at Christmas if I haven't been teaching those things to them all year long. Selfishness and entitlement don't happen overnight. Take the wide view on parenting, friends. If you see changes that need to be made there (we all do sometimes), spend this season prayerfully planning the lessons and habits you want to instill in your family in the coming year.
If you're looking for a better way to do Christmas gift giving this year, I hope this has been encouraging to you!
Don't try to be perfect… don't compare… seek God's wisdom and guidance about what's best for YOUR family… and then take intentional steps in that direction.
To God be all the glory!
~ Tauna
You Might Also Like…