Gifts are good things. They can help us practice generosity, thoughtfulness, as well as remind us of the gift of God's only son, Jesus Christ!
However, Christmas time can too easily slip into a me-focused distraction, especially for our kids. The world around us pushes us to want more, "need" more, and therefore buy more for ourselves and our family members. However, there are some simple things we can do as parents to encourage an others-focused season that puts Jesus first.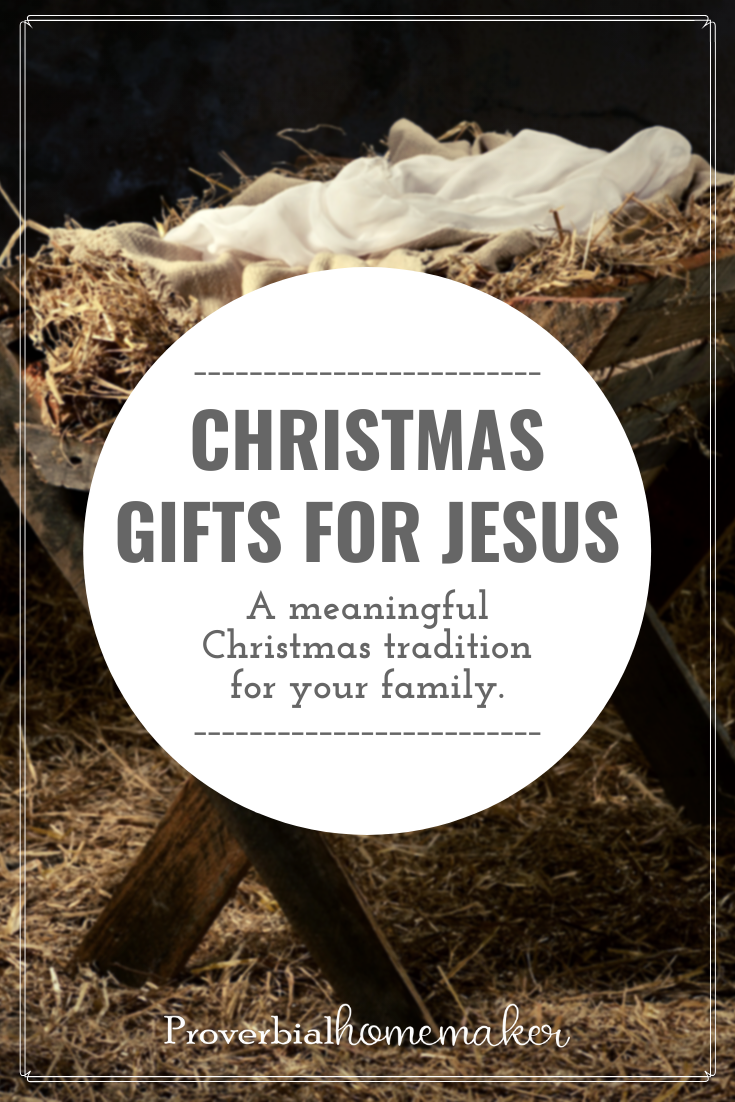 Disclosure: *This post may include affiliate links. As an affiliate, I earn from qualifying purchases. Read the disclosures and terms for more information.
Worshiping Jesus with Gifts
One way our family does this is by giving Christmas or birthday gifts for Jesus. Of course, we know that December 25 is not necessarily Jesus' birthday. But we can choose to use the Christmas season to focus more on Christ, the gospel message of salvation in Him, and the wonder of the Incarnation.
So, we talk to our kids about gifts:
The ultimate and perfect gift of Jesus
The blessings and gifts God gives us every day
Giving out of that abundance to others
We can bless the Lord by giving to those who are hurting or in need, especially those who are within the body of Christ. We are blessing them in Jesus' name and that honors Him. For our family, it is an act of worship.
That's what we want to do most during the Christmas season, right? Honor and worship Him!
---
Consider supporting Remember Nhu or even sponsoring a child as a family!
Support Remember Nhu! They are a Christ-centered, non-profit organization committed to ending child trafficking through prevention. We first learned about their ministry at a homeschool conference. They currently have 100 homes for children in 16 countries, and have prevented over 2,000 children from being sold. We identify and remove at-risk children from harm by placing them in a home where their physical, education, emotional, and spiritual needs can be met.
Click here to learn how your family can help! You can sponsor a child, raise money to support Remember Nhu, pray for their efforts, and help write letters to the children.
---
Birthday Gifts for Jesus
How can your family give to Jesus during the Christmas season? Here are several ways to consider! You can give time, gifts, money, prayers, and encouragement.
Extra support to those in the church who depend on gifts to continue their ministry (pastors, missionaries, ministries, etc.).
Financial or practical help for a church member who is struggling right now. If you're not sure who that may be, ask your church leaders who in your congregation might need help, and what kind of support would be most useful to them.
Have your kids help you put together a stocking for Jesus, adding prayers, money, and other things to it during the month of December to bless others in your church or community.

Choose a gift from the World Vision catalog and pray for the needs described there. (This is one of my kids' favorite things to do each year.)
Make a list of various acts of service your family can do during the month. There's one in the Every Good and Perfect Gifts unit, or you can come up with your own and work through the list during the holidays.
Raise money for a charity. Pick a favorite or have your children help you select a charity to help. Sell cookies, Christmas cards, gift items, or do extra work to raise money.
Sponsor a child together. Take time with your family to prayerfully consider sponsoring a child. We love the Remember Nhu ministry that helps prevent children from being sold into trafficking. Praying for our sponsored child and sending them letters and drawings is a favorite activity in our home. Compassion International is also a wonderful organization to look into as well!
Give toys to needy children. Spend time with your kids cleaning out their toys and belongings. Encourage them to pick some nicer toys that they can gift to kids in need. Something they are truly giving as a gift and as an act of love, not just something they would toss.
And the King will answer them, 'Truly, I say to you, as you did it to one of the least of these my brothers, you did it to me.' – Matthew 25:40
As you can see, there are many ways to give back and bless others. Make giving gifts to Jesus a part of your gift giving traditions this Christmas!
You May Also Like…
Read this post for some ideas on how to make gift-giving a fun and Christ-focused activity in your family this year.