The October One Year Bible Brick Challenge takes us from Acts to Romans 12.
This is the calendar for the October One Year Bible Brick Challenge, and although you can jump in anywhere you like, you can also check out the list off all the One-Year Bible Brick Challenge calendars along with some tips on how to use it!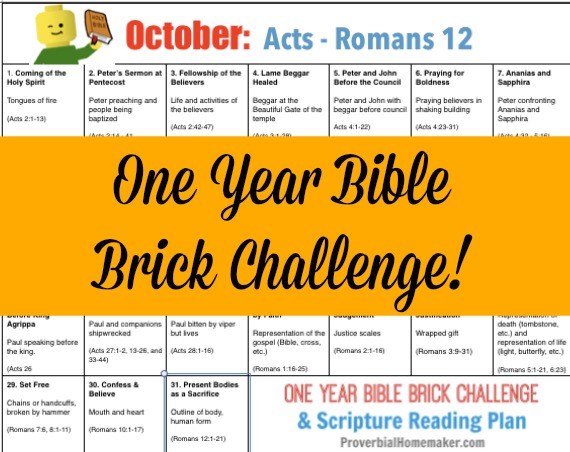 October One Year Bible Brick Challenge Calendar
Here are the stories covered this month:
Coming of the Holy Spirit
Peter's Sermon at Pentecost
Fellowship of the Believers
Lame Beggar Healed
Peter and John Before the Council
Praying for Boldness
Ananias and Sapphira (that's an intense one – might want to pre-read)
Apostles Arrested and Freed
Stephen Seized (also intense)
Saul Ravages Church
Simon the Magician
Ethiopian Eunuch
Conversion of Saul
Scales Fall
Saul Proclaims Jesus
Angel Appears to Cornelius
Peter's Vision
Gentiles Hear Good News
Peter Rescued
Paul and Barnabas Preaching
Philippians Jailer Converted
Paul's Defense Before King Agrippa
Shipwrecked
Paul on Malta
Righteous Live by Faith
God's Righteous Judgement
Gift of Justification
Life in Christ
Set Free
Confess and Believe
Present Bodies as a Sacrifice
If you'd like to include some engaging questions and devotions, I recommend pairing this challenge with Bible Road Trip (the Bible curriculum we use) or 365 Great Bible Stories: The Good News from Genesis to Revelation, which is a great simple devotional for younger kids.
Don't forget to share your photos on Instagram and tag me at @tauna_phomemaker and tag #proverbialhomemaker and #biblebrickchallenge! Or you can email them to me at tauna (at) proverbialhomemaker (dot) com and I'd love to feature them on the Proverbial Homemaker Facebook page, here on the blog, or our Homeschool Successfully FB group.
October One Year Bible Brick Challenge
Download the October One-Year Bible Brick Challenge & Reading Plan!
*Your download link will be emailed to you and you will be subscribed to Proverbial Homemaker if you aren't already. Be sure to check your spam/promotions folder.
If you have any issues, check out this
troubleshooting guide
or feel free to
email me
!
You will find all the Bible Brick Challenges on this page – we'll keep it updated as the year progresses.
SaveSaveSaveSave
SaveSave
SaveSave