Disclosure: *This post may include affiliate links. As an affiliate, I earn from qualifying purchases. Read the
disclosures
and
terms
for more information.
Looking to tighten your belt? The lure of restaurants for the weary and worn mom can be a strong one. It's one of my biggest weaknesses. I do love cooking at home, but… No work, no fuss, no mess… I'm in! However, whether you're trying to trim your waistline, meet financial challenges, or simply be good stewards of your money, it's a good move to avoid eating out too much.
How can you do it? Here are 15 tips (PLUS A FREE TOOL) to get you started!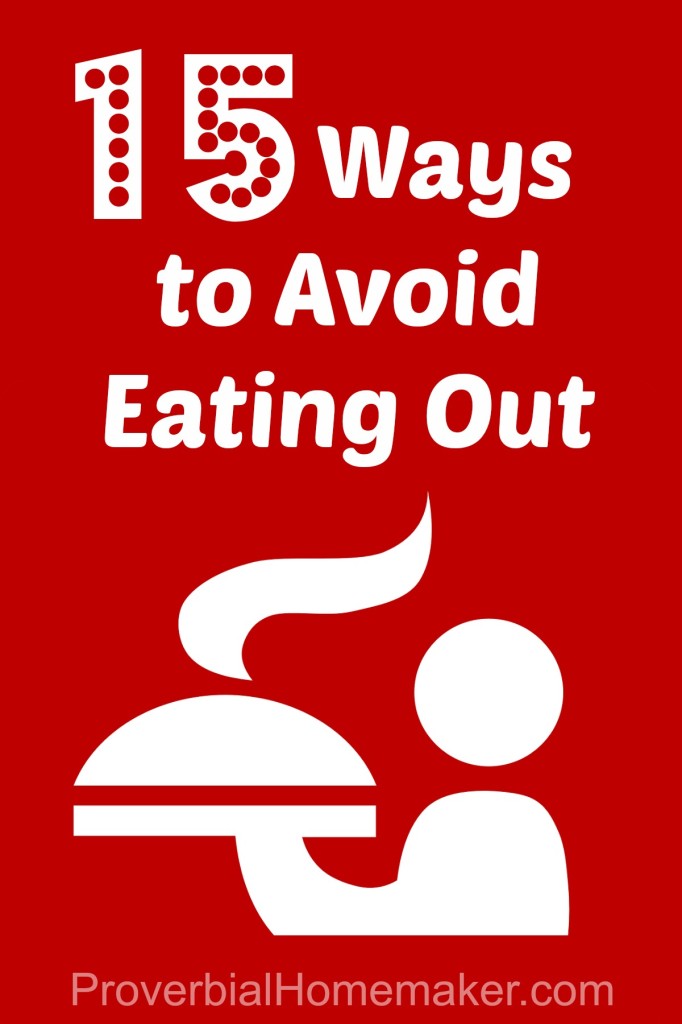 1. Menu Plan.
One of the easiest ways to save money with food is to make a meal plan. It cannot be helped, my friends. Having a plan for what you will be eating for at least the following day is critical. Planning out weekly or bi-weekly can save you a bundle! But WHY IS IT SO HARD TO DO?
I have found a great system that is unique, flexible, and WORKS for those of us who are a bit… er… planning challenged. *raises hand*
Download my menu planner now! Here's what you'll get:
A flexible menu planner
A master grocery list
Detailed instructions on how to use the system
A video showing you how I use it myself!
Download the Mix n' Match Menu Planner
If you have any issues receiving the file, check out this troubleshooting guide or feel free to email me!
2. Keep Meals Simple
Simple meals save time and sanity. We like both of those things, right? I've been working on a 2 week rotation of the same meals. Meals my family likes and I already know I can (probably) pull off without a hitch. This simplifies cooking, shopping, and putting meals together throughout the week.
3. Make Meals Exciting
Yes, simple is good. However, some of the excitement of eating out can be replicated as well! Here are a few ideas to spice things up every so often:
Have a regular pizza night where kids build their own creatio
Serve special drinks occasionally, like chocolate milk or lemonade
Let the kids help you cook! That's always an adventure
Theme dinners, like tropical or picnic
Cut food into shapes with cookie cutters
Serve fun desserts like smores or a sundae bar
4. Use Your Crock Pot or Pressure Cooker
If you have something that's in the crock pot or pressure cooker cooking away, you are less likely to give in to temptation and go out for dinner. Make liberal use of your crock pot and pressure cooker! You can make breakfast, lunch, dinner and dessert in those babies and they will save you in many ways. Here's the crock pot we use, with different settings and an auto-warm feature. I also have two InstantPots for great convenience in large-family cooking!
5. Cook Ahead
When you're making a meal, make double or triple the servings and save some for another day. You can put some in the fridge for the next dinner or squirrel it away in the freezer. Making large batches of soup and then canning them for future meals is also a great idea.
6. Set Up Freezer Meals
Along the same lines, put together simple freezer meals that you can pull out for a quick dinner. One thing I like to do is buy chicken in bulk and make chicken nuggets. I flash freeze and wrap them so that they can easily be brought out for a meal. Here are some great freezer meals I have collected on Pinterest.
7. Use Convenience Foods
Yes, store-bought convenience foods are more expensive and less healthy than real, from-scratch foods. However, if you're cutting back on eating out, I think they are a good compromise. Simple things like noodles, burritos, frozen pizzas or natural fish sticks can keep you from caving in. If you're worried about health, spend a little more on choices with natural ingredients or make your own!
8. Be a Copycat
Learn which foods have the biggest lure for you and your family and start making copycat meals to satisfy those cravings. My husband loves burgers, for example, so I freeze homemade and seasoned hamburger patties as well as hamburger buns. I can easily grill a couple of the patties and toast some hamburger buns with cheese, add some ketchup. Viola! I'm super wife.
9. Pack Lunches
Instead of being tempted with eating out, my husband takes simple lunches with him. Frozen convenience foods, meal bars, and other simple things are his favorites. We also budget so he can grab a $5 lunch one every week or two. More ideas: wraps, crackers and cheese with fruit, granola and yogurt, sandwiches, soup in a thermos, bento, and leftover dinner!
10. Have a Backup
There will be days that I just don't have the energy to cook, or I forgot to thaw something, or I set the crock pot on fire by putting it on a live stove burner (don't ask). On those days, we need easy meals served on paper plates. Here are my go-to's: spaghetti, quesadillas, sandwiches, or a breakfast like waffles with eggs. Make your list and tape it to the inside of your cupboard!
11. Eat First or Bring Food
If you're going to an event, going shopping, or just running errands, make sure you've eaten first, especially if it's before meal time. You can also take snacks with you such as granola bars, crackers or pretzels, healthy trail mix, string cheese, or fruit. Even better, store some less perishable items in the glove compartment.
12. Remind Yourself of Your Goals
Write out a list of reasons why you want to cut back on eating out. You want to save money for vacation, eat healthier, be a good steward, exercise self-discipline, or meet your budget. When you're ready to go, remind yourself why you are doing what you're doing, and turn around and grab a quick snack from the fridge.
13. Start Calculating
Start the habit of calculating costs. When you do go out to eat, calculate how much that meal cost per person and compare it to what a similar meal would cost at home. You'll start to feel like a sucker when you read that dinner receipt! Having these numbers will help deter you from eating out or help you make better choose when you do.
14. Be Creative with Date Nights
My husband and I used to go on dates every week and we'd always go out to eat. Now we go out once a month for dinner and the rest of our date nights must be more creative! Play a game together, do a puzzle or some other project, go for a drive or a walk, or check out a local store. Whatever you do, don't forego date night. It is important for your marriage!
15. Eat Out
Never eating out will most likely lead to a spontaneous freak out when it's least beneficial to your pocketbook. Instead, plan ahead and eat out for special occasions. Work it into your budget for a monthly date night or go on happy hour dates. Plan to go out for a fun dessert with the family. Find deals and coupons for local restaurants when you do go out for dinner.
Which one of these tips can you try this week to help you save money?
You Might Also Like…