Camping with kids is one of the best things you can do. It can be as complicated or as simple as you like and a great frugal family vacation. To make sure that your next camping adventure is fun and exciting, here are nine top tips for camping with kids.
Disclosure: *This post may include affiliate links. As an affiliate, I earn from qualifying purchases. Read the disclosures and terms for more information.
Top Tips for Camping with Kids
Being Prepared
There is nothing worse than arriving at your campsite to find that you've left something at home. Sometimes it may not be a disaster as you can pop into the nearest shop, but leaving medications and emergency supplies can be serious. The best way to be prepared is to use a checklist.
Make sure you also test your gear before packing. There would be nothing worse than arriving to your campsite with an air mattress that has a hole in it, no batteries in your torches or no gas in your gas bottles. Also be prepared for all types of weather. Pack some board games and an umbrella for a rainy day.
Facilities
This is quite a personal point. What suits one family may not suit another, just make sure you have the facilities you need at the place you are camping. Choosing a place with a flushing toilet over long-drops may make the trip away more enjoyable for your family. Go where you feel comfortable. The fact that you are out there with your family is amazing.
Keeping Warm
The best way to have a fun adventure is to make sure you have the correct clothing and bedding. Even in summer it can get cool at night, so make sure you have warm bedding and clothing so everyone get's a good night's sleep.
The better rated the sleeping bags, the warmer you will be. When the weather is hot, sleep with the sleeping bag zips open. Even in summer, it is wise to take a warm jacket, just in case a cooler night arrives.
Setting Up
Setting up could be a nightmare when you're camping with kids. To help lessen the pain, make sure you arrive earlier in the day and set up in daylight. This way you can make sure you are camped on a lovely flat, clean spot away from rocks, overhanging branches and ant's nests.
CHECK OUT OUR KID-SAFE BUG REPELLENT RECIPES!
Food
When camping with kids, it is best to have simple foods that are easy to prepare. The less lavish the meals, the more minimal the cleanup. For snacking during the day, I like to have a box of fruit handy for the kids to get when they are hungry. Sitting around a campfire at the end of the day, watching the possums while munching on S'mores is one of our favorite camping activities.
Don't forget to lock up your food and rubbish. At night, many nocturnal animals may venture into your campsite and you could find yourself waking to find your food or the contents of your rubbish strewn all over the campsite. Don't forget to take your rubbish with you if there are no bins available.
Lights
Obviously you will need some kind of lighting wherever you go. Torches or flashlights are very handy for trips to the bathroom or finding a lost toy in the middle of the night. They are also great for spotting nocturnal animals on a night walk.
I always took a large packet of glow sticks with us. Just after the sun set, our boys would take out a glow stick and light it up, attaching it like a bracelet around their wrist. This way we could always see where they were. These glow sticks were then hung in the tent when they went to bed giving them just enough light to see, still allowing them to sleep.
The less toys the better
Kids are great at making up their own games. Give them the freedom to create their own games and toys while camping. This will help them develop creativity and independence. Though, always have a few board games and small toys for a rainy day when they can't explore outside.
Camp Safety and Hygiene
Talk with your kid about rules in the campground. Rules like:
Walking around people's campsites, not running through them.
Playing quietly in the morning, as many people aren't early risers.
Not to impose on others at mealtimes, but to return to their own family.
The facilities are not play areas. Do what you need to do quickly and without messing up the place.
Also let your kids know about the correct behavior around a campfire, about the different kinds of animals they may see (like snakes and ticks) and poisonous plants like poison ivy. It would be wise to advise them not to touch anything without asking first.
Camp safety also includes a sensible, fully stocked first aid kit. A basic first aid book may also come in handy. We always take a full first aid kit that is left in the car and then a smaller one that will easily fit into a backpack when we go hiking. Don't forget the sunscreen and insect repellent.
Hygiene while camping is still important. Sanitizer and baby wipes are great for a quick clean.
Relax and Create Fun Memories
This holiday is for all, allowing you to spend lots of time together as a family. If you like sightseeing, then go for it, but don't overdo it. Spend the afternoon with your feet up and a worm on a hook while the kids swim and play around you.
Camping is not the same as living at home. Be prepared for your children to get dirty within the first 10 minutes of arriving. Sleeping in close quarters can also be challenging, but you will need to be flexible. If you got with the mindset to have fun and relax, you will undoubtedly enjoy yourself and find yourself looking forward to your next adventure.
Download the Camping Printable Pack!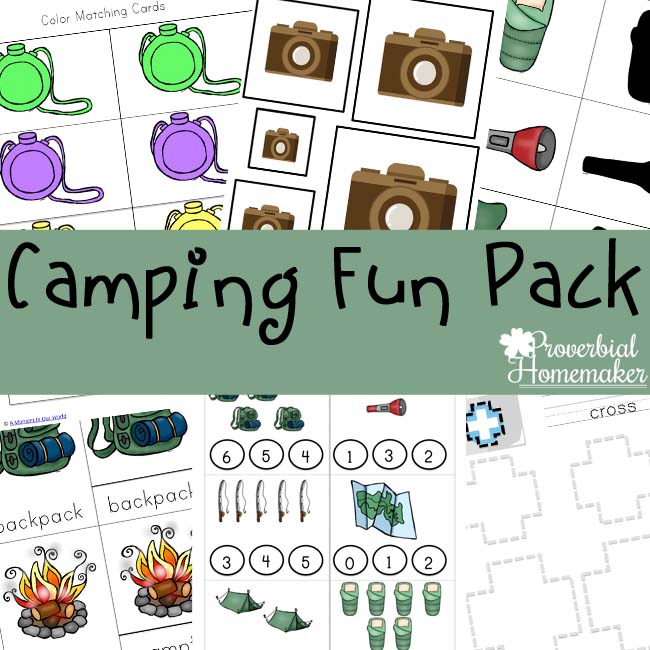 Make your camping trip an educational one with this fun camping fun pack! Includes a scavenger hunt, math activities, literary activities, and more!