Pastors answer a special call to ministry that is a lot of work, to say the least. A great way to do acts of service as a family is to find ways to bless your pastor! It will not only be an encouragement to him and his family, but will be a great experience for your kids during Pastor Appreciation Month or any time of the year.
Use the 25 pastor appreciation ideas in this post along with the free Pastor Appreciation Printable Pack!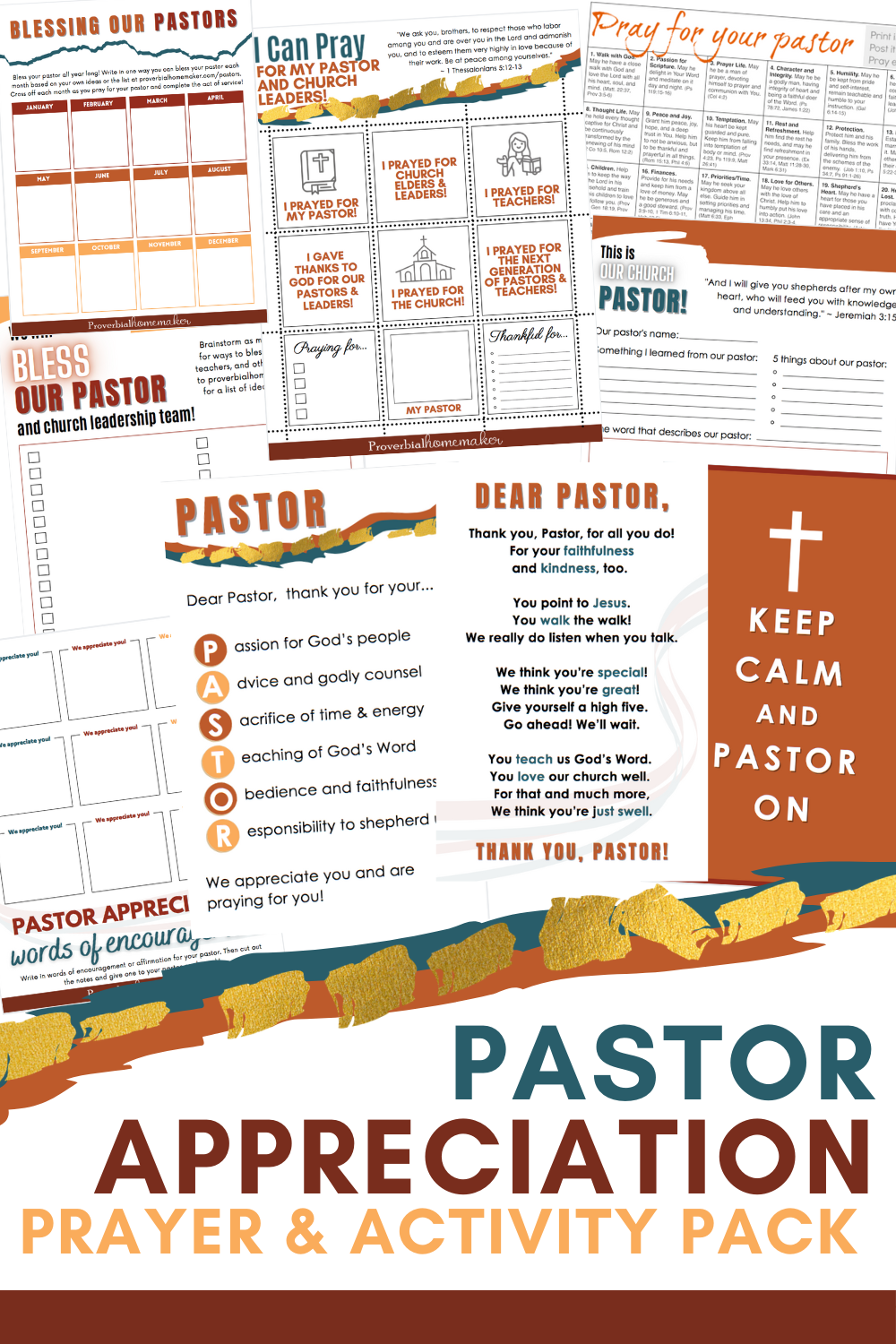 Disclosure: *This post may include affiliate links. As an affiliate, I earn from qualifying purchases. Read the disclosures and terms for more information.
25 Pastor Appreciation Ideas
You can find lots of gift ideas for pastors on Amazon and other stores. But it can also be an extra blessing to put some creativity into it!
Pray for your pastor – Best gift ever and the most impactful, too. Help your kids learn to pray regularly for your pastor and church leadership.
Organize a group prayer effort – Choose general Scriptures of blessing or specific Scripture about pastors and teachers. Pray through those verses for your pastor and as the Spirit leads. (We love praying the Scripture!) The printable pack below has a prayer calendar and resources to help.
Pastor appreciation cards – Send your pastor a card with a detailed note of appreciation and thanks. Kids can have a fun time drawing in them as well! Use the cards in the printable for an easy way to do that!
"About our pastor" page – Have your kids draw a page about their pastor and what he does for the church. Include some fun facts! The printable includes a page they can use.
Give a shout out – Share about your pastor and what you appreciate about him in conversations, in front of your kids, and even on social media! It not only builds him up but encourages others to appreciate their pastors as well.
Have a potluck, party, or dinner in their honor – You know there are never too many potlucks in life. 😉 Plus, it's a good chance to have folks share what they appreciate about the pastor!
Make a photo album – Compile photos of your church and the people in it into a photo album for your pastor to use as a keepsake or as praying tool.

We

like Chatbooks for simple ones.
Invite them to dinner – Invite your pastor and his family over for a low-key dinner or lunch. Keep it light and fun.
Bring them a homemade meal – You don't need a reason to bring your pastor and his family a meal. Just do it to bless them! They will love it. Be sure to ask about allergies and preferences.
Offer to babysit their kids for free – If they have young children, offer to watch them while they go out on a date or run errands.
Send them a food gift basket – Put together a fun gift basket or care package. This is a great one to involve the kids in and let them choose things to add!
Gift them a subscription box – Find out what they like, such as coffee, favorite foods, or a hobby. Order a subscription box and surprise them!
Support their coffee habit – If your pastor or his wife enjoys coffee or likes to meet with church members at coffee shops as a part of their ministry, find out which shops they frequent and send them a gift card.
Support their book habit – Pastors are readers, most often. Send them a gift certificate to their favorite book shop or Amazon. Or get them that book you know they've been wanting!
Help around the house – Offer to do some yard work or home repair, if you can, or help with other simple errands and tasks that may help, especially in challenging times.
Spring for a getaway – Pool money with other church members to pay for a weekend getaway. Pastors need rest and refreshment!
Send encouraging notes – Write little notes of encouragement and occasionally include one with your offering or in the prayer box. You can find a template to get started in the printable.
Send Scripture cards – Scripture is always encouraging. Print or write 12 scripture cards and write a prayer or note of thanks on the back. Mail one every month! You can find several free ones here on Proverbial Homemaker.
Shower them with affirmation – Secretly collect words of affirmation and encouragement from members in your church and present them in a decorative box or in a collage.

Encourage their family – Being supportive and encouraging of their family members can go a long way! Find ways to build them up and bless them.
Provide positive feedback – Email/tell your pastor anytime their sermon is particularly insightful or thought-provoking.

Too often they just hear the criticism.

Put on a performance – Have your kids or the kids at church do a simple but fun program on the second Sunday of October (traditionally the date for Pastor Appreciation Day). Have them sing songs and read their own written out reasons why they appreciate the pastor.

Create a fun video to honor them – Have the youth or other willing adults in your church put together a video about your pastor! Record people's thoughts and memories and put them together in a video collage. It can be sentimental, funny, or both!

Show extra grace – Pastors and their wives go through unique challenges and sacrifice much for their congregations. Be a family that gives the benefit of the doubt, heaps of grace, and plenty of understanding.
Give out of love and appreciation – It goes without saying, but I'll say it anyway. 🙂 Give to your pastor and church leadership in these ways without expectation of anything in return. Let the giving be the reward as you bless your pastor out of an abundance of appreciation for God's call on their lives.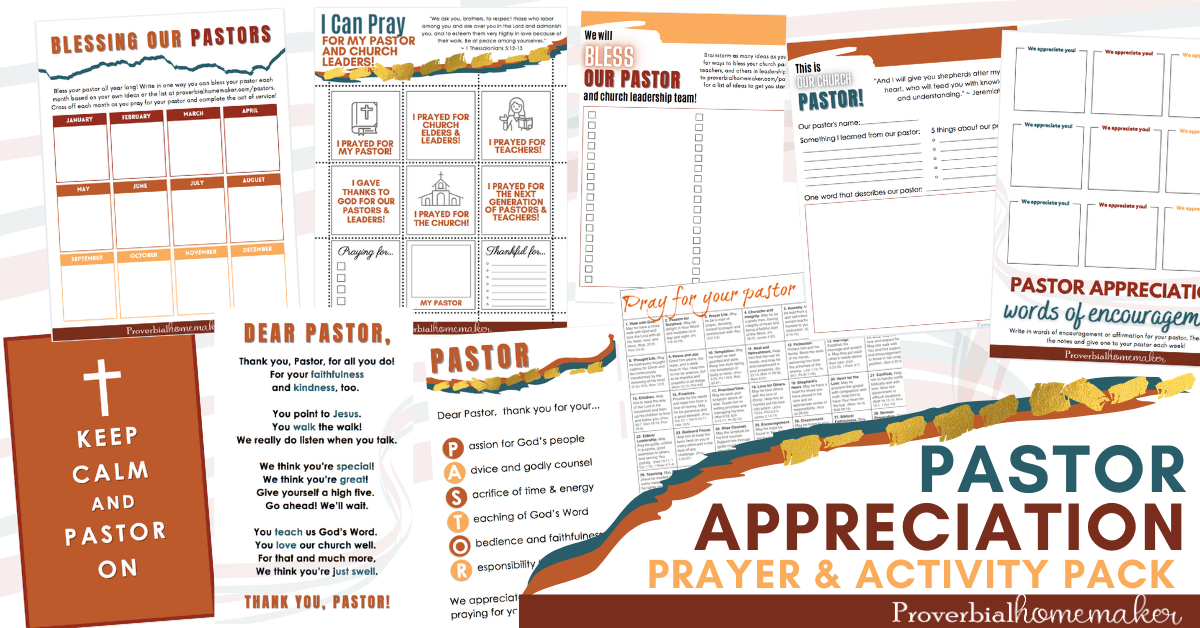 Pastor Appreciation Printable Pack
This printable pack is to help your family or church group show appreciation for your pastor. In 1992, October became known as Pastor Appreciation Month. The second Sunday of October is Pastor Appreciation Day.
Of course, we want to appreciate and support our pastors all year round! But occasionally it's nice to have a special time to focus our prayers and appreciation on pastors as well. You could also consider using the ideas here to encourage others on the pastor or leadership team, teachers, and missionaries.
Here are the highlights of what you'll find in the Pastor Appreciation Printable Pack, which you can download free below.
Pastor Appreciation Ideas List
Brainstorm ideas with your family on how you can serve your pastors and other members of your church leadership and teachers. Use the list of 25 ideas above for inspiration, but be sure to think through what would best fit your family and your pastor!
Pastor Appreciation Cards
Three designs are available in the printable pack for pastor appreciation cards. Print them and your kids can decorate the inside and write a personal message.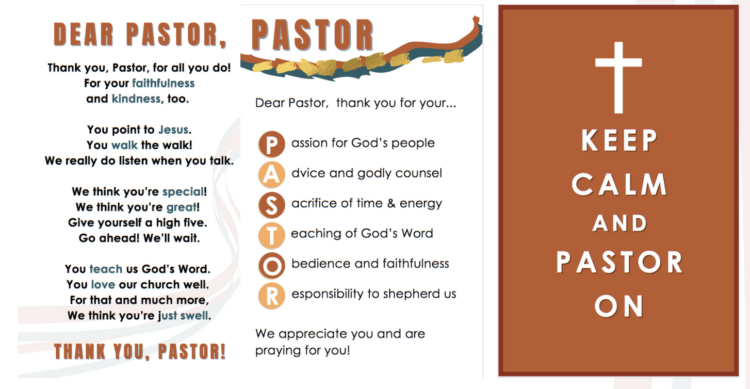 Card 1: Pastor Appreciation Poem – This card includes light-hearted pastor appreciation poem I wrote a long while ago for Jill over at Blessed Beyond a Doubt!
Card 2: PASTOR Acronym – A card thanking pastors for the many ways they serve the church.
Card 3: Keep Calm card – I couldn't help myself. Lol! I made a "Keep Calm & Pastor On" card just for fun!
Draw & Write About Your Pastor
Have your kids draw a picture of your pastor and what he does for others. They can answer the questions on their own or with your help!
Pray for Your Pastor
Prayer calendars and checklists help your family to pray for your pastor throughout the month. Read the Scripture verses aloud and pray through them together. A sample prayer gets you started and you can build on it as the Spirit leads. If you want JUST the prayer calendar, you can download that separately here.
A fun prayer checklist for your kids is available to help them not only pray for your pastor but also teachers and other church leadership. Post this on the fridge or wall to help your kids cross off or put a sticker on things they pray for during October. Or laminate it and re-use it every month! They can write in their own prayers and thanks to pray through and put a photo or drawing of their pastor on the page, too.
Have fun with these pastor appreciation ideas! If you have more ideas to share with others, feel free to put them in the comments! I hope the Pastor Appreciation Printable Pack is a blessing to you as well. 🙂
~ Tauna
You Might Also Like…
Missionary Biography Books and Resources – Plus a free 9-page notebooking pages printable!